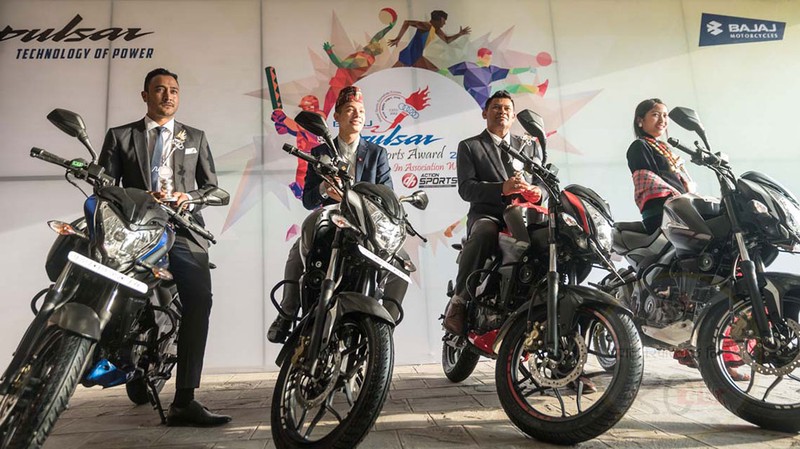 NSJF Bajaj Pulsar Sports award has been conducted. The best player of the year(Male) goes to Yukesh Gurung. He is a paragliging sportsman. The best player of the year(female) goes to Sabitra Bhandari. She is a footballer.
Nepal sports Journalist Forum declared the best player for the male and female criteria yesterday. Yukesh defeated famous cricketer Paras Khadka and Sompal Kami to win the trophy. Yukesh participated in the 18th Asian Games from Nepal in Paragliding cross country male team to win the silver medal for Nepal. He also won bronze medal in the paragliding world cup which was held in Syangja Nepal.
On the next criteria, Sabitra defeated her other competitors to win the title. She was the major player who lead Nepal to win silver medal n SAFF championship football. All she performed well when Nepal won silver medal in the hero gold cup which was organized in India.
Reshma Bhandari(Volleyball) won the people's choice award. She plays for Armed Police Force club within the country.
Yogesh Bhattarai(Paragligiding) was declared as the best coach of the year.
Ajit Kumar Yadav(Athletics) won the best young player of the year. He won gold medal for Nepal in the 3rd Asian Yoth Championship 3000m running.
Rohit Chand was awarded with special award who is in Indonesia to play the club games. He is building his career as a footballer. He was awarded the most valuable player of the year in the Indonesian League.
Paragliding National team is awarded with the most valuable team of the year. They had won silver medal in the Asian Games.
Haribahadur Rokaya(Athletics) is awarded with Lifetime achievement award.