I am trying to make sense of the world right now but between the racial incident being investigated in NASCAR and the plague making a ton of people sick and some not sick but carriers, the future is going to be ...............weird. There are so many in ICU's in some states there is overflow into children's hospitals and yet people will be in denial because my country is under the worst leadership perhaps ever. For those of you with countries over 250 years old, BRAVO!!!! you made it. It's sad to see on Reuters this:
World number one Novak Djokovic is the latest professional tennis player to test positive for COVID-19. Grigor Dimitrov, Borna Coric and Viktor Troicki also tested positive after recently playing at Djokovic's Adria Tour. Djokovic's wife Jelena is also confirmed to have the virus. Reuters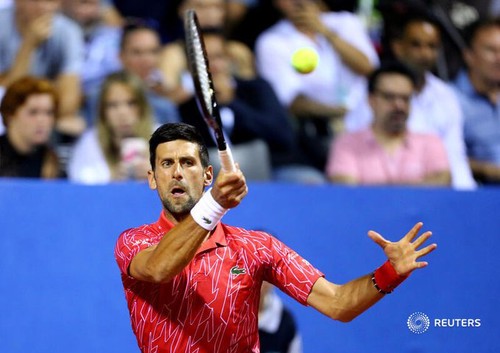 Most do recover or many don't have any symptoms but there are so many medically fragile people of ALL ages that it is rather mind boggling that people still debate about wearing masks like it's some type of torture device. The Olympics is postponed perhaps for years and sport after sport is getting slammed by the Racial tension or by Covid. The silver lining is that life moves on eventually but for awhile, packed arenas are sort of like playing roulette. Of course Tulsa didn't have a problem with packed arenas lately ;)
This is just an Op/Ed because every time I try to just find something fun it ends with who has the plague or some racial attack on a NASCAR driver that's being investigated. They may be "white washing" that story to say it's a belt but Feds are involved so am not gonna listen to the same people who don't believe in math or viruses. What the takeaway that is surprising is that NASCAR supported and rallied around their single black driver in ways that NFL totally failed to do so it taught me to not always judge a sport by its own stereotype. If change is to come then ALL of us can get off our high horses and figure out a better path for the greater good.
https://www.cbssports.com/nascar/news/nascar-rallies-around-bubba-wallace-following-noose-incident-drivers-push-car-to-front-of-pack/ This one is a beautiful piece to watch and read and then of course the hate comes out because of scripted, on purpose division...
https://www.cbssports.com/nascar/news/look-plane-flies-confederate-flag-over-nascar-race-at-talladega-after-banner-was-banned/ Disgusting and shows all you non Americans a taste of what feels like Civil War brewing. People are going hungry here and this is the response from a state with some of the most unhealthy population in the country. Maybe it's the GMO's or the Flouride or the fact Bubba Wallace is awesome and they are jealous?
Till next time, stay safe and stop and smell the roses (if they are not sprayed with Round Up) ;)
remember that civil discourse and comments get nice upvotes