Another Saturday of Scorum's Sports Q & A Time is here again. Every episode of this contest is an opportunity for every sports lover on this platform, have his or her sports knowledge tested and improved upon.
.
Everyone is free to put in his or her entry for SSQ&AT. As for those that have been Contesting and winning precious contests, they can be described as keen contestants who are serious about whatever they put their hands to. Interestingly, as each contest progress, the participants are showing great deal of improvement in the area of getting the right answers.
.
As you all know, a post is created to announce the winners of the previous contest before a new one comes up on stream. The last announcement can be found here
. https://scorum.com/en-us/scorum/@izge/winners-of-scorum-s-sports-q-and-a-time-episode-12
Also, participants who won the 3 positions would have had their winnings sent to their respective wallets.

.
Without much ado, below are the questions for contest number 7. Please make sure to read the instructions carefully before you scribble on.
.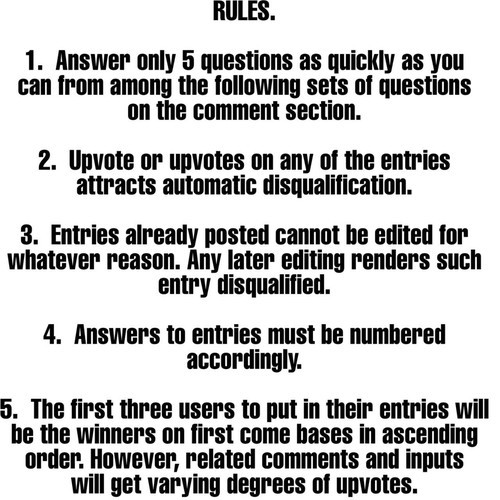 QUESTIONS.
.
1. Who won the very first 888.com world Snooker championship?
2. Who invented the game of Basketball and when?
3. The names Francois Goldster, Mike Wilson, Mickey Allen and Paul Fletcher are associated with which specific sport?
4. What is a Ghost favorite position in Football?
5. What is a Golfers favorite letter?
6. What is the hardest part about sky diving ?
7. Which team plays at Spotland?
8. The very first auto competition was the Paris-Rouen trial in July 1894, who was the first to cross the finish line?
9. Who is the former basketball star that recently built a modern Hospital for the community he grew up in?
.
Your Time starts now. Good Luck.
.
MAKE SURE TO BE FAST BUT BE RIGHT.
.
For more information regarding the announcement of Scorum's Sports Q & A Time can be found here please https://scorum.com/en-us/betting/@izge/scorum-s-sports-q-and-a-time.
.
GIST.
.
As the days continue to progress and as we continue with our daily routines, the world itself tends to make sure that what might otherwise have been hidden, gradually comes to light.
.
I read in an online daily that one of the most respected and successful football Manager in the world has previously engaged in some kind of football malfeasance.
.
This said sport personality is not just some commoner out there on the sporting world, but a first rate personality with a respected prefix before his name. The air around the prefix is so honourable such that it can only be issued by the highest office and by the number one citizen of that country.
.
Although match fixing and transfer backroom deals where hug sums of money and articles of worth changes hands, it is surprising that the person in question has had some kind of foray into the arena specifically prescribed for the narrow minded and the shady.
This saga put paid to the popular saying, "don't judge a book by its cover" or in fact, one should always retain a small degree of doubt about anyone, no matter how respected or highly placed a person is.
.
Since the can of worms are being revealed from a testament in a court of law, it is left for the court to prove that the said personality has a case to answer and if found guilty, will the country strip off or not, such highly bestowed title.
.
Sincerely @izge.