Unable to walk as a kid, it is amazing that she was named the fastest woman in the 19th century.
Wilma Rudolph, 'The Black Gazelle' as called by the French became The Fastest American Woman on Earth in 1960 with 3 medals in one Olympic Game.
I remember being told her story when I was younger as a form of motivation during sports sessions in school. I broke my right arm at age 5 and had the phobia for sports.
Our Physical Education Teacher told us many stories but Wilma Rudolph's story was peculiar to me.
She became a form of inspiration to me to always take risks and never to be weighed down by my troubles.
She remains a form of motivation to me till today.
Coming from an African descent where poliovirus is particularly a big problem, I understand how it affects a child psychologically and physically. He or she is always unable to walk or use his/her hands well.
For Wilma Rudolph to overcome this illness among other illnesses which she had, it must have been a miracle or the strong will to succeed in life.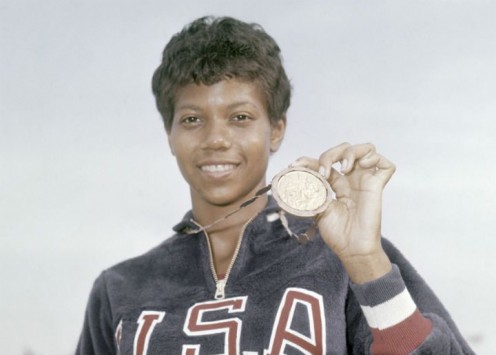 Wilma Rudolph was the first American woman to win 3 Olympic medals. She had more stars to her ranks as she contributed to American sports with her resilience and activism.
Who is Wilma Rudolph?
Wilma Rudolph, one of the athletes of the 1960 Rome Olympics who emerged as the fastest woman on earth was in limelight along with other 1960 Olympic athletes such as Cassius Clay (Muhammad Ali), Oscar Robertson, and Rafer Johnson. She was born June 23, 1940, at Tennessee in the USA to a polygamous African American father who had two wives. She was number 20 of 22 children (Two soccer teams right?)
This is another reason I love Wilma's story. I was born in June too.
Her story actually gives me motivation in trying times which I currently am while writing this due to impact by the current state of the cryptocurrency and some losses made in forex trading just yesterday.
Wilma was born a premature child with a weight of 4.5 pounds which is lower than the expected average of a newborn.
The average birth weight in babies is between 5.5 pounds and 11 pounds so you can imagine the complications that come with a lower weight.

Wilma had some illnesses which threatened her childhood. She was ill with scarlet fever, pneumonia, and infantile paralysis as a result of the poliovirus. Poliovirus is a very deadly disease. It usually causes permanent paralysis of the limbs (hands or legs).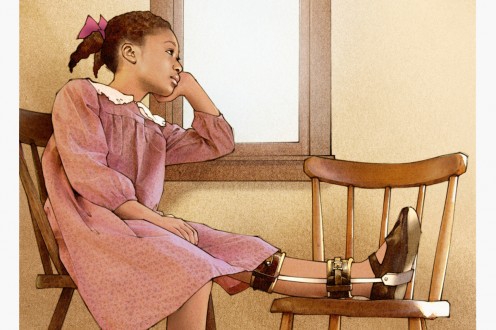 Rudolph recovered but her left leg was not moveable. She wore leg support until she was eight and was schooled at home because of her condition.
Despite her situation, she lived to outshine her problems. She dreamt big and she overcame her troubles to participate in the track and field Summer Olympic Games in 1960.

One interesting thing was that her father died when she was a baby so despite her struggles; she lived in poverty. She was taken care of by her mum who worked as a maid.
Her story is a good example of "From Dust To Glory".
Silver Lining In The Dark Cloud
Never look down on yourself despite your current situation. I'm sure she didn't know how much glory her leg was going to bring to her.
She was treated twice every week and her family gave her massage every day. She used braces for the first 11 years of her life and then used special orthopedic shoes for 2 years.
You can tell that it wasn't an easy journey as I can imagine watching other children playing around while she just sat to watch them.
She began walking at 12 and didn't expect life to pity her. She tried to use her legs for good and that simple decision took her to glory and stardom.
When she got to High School, she was inspired by her elder sister who played basketball.
Wilma joined the school team and started to play in eighth grade. She rose up the ranks due to her trained and gifted legs, that got her the nickname "Skeeter". Her coach called her that for her ability to run fast. Skeeter was a nick for mosquito.
Here is a group picture of her and her basketball teammates at Tennesse University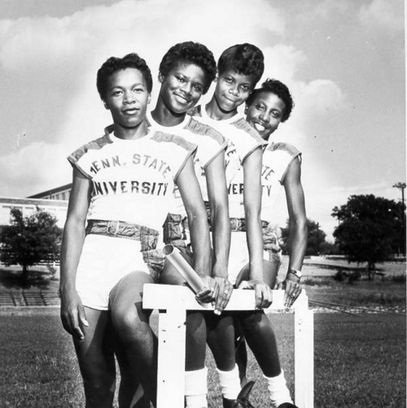 One victory led to another and she tried out track events. Her talent was discovered by her high school coach who encouraged her to participate in the school's track events.
Three Gold Medals in A Row
Wilma participated in the Summer Olympic games which took place in Rome, Italy in 1960. She was only 20 years old at this time and was in her second year in the University when she qualified to compete in the 1960 Summer Olympics.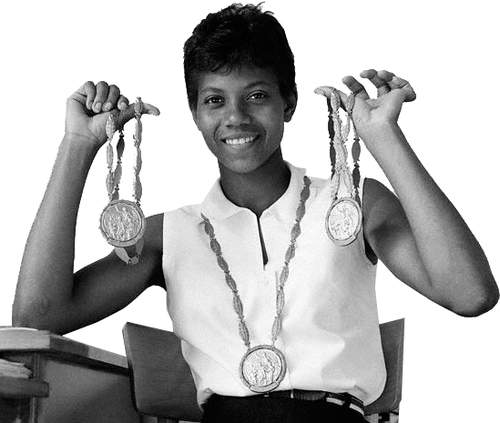 Wilma Rudolph participated in three events during the 1960 Summer Olympics. She qualified to represent the U.S.A. in the 100, 200 sprints and 400-meter relay.
What a task right? Not for WIlma as she had a gold medal in each race.
Wilma Rudolph was the first woman to win a gold medal in the 100-meter event since the 1936 Olympic games.
These feats made her one of the most recognized and popular athletes of the 1960 Olympic games. Wilma Rudolph was known all over the world for her exceptional success.
After the Olympics, She Became a Teacher and a Coach
Rudolph went back to being a student at Tennessee State University and earned a bachelor's degree in elementary education.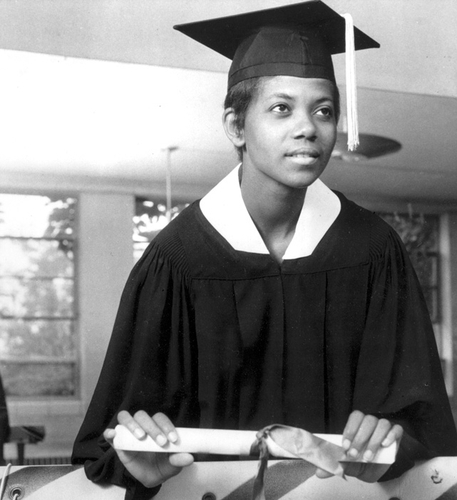 She took a job as a teacher at Cobb Elementary School where attended early in her life and also worked as a coach in the track events at Burt High School where was a student.
She participated in many Civil Rights Protests and also contributed to the community with her foundation which catered for athletes.
Awards and Stardom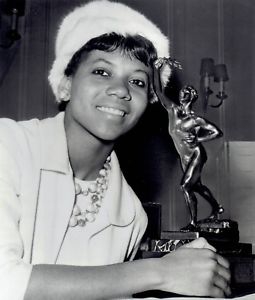 Wilma Rudolph won various awards during her lifetime and was featured in many halls of fame all across America.
Death
She lived a happy life until she was diagnosed with brain and throat cancer in July 1994 and she had a deteriorating health until she died on November 12, 1994.
She was a fighter till her last breath was taken.
Many books and stories have been published about her. She even has docu-dramas and narratives made in her honor.
In April 1996, a life-size bronze statue of Rudolph was erected in Clarksville, Tennessee.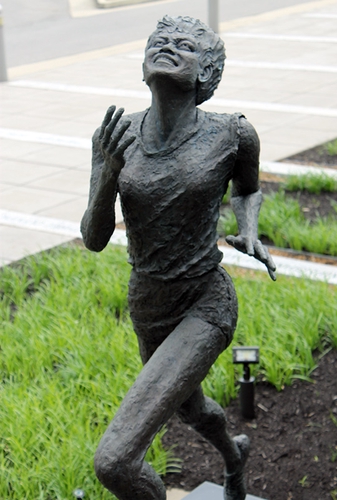 Here is a video that shows the star giving it her very best at the Olympics.
Wilma remains my solid source of inspiration and motivation as she lived with determination and overcame all that challenged her.
I hope she inspires you too?
References
Jayantijain, The Young Empire, Ecelebrity Facts, Social Studies For Kids,
Encyclopedia, Female Entrepreneur Association, Wikipedia, Black Women History
You might also be interested in reading the following:

Scorum Survival: Types of Sports Articles (Find Your Focus)
Know Your Active Witnesses (Delegates) and How to Vote Them With Polarity (+Video)
How to withdraw Scorum Coins (SCR) from Scorum to Openledger (+Video Tutorial)
How to Transfer Scorum Coins SCR from openledger to Your Scorum wallet

Thanks for taking the time to read my blog.
Drop a comment and let me know what you learned from her story.