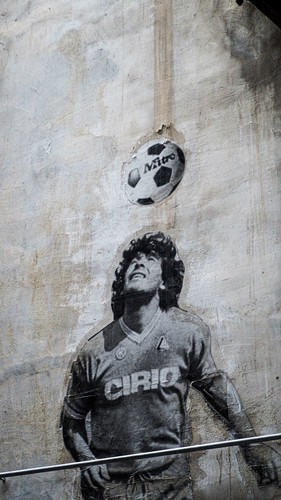 The football legend died a few days ago from cardiac arrest after undergoing a successful sugary. The football world mourns his loss but even at death, he continues to be talked about. Everyone will remember Maradona for being the greatest talent of his generation but not his life outside football. His dedication to the game of football both as a football player and coach was immersed and undeniable.
That was the Maradona that will be missed and that's the Maradona everyone will choose to remember. So with every footballer and manager both current and retired honoring him, it came as a shock to see some people judging him even after death. Some individual and football bodies have taken actions which denotes that they do not hold Maradona's input in Gold has he worth.
The most recent of those acts was from a female footballer named Paula Dapena who failed not to only pay tribute to the Legend but also spoke ill of the dead. According to goal.com, In her words, Depena said 'for the victims, there was not a minute of silence, so obviously I am not willing to keep a minute of silence for an abuser and that it should not be done for the victims'.
The reason for her attitude was because the footballing world refused to show similar gestures on an international Day for the eradication of violence against women. She demands that women who are victims of this occurrence should enjoy gestures such as this and not the abusers. She said she recognizes Maradona talents but his atrocities can never be forgotten.
The likes of Cristiano Ronaldo, Ronaldinho and Lionel Messi amongst other superstars have paid tributes to him. Messi even dedicated his goal against Osasuna to Maradona by creating a replica of the legend goal celebration in the Newell's shirt. Messi got fined 3000 Euros for that act. It was bizarre to think that he was fined for that action and that stirs a lot of controversy about if the laliga associations value Maradona at all.
While some people have taken the death of Maradona to further continue the Ronaldo-Messi comparison. For some, it has been about throwing Maradona into the mix of who the greatest player is but one comparison seems to be sickening. Former sporting boss Jesus used the legend death to further claim that Ronaldo has some of Maradona's passion and Messi has none.
Diego may be dead but his soul lives on and the footballing world could attest to that. All football leagues have paid and some will pay their last rest with a minute of silence to honor him. While all this is been appreciated, digging deeper into the life of the dead man may not be good for football and that's why choosing to remember him for his due for football is welcome.
In closing, let's judge less and appreciate the little wonders of life. We might not admire and respect the same thing the same way but it's better to respect everyone. Maradona was god on the pitch and he was not perfect. But he gave his all in football and for that HE WILL FOREVER BE REMEMBERED. Rest on Legend.