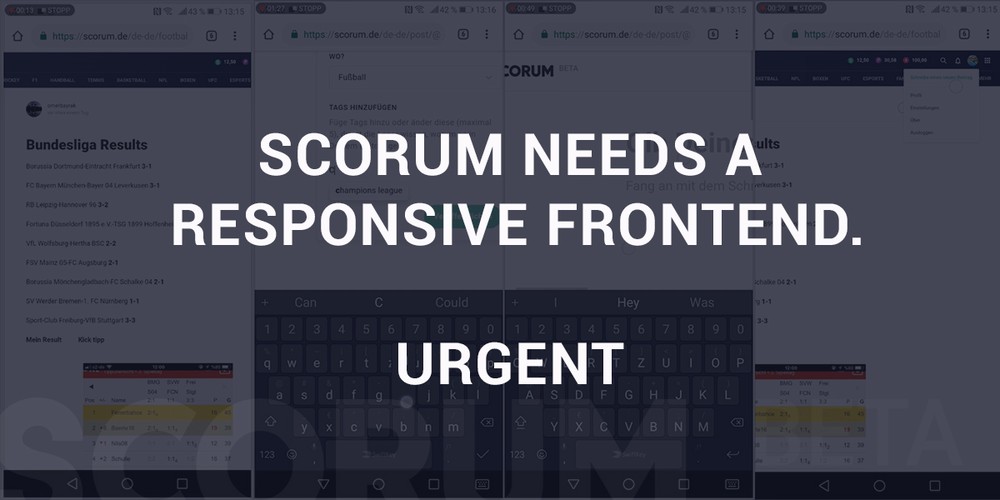 Yesterday evening I was in a pub watching football. Then I thought to myself, come - write a contribution for the Scorum Community from your mobile phone.
Unfortunately the whole thing didn't work out very well. The complete page doesn't behave at all Responsive (doesn't adapt automatically to the device display size) and is therefore very difficult to handle.
What I noticed while posting on the Huawei Mate 10 Pro:
The complete website is not Responsive and has to be enlarged with the fingers in each area.

If you want to publish the post and choose a preselected day, the Publish window disappears and you have to type it again.

You don't have a focus point where you are typing and the keyboard often disappears.

The editor allows you to insert an image (brilliant!) but the further editing of the post is really a torture.
I recorded the whole thing for you once with my mobile phone:
https://www.youtube.com/watch?v=39pX3rG-0yc
Since Scorum is open source like other projects, it would be easy to find some resourceful developers to design the Scorum platform in a way that it is easy to use even when you are on the road.
The advantages are obvious: Imagine you are in a baseball stadium right now and want to report directly about it. Grab your mobile phone and write a quick and easy contribution.
The way is the goal!
It would definitely be great if a few developers and Scorum itself could give some thought to a mobile frontend.
Thank you and have a nice week.
louis88