Last Saturday I participated, along with my partner @sarahmadd, at a Steemit Meeting here in Barcelona. This meeting is organized by @flamingirl, a French girl moved to Barcelona, who is actively blogging on Steemit about her real-life experience, her travels etc. I met her a few months after my arrival on Steemit. I was passionate about this new Social and its blockchain and I saw that @flamingirl earned 100 and more USD a day posting on Steemit and so I was interested in deepening his profile to catch her secrets.

No secret at the end. She is and has been so successful on Steemit for the main fact that her posts are natural, spontaneous. She puts photos, travels, experiences but you notice that everything is created by her and the community appreciates this effort. If you are on Steemit I give you sincere advice to look at her profile.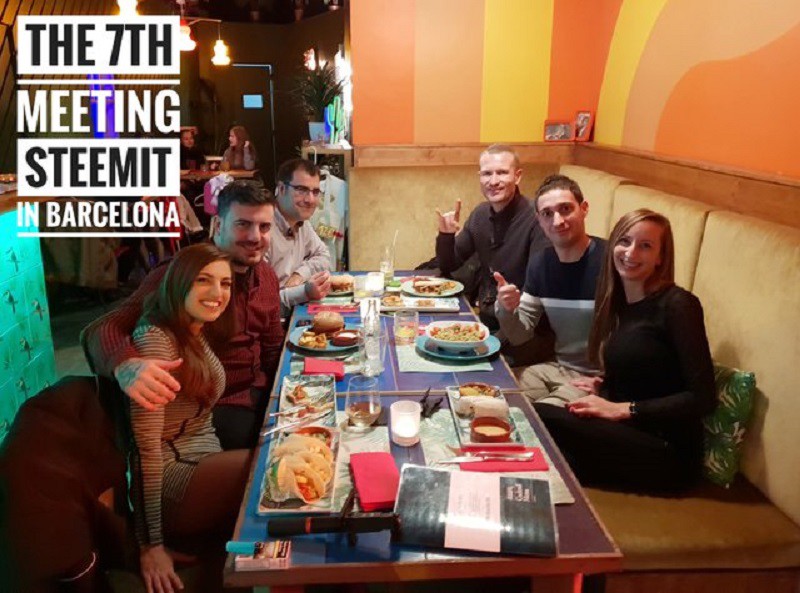 Let's leave the discussions on Steemit as this is not the place to discuss it, and let's focus on Scorum. It must be said that all those present were super interested in Scorum and this is what I wanted to highlight on our platform:
Token metrics: Not an inflationary system with new tokens entered every year, but only a very limited number of total tokens. 30,000,000 SCR, not one more.
Anti-BOT community: Our community is very united on this point. The bid-bots are not accepted, for now even the simple bots that do a little spam are seen favorably. A community united in the fight against the bot to have more real and human engagement.
Anti-Plagiarist Tool: I told them about our anti-plagiarism tool that does a great job from the beginning in the fight for plagiarism. An important tool that, together with a super attentive community, there is even a Discord channel dedicated to discovering partially or totally plagiarized content, makes Scorum an anti-plagiarism platform.
Betting Exchange: There was a guy totally surprised and fascinated by the fact that the Scorum team had said for the X date we will have the betting exchange and so it was. In fact, I think he will be very soon of ours. As he himself said, our betting exchange has beautiful graphics and is easy to use, for those who know the operation of the betting exchange.
In practice, I have listed all the points that I believe are important strengths of our platform. There are many others but I hope they will discover them by setting their feet on our platform. Finally, I just want to say that we spent a very pleasant evening, knowing people with varied life experiences with the common vision of the fact that the blockchain is the future. We discussed other cryptocurrencies but I do not think it's right to talk about it here, we discussed our projects and so much more. I was happy to meet all these extraordinary people. Thanks to all the participants, you can find more info and pictures about that night spent together from @flamingirl point of view in her post.

Important to mention that Stefan, the fiancé of @flamingirl, has created blocktivity, a website that offers statistics on the real use of blockchain such how many transactions are made daily, on a monthly basis etc.