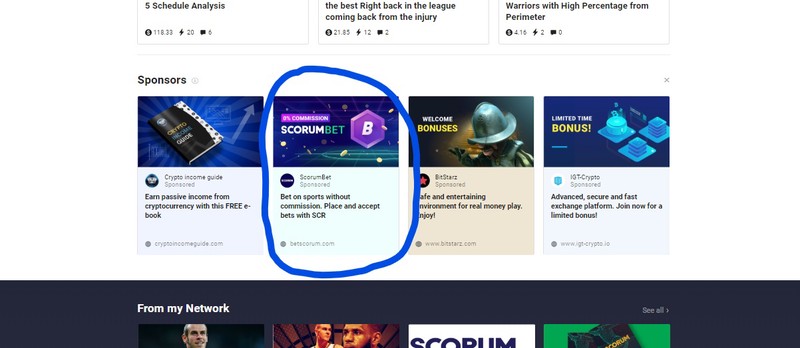 Have you noticed a new type of advertisement while browsing blog posts and the homepage here on Scorum? As you can see above, Scorum Bet (betscorum.com) advertisements are now live on the blog. Vlad mentioned that this would be coming in my interview with him earlier this month (read part 2 here).

This may not seem like a big deal, but I believe it is. The betting platform has the promise to bring in thousands of new users, increase the interest in SCR tokens, and introduce our community to the world. This platform makes everything else we're doing, including the sports blog, more attractive to others. The more users we bring into our ecosystem, the more we all benefit.
Ads, bring in revenue. By using ads to promote the betting platform, we can increase available revenue for bloggers and increase traffic on the betting platform. It's a win-win scenario, but we still need to support both the ads and the betting platform to enjoy the rewards that each will bring.
While playing around with the ads today from the homepage and on posts, I made several observations that I either embarrassingly overlooked before, or they have just been introduced (I'm going to assume it's the former).
Other Observations: Scrolling Feature & More
While looking at a post analyzing the upcoming schedules of top EPL contenders by @philnewton, I noticed a scrolling feature above the "you might also like" section that includes the posts of other authors and ads. Once again, you can see that Scorum Bet ads are located in this section. I was not aware of this scrolling feature if it was indeed available before today.
This is a great option because I use this section to find other posts to read. By adding the scrolling feature, I can now look for additional posts, which I open up in new windows, to vote and comment on. Had you noticied this feature?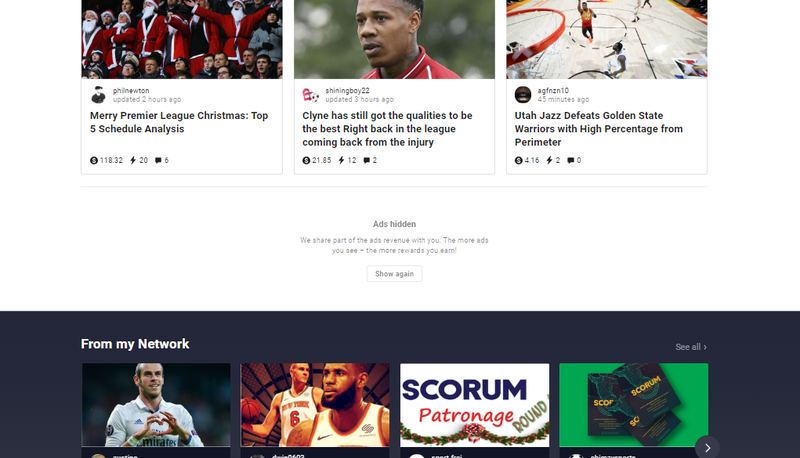 While I recommend that we all view and support the ads on the platform, the team has added an option to hide ads. By clicking the "x" in the right-hand corner of the ads section, you can make it disappear. When that happens, a message appears that reads:
Ads hidden
We share part of the ads revenue with you. The more ads you see – the more rewards you earn
I like that this option is available and I like the message that reminds users why supporting ads are important.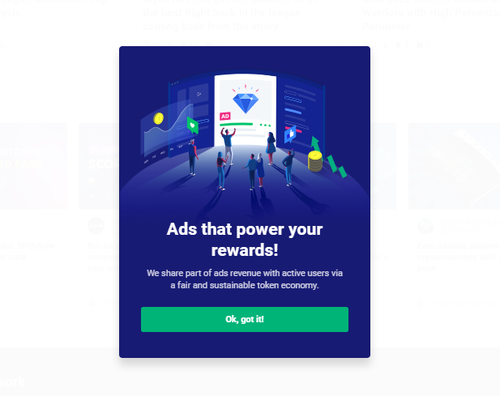 The other observation I made was that there is an "information" box that appears after clicking on the "i" on the left-side of the ad box. The above image appears.
What's Next?
While I'm purely speculating, I think we are getting closer to having the ability to promote our own posts using the ad feature. This would provide a boost in revenue to the site and give us the chance to get our posts in front of more people. I saw ads from another user in the ad section today, however I don't believe this was done automatically by "boosting" a post similar to the system seen on Steemit.
What do you think of these changes? Please comment below!
---
Have you voted for your Scorum witnesses yet? If not, check out @guiltyparties voting tool at guiltyparties.com/scorum. I humbly ask for you to consider voting for Team Good. If you have any questions, please feel free to ask. To learn more about Team Good, read about us here.