Hold a while please, the post title will unravel.
What a journey it has been so far. In January 2021, I joined Scorum as a total novice to how platforms like this work- I just needed a place I can write and earn a living. Furthermore, I was not familiar with cryptocurrency. I guess I could be referred to as being rustic then.🤦
Several months and blogs later I'm better informed, though not as fast as I would have liked because gaining access to the internet has been a challenge for a majority of my time here( it would have taken some money–not so much money even– to improve this situation drastically, but I didn't have it, so whenever I could, I just kept blogging with my phone📱 and you wouldn't want to know the stress involved). For example, today I still needed to ask someone what it means to power up and how.
MY JOURNEY, with gratitude—
Once again I must thank @Virus77, by name Mr. Idegbe, for guiding me on how to join this platform. I never knew him before, it was a former schoolmate of mine who gave me his phone number and by the time I eventually contacted him he said he doesn't know my schoolmate. I was surprised because, I assumed they were friends. I later got back to my former schoolmate to inform him that Idegbe doesn't know him and he too was finding it difficult to recall who Idegbe is. Funny.
Anyways by this time I was already registered in Scorum, so God knows how they don't know each other, I wasn't ready to bother my brain with that. Next, I was urged to do an introductory post by Mr. Idegbe for a start and I hurriedly scripted one (https://scorum.com/en-us/scorum/@ogeewitty/arrival-flight-scorum). With the benefit of hindsight, I should have taken my time, slotted in pictures and more. Well I didn't know much then and because I needed cash urgently I thought the quicker I write the faster cash comes. 😅
The upvotes began to come in: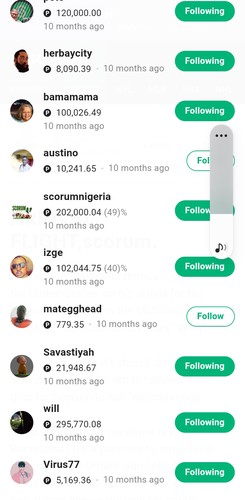 The first was ofcourse Idegbe himself( Virus77). I can attest to the fact that most of these people here have been dutifully following my posts and giving them positive votes. I AM SO GRATEFUL TO YOU ALL. 💛 Furthermore, in the comment section, @bamamama was the first to welcome me, closely followed by her husband, @Pete who was absolutely terrific in his responses[ now I know it's his style]. We went on to forge some strong mentee-mentor kind of parlance, as I had loads of questions as a newbie to these things.
A time came in the middle of the year when the Nigerian, @zoneboy arose with gusto and put his foot down to do something like a miracle– reviving the sleeping giant, Scorum. I CALL IT THE @zoneboy MOVEMENT. The heat waves of this move began to wake up sleeping folks, @zoneboy firmly requested that all hands be on deck in picking up Scorum from it's state of virtual inactivity. To this effect Mr. Pete quickly set up a forum to help some of us reach the Professional threshold of 1000SCR(without selling) in at most a 10 months time thereabout. The forum promised us upvotes as we make posts and comment on posts. Great initiative and it was working, though not to a very high degree since he needed the cooperation of other "whales" or older members for more upvotes– only a few joined the forum– but ofcourse at this time Scorum as a whole had been suffering from general indifference, so it's understandable that only a few oldies came in.
I had not gone far into this Mr. Pete's initiative before what I call a miracle happened. It was Mr Idegbe again– a friend of his who is a whale had started feeling the heat of the @zoneboy movement and he felt moved to contribute his own quota. So he requested that someone does a post and if it is good, he would pay the person 1000SCR, because he wanted to use that post to publicise Scorum on other platforms. Idegbe asked if I can and I replied in the affirmative. It was quite some work because of the research involved but most especially because, I had a faulty mobile device that limited my Internet access. Finally,I was done with it and though it took quite a while, I trusted the process and was paid the said 1000SCR. Here's the post:(https://scorum.com/en-us/football/@ogeewitty/oshoala-the-great)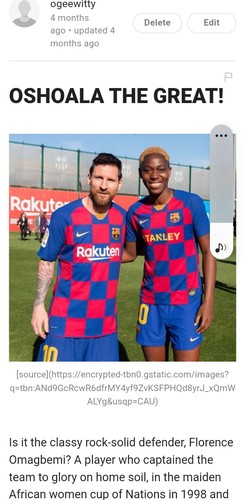 Infact the superstar lady footballer herself,who currently plays for Barcelona in Spain, responded very positively to the post on twitter, when it was posted there. This was duly announced with delight by Mr. Idegbe in our Telegram official group during the @zoneboy movement. Kudos to Mr Idegbe, I still have not met him one on one.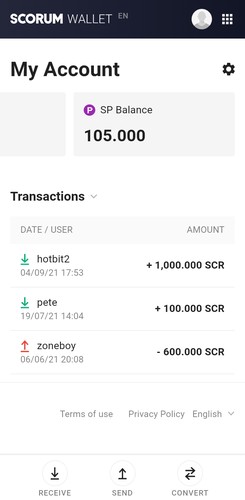 Above is the 1000SCR transfer. Others are a kind gift given to me by the aforementioned Mr Pete as he began that forum I mentioned above and well there you have it, I once sold some coins to @zoneboy as I urgently needed money to feed.
Today it's my pleasure to thank all of you who have pushed me to this point of turning pro. Sorry I will mention a few names, eventhough the risk with this is that I might mistakenly leave out some others. Please if I don't mention yours, it is an innocent mistake please. In addition to the names I mentioned above, I must thank @Satriotomo and his Indonesian community for his consistency with votes. Thanks to: Ibukun(@Ibkdagreat)[a willing helper],@terminalline, @z3ll, @Yefet, @scorumsport,@lebey1,@dokubo. Big recognition to @tosyne2much and his @scorumnigeria flag and all those following me, upvoting and commenting and even just reading. I thank those who are neither following me nor reading my posts, you are still important to me because you are part of why Scorum exists today. So we are together.
I don't mind hearing from you all what benefits will accrue to me as a pro. I'm all ears. Many thanks family.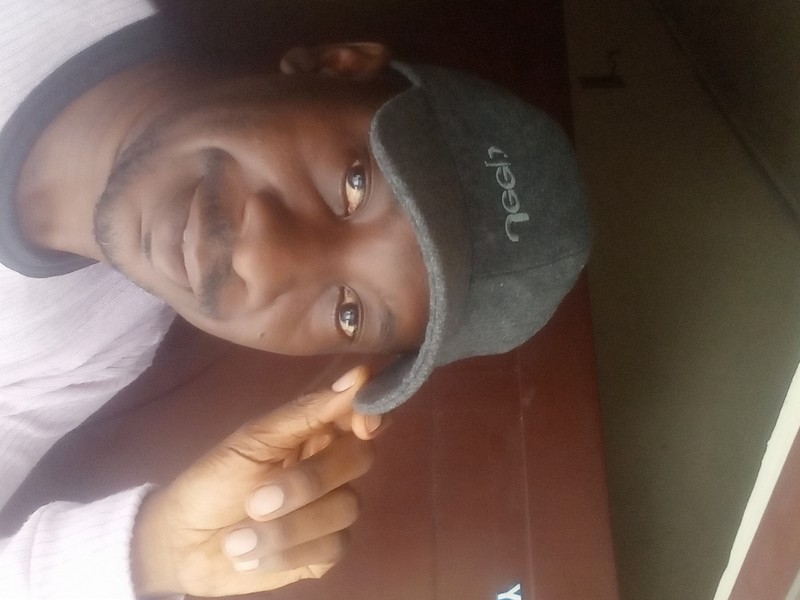 Cheers