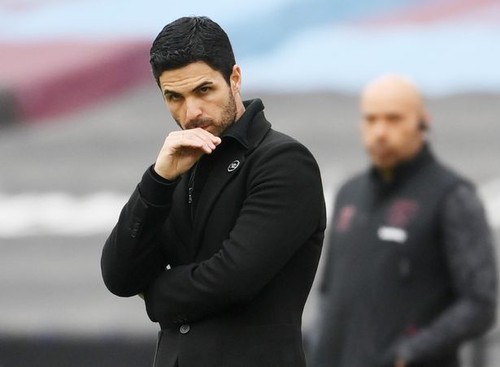 Only yesterday an Arsenal fan wrote in a group chat, concerning Arsenal on their 3–0 loss to Liverpool same day: "Performance was shocking."

Then I replied him:"I'm sha shocked at ur shock sha.
🚶‍♂️"
I meant I am even shocked that Arsenal's performance yesterday is shocking to him.
You may ask why? Welcome then as we explore briefly- The Arteta Gamble. Mikel Arteta Amatriain is his full name,the current coach of Arsenal's senior team,nicknamed the Gunners,a top echelon football team World over. Or is it anymore?
Arteta was appointed to man the team as head coach mid-season last season after the previous coach(Unai Emery) was sacked for poor performance as per the kind of results a big club like Arsenal should have.
Recall that Arteta was favorite for this job initially,firm verbal agreements had been reached and he had started saying his farewell to his employers then,Manchester City,where he worked as an assistant coach to the erudite Pep Guardiola. From no where an Unai Emery (who wasn't in the picture) was suddenly interviewed and employed instead of Arteta.
This second coming of Arteta as it were last season,after Emery's sack, looked like a worthy compensation for the previously jilted Arteta. It even started well with Arteta winning the FA cup last season,eventhough he only just arrived. For those who looked more at the tactical side of things,they observed a drastic difference in team organization as Mikel came on board. The team was no longer leaking goals like in Emery's time, every player seemed better aware of what to do. Interviews with the players also confirmed this fact.
What many didn't know is that appointing Arteta was a huge gamble. This season he duly had his first pre-season with his players and brought in some quality additions too. It was good vibes all around Arsenal, but as I write,Arsenal fans are wondering what has hit them this season. They keep shifting blames from to Bellerin,to Auba ,to Lacazzette,to Willian. Yet the real problem is Arteta and his employers.
Are we just being unfair to a guy because he is a young coach,what of the team organization I said he brought in? Oh no,not so!
His team still has organization,infact for several weeks early this season Arsenal had the best defensive record till injuries set in. His team also has a winning mentality. But you see, at the topmost level(where Arsenal actually belongs) these qualities are not enough. One challenge this side has is that it doesn't score many.
However,the crucial failing of Arteta is his in-game tactics. How many times this season he makes changes really late and ineffective too. It is because he lacks the know-how of in-game tactics. The very best coaches don't just put out a proper starting eleven, but are adept at in-game tactics(what to do when your team is under undue pressure) and that is what makes them outstanding.
Secondly, Arteta is not tactically flexible enough with his players. I would say he limits some of his players. Early this season, Thomas Partey got injured and Arteta became confused on who to play the defensive midfield role. I told people, yet he already had two defensive midfielders in the team apart from El Neny. You say who else? Chambers and David Liuz can play there quite comfortably(especially Liuz) and they were available for selection then. The Gunners lost or drew crucial matches then because Arteta didn't know this. Those loses are telling on the team now.
Tierney got injured and Arteta kept playing Niles there when he has Soares and Chambers there. Before long Niles began to misfire and why not, that's a more difficult role for him to fill-in,than any of the defenders mentioned. Today he has learnt his lesson and even loaned out Niles.
Caballos is best as a number 10,not deeper. He can make the Ozil-esque passes and he packs a good shot in those legs to score goals. So Arteta already had a world class number 10 in his team, but he didn't know and got worried bringing in Odegaard on loan. Nothing against Odegaard, he is world class too. I could go on and on.
An Arsenal fan told me recently that he wouldn't have believed that with the way he absolutely wanted Wenger out, that so soon he is wishing that Wenger was back coaching the Gunners. This is the reality where the man in charge has put the Gunners. He is simply too inexperienced for the job right now. He will improve if given about 2 more years,but no big club gives a coach that brand of patience,only Arsenal. Their board keeps doing strange things. Even the previous coach, Unai Emery was sacked too late,he ought to have been kicked out much sooner than he was. Also Wenger was left there too long. Sadly that's how their board treats these matters and the club,supporters and fans suffer for these kind of strange inactivity by the board.
What is upon the Gunners family this season is a gamble and his name is Arteta. Hopefully,they can forebear this gamble because the board we know is in no hurry to end this gambling scheme.
Happy Easter, Jesus is risen!