Hey all my human friends,
So its been almost a week since I posted on the Scorum Platform. Since than I have been busy on developing many tools that can be used on the Scorum site. So after a lot of data processing I was finally able to make a site that might be helpful to many people on this platform.
So without further ado lets get started,

What Is Voting Tool?
Since many people know when you start blogging on this platform, you get 5 SP from the Scorum team and the rest you earn from your posts. Also most people ask the question when does the voting slider comes, through which I can decide the % of my upvote. So as an answer to that question it is after you reach 1000 SP or as they like to say "Pro Level" you get a slider.
But for many smaller accounts/newbies or in other words I can say "Minnows" generally have a tough time in their first month or two to reach that level. Also their activity on the platform is limited as they can only upvote four times in 24 hours. So what happens is those people who want to interact more with other people and make their presence felt weren't able to do so. So keeping that problem in mind, IAS Community presents "Voting Tool", with help of which any person can upvote any post with any % of voting power.
Yes, you heard it right, even a person without a "Pro Level" can now upvote with a set percentage as if he would do with a pro level.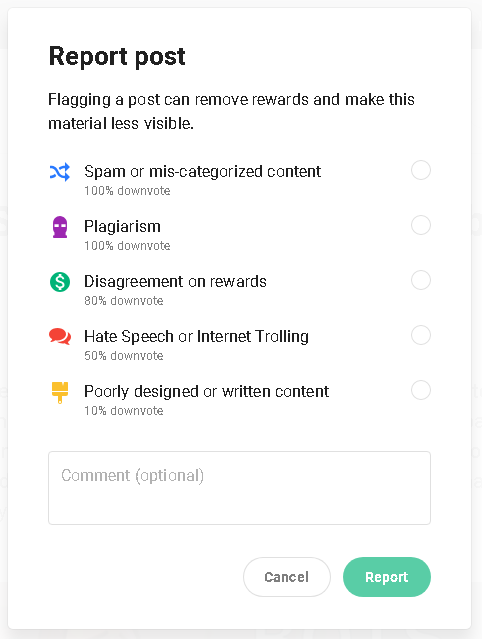 Second problem that this tool solves is the flagging issue. As you might have noticed, when we try to flag any abuser there comes a set percentages like 100%, 80%, 50% and 10%, these percentages are default on scorum site and can't be changed. Also I would like to inform that it doesn't matter if you are at pro level, you still have to decide from the above four option of percentages to downvote with.
But now things have changed. With this Voting Tool, not only you can upvote but you can also downvote with any percentage. So lets say for example if you see a post with $1 which you want to flag and your SP holding is lets say 10,000 SP, you now can flag with 1%VP with downvote value of approx $1 instead of the traditional 10%VP downvote which is minimum on this site with value of $10 and save yourself some VP.
How Do I Use This Tool?
The Voting Tool is hosted on an open source site, GitHub. To use the tool visit the site iamscorum.github.io. Follow the steps below for upvoting/downvoting.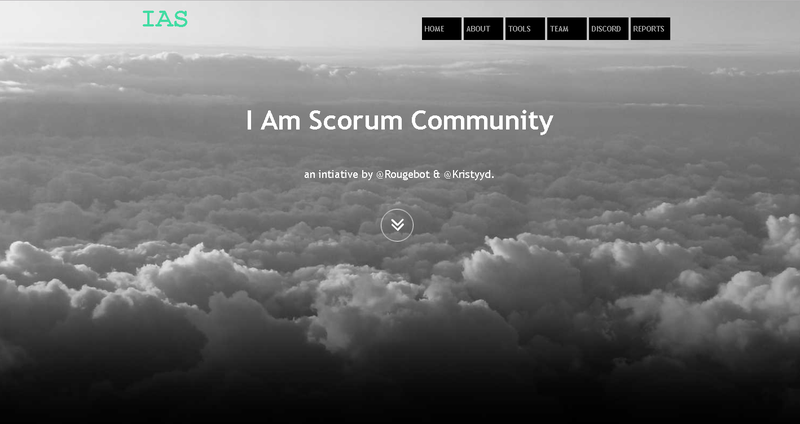 On the homepage, scroll down to the "Tools For Scorum Platform" section and click on "Use This Tool" button, or select "Tools" from the top menu and than "Voting Tool" in the drop down menu.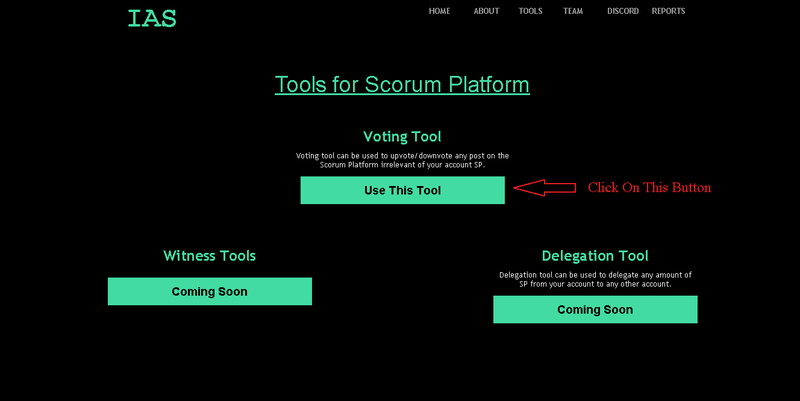 After that the Voting Tool page will open, now enter the relevant details for an upvote/downvote.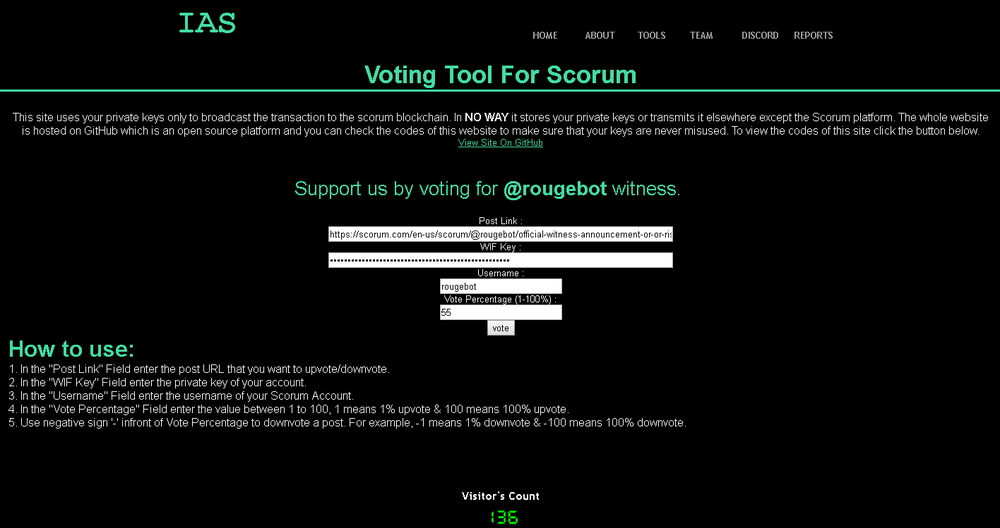 In the "Post Link" Field enter the post URL that you want to upvote/downvote.

In the "WIF Key" Field enter the private key of your account.


In the "Username" Field enter the username of your Scorum Account.

In the "Vote Percentage" Field enter the value between 1 to 100, 1 means 1% upvote & 100 means 100% upvote.

Use negative sign '-' infront of Vote Percentage to downvote a post. For example, -1 means 1% downvote & -100 means 100% downvote.
Now click the vote button, you will see an alert with the message "Success" once your vote transaction has been processed. If you are receiving any error feel free to message me anytime in our discord server.
Is It Safe To Use This Site?
Yes, of-course it is. While the development of this tool I had it in the back of my mind to keep the complete transparency of the working of this tool and the whole site. The reason I hosted the whole site on GitHub is that anyone can see the complete codes of the whole site and make sure that it is as safe as it claims to be. I assure you that this site "In NO WAY stores your private key or uses your private key other than broadcasting the vote on the Scorum site". If you don't believe me you can see the codes for yourself at https://github.com/iamscorum/iamscorum.github.io.
If you don't have the coding knowledge and still wanna know how it works and is it really safe, feel free to drop-in in the I Am Scorum Community's Discord server and ask me, I will be glad to explain it to you.

Is This Site Only About The Voting Tool? Is It IAS Community's Official Site?
This site as I like to say is Official IAS Community site, along with the tools, you can access our Community Reports in which we make the abusers list avail for easy viewing to the users on the Scorum Platform. Currently a list of 1673 abuser accounts is being published over there and is updated from time to time. This list is same as it is in our discord server.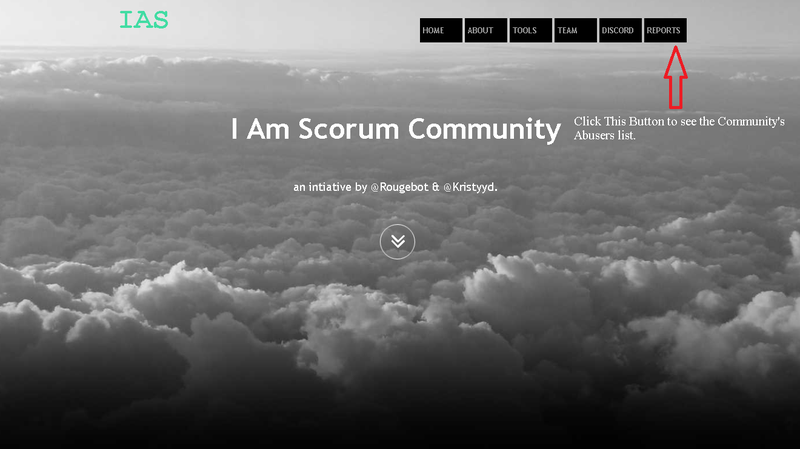 To access the abusers list, click on "Reports" from the top menu and it will give you complete details of the abusers like username, type of abuse and other relevant data. So I request to take time and go through that and see our contribution to this wonderful Scorum Platform and its users.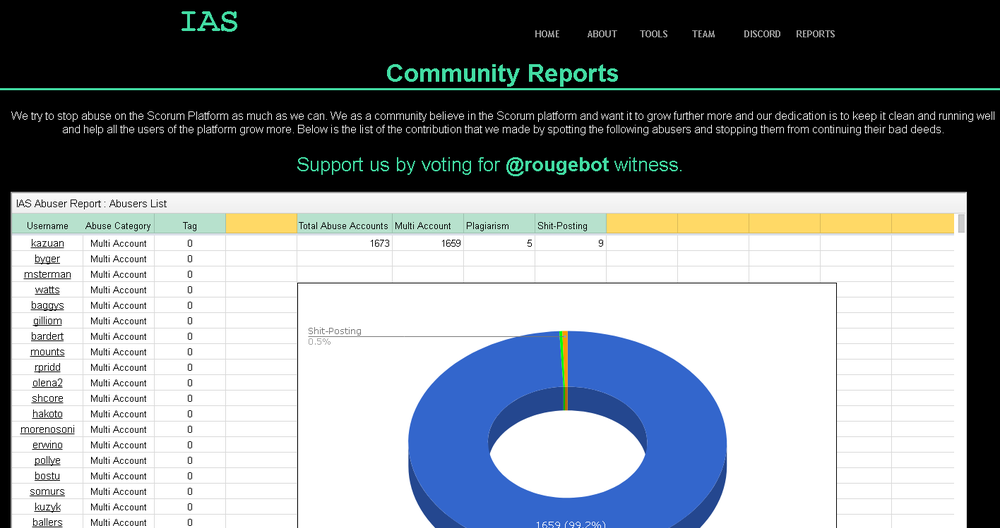 Not only that soon we plan to release a "Delegation Tool" and some other witness/delegate related and non-witness/non-delegate related tools for the public use.
So with that being said, I will like to thank a few people, first being @Kristyyd, the Co-Founder of the "I Am Scorum" Community and also witness partner for her contribution and effort to the community.
Second I will like to thank @btb & @stimp1024 and the SBC group for their support to this community and their dedication to make this platform a better place, I recommend to vote for their delegate/witness as they deserves that.
So with the new year as entered just now, I will like to wish a Happy New Year to all of the users on the Scorum Platform and may this 2019 year brings lot of happiness and joy.
If you think our community is working towards the betterment of the Scorum Platform and you will like to support us in our journey on this platform feel free to vote for our witness/delegate @Rougebot, IAS Community witness, we will really appreciate that. You can read more about our witness and its vision in our Official Witness Announcement post here. You can vote for the witness/delegate on Guiltyparties.com, and as I usually say don't worry this site is completely safe and in NO WAY it stores your key or misuse it, I personally recommend it.
Join our discord Server here.