With the development of digital technologies and the cryptosphere, the issue of the security of crypto wallets is being raised more and more often. Hacking crypto wallets and stealing cryptocurrencies is not new for a long time, but recently it is gaining the greatest relevance. And in order to protect yourself and your wallet, it is very important to follow very simple, but not always obvious rules.

There are quite a few ways hackers can use to get information and hack into a wallet.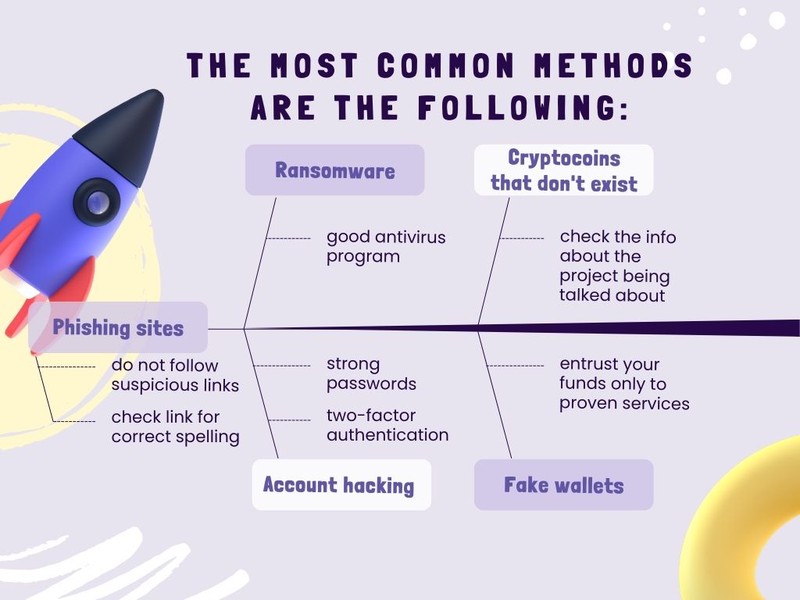 Let's consider them in more detail, as some of them are quite common, while others are less common and not everyone has heard of them.
The most widely known method is account hacking.

A wallet has a unique key and only you have access to it. The rule that you can see in all wallets when registering is keep this key in a safe place, as if you lose it, you will not be able to restore it. Therefore, you should not say your seed phrase to ANYONE under any circumstances. A strong password and two-factor authentication are integral parts of wallet security. Furthermore, it will also be very useful to have a separate wallet if you need to make small daily transactions, as this will increase the security of your main wallet.
Widespread method is also to create phishing sites through which hackers try to gain access to your data. The hackers create sites that are very similar to exchanges and etc. However, after entering your wallet data, you will not get into your account and scammers will receive your data.
As for ransomware, it is based on one of the favorite psychological tricks of scammers - intimidation. The data on the device is blocked by a virus. Catching such a virus is easy - open an infected email or click on as advertisement. To make the message look convincing, the hackers added the logo and the name of the exchange to it, and indicated the service support service as the sender.

Typically, hackers use both of these methods together. That is, first the user receives a mail, for example, about verification pass needed or his wallet will be blocked. After clicking on a fake authorization page and entering data, the user is redirected to a real site, and his wallet and all its contents will be in the hands of hackers.

How to warn yourself?
double check the web address before logging into your account or entering any data;
check the functionality of the site, often only a few pages work on such sites;
bookmark the sites you visit most often;
use a good antivirus;

additional information about sites can be found out using services, e.g. Similarweb.
Projects with fake-coins hide behind the idea of ​​creating their own cryptocurrency, but it's not really like that. The organizers create a classic fraudulent scheme, after which they disappear with the investors' money.

It is always necessary to analyze information. Projects with guaranteed profits often turn out to be pyramid schemes. Before investing in any project, you need to check in detail the information about it. Investments are always about risks.

Often there are apps or sites for storing cryptocurrencies that are insecure (fake wallets). In fact, the program shows your hacker's wallet address to which users transfer money. When creating a new account in such applications and sites, a new wallet address is often not generated, but the same one is used.
How to warn yourself?
Trust your funds only to well-known services and check the information about a new app before using it.
You are solely responsible for the security of your wallet. The crypto environment is constantly evolving and security systems are improving, so you should take all the necessary precautions and stay up to date with the latest improvements and security updates to keep your cryptocurrency wallet safe from intruders.