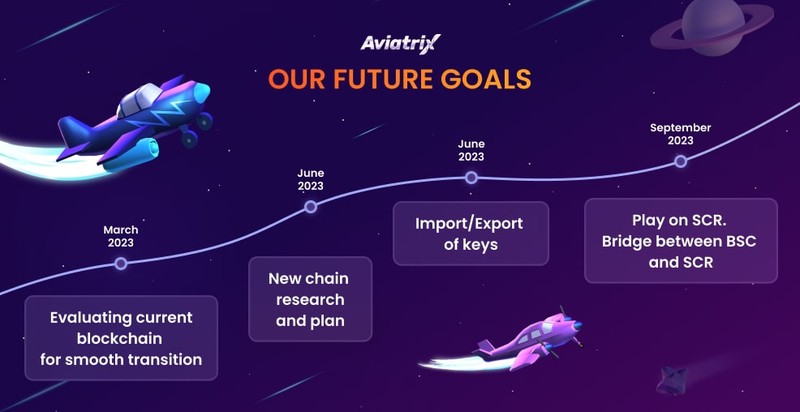 We know you've been eagerly waiting for this announcement, and we want to provide you with a sneak peek of what we have in store for you. From ensuring a seamless transition to a new blockchain technology to enabling players to use SCR to play Aviatrix, we're committed to providing you with a game that's not only enjoyable but also reliable, secure, and stable..
Before we proceed, it is important to note that everything will depend on the difficulty of the tasks and any unforeseen circumstances that may arise. The following dates are approximate and subject to change based on these factors. We'll keep you updated on any changes, keep an eye out for updates!
So, let's take a closer look at our roadmap!
Step 1: Evaluating Current Blockchain for Smooth Transition (March 2023)
The first step is to сheck the current blockchain and identify its advantages and disadvantages, which is an integral part until the transition to a new blockchain. This means conducting a thorough review of the current codebase, identifying any critical issues or bugs etc.
Step 2: New Chain Research + Plan (June 2023)
The second step is to research and plan for the migration to a new blockchain technology that will be more scalable, efficient, and easier to maintain than the current solution. We're considering Cosmos as one of the alternatives, but we'll conduct thorough research to determine the best choice. Here are the steps we'll follow:
Conduct research to choose a blockchain technology that can replace Graphene and meet the needs of the Aviatrix game;
Discuss the new stack with DevOps and identify any potential challenges or issues that may arise during the migration;
Allocate a team to maintain the selected blockchain;
Migrate the current Aviatrix logic to the new stack, including the marketplace and any other relevant components;
A new blockchain will be chosen to further develop the entire Scorum ecosystem.
Step 3: Import/Export Keys (June 2023)
To make it easier for players to switch platforms for the game, Aviatrix will incorporate the ability to import and export account keys. This will enable players to transfer their accounts without losing any game history. Simply put, this feature will allow players to seamlessly move their accounts to other platforms while keeping all their game data intact.
Step 4: Play on SCR. BSC Bridge between SCR on Binance Smart Chain and SCR (September 2023)
Finally, we'll enable players to use SCR to play the Aviatrix game. This will involve setting up a bridge between SCR on the Binance Smart Chain (BSC) and SCR on the new blockchain, which will allow players to easily transfer funds between BSC and SCR platforms. We'll thoroughly test this to ensure that it's secure and reliable.
Our skilled developers, DevOps, and QA and all team of professionals are working tirelessly to complete these tasks. We'll keep you updated on our progress every step of the way, so you can rest assured that you won't miss a beat.
We know you're excited to play the Aviatrix game using SCR coin, and we can't wait to bring it to you. Stay tuned for more updates and information, and thanks for your support!