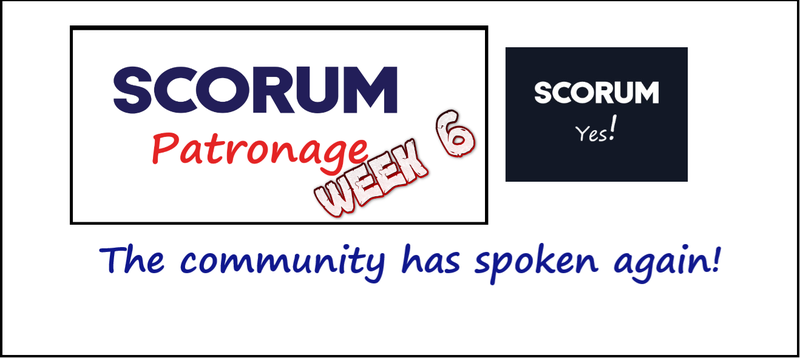 Hello Scorum,
It is still only February but one thing seems for sure already. This year the crypto market won't be boring at all. The maket cap has been steadily rising since the beginning of 2020 and many coins could register some nice gains. Sure no one can really predict where the ride will lead us this year but at least there seems to be some excitement in the crypto world again, something what can only be benefiting for the whole market. When Bitcoin can get over 10.000 Dollars again we might even see some rally again, even though I doubt we will get close to its former high at 20.000 Dollar any time soon. I rather prefer some healthy and slow rise compared to that crazy move about 2 years ago which eventually lead into some deep fall of and decline of all coins and some still ongoing nuclear winter in the crypto world. About a year ago I was already optimistic after Bitcoin jumped high above 10.000 Dollars but then fell again sharply. That's why I am still doubtful about the recent rise but I surely have all my fingers crossed and I am ready for some more action.
I am kinda cheering Etherium now and hoping it will eventually pull up Scorum into warmer waters too. So far it seems Scorum Coin is just waiting for the right trigger to come out of its hiding and hibernating to show the world its potential. We already managed to get over 1 Cent in January and I really want to see this number again since it could be really encouraging to get into higher spheres after that. I just hope not too many people will start selling their coins after such minor gains. This week too Scorum Coin has been on a roller coaster ride, dipping deep down and coming close to its low. Not sure who is selling at those prices but that clearly won't help us to keep the price in better regions. However, I am still positive this year will bring some positive change, just hold on folks.
---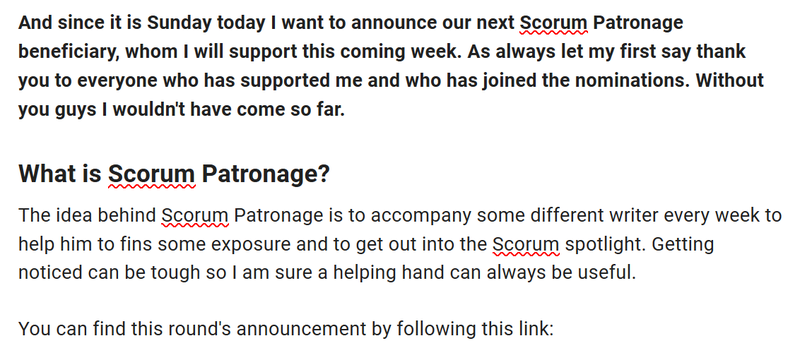 https://scorum.com/en-us/scorum/@sport-frei/scorum-patronage-week-6-open-for-your-nomimations
---
Let's get back to the nominations. I always come up with the same, very simple question:
Which user here at Scorum deserves a little attention and should be supported by me for a week?
This week we got two people joining, both cheering for the same candidate. Therefor it was quite an easy choice and I am happy to announce our next candidate. Big thanks go out to @herbaycity and @battleaxe for stopping by and keeping Scorum Patronage running, I will leave some nice upvote on your comments.

Congrats go out to @tfame3865!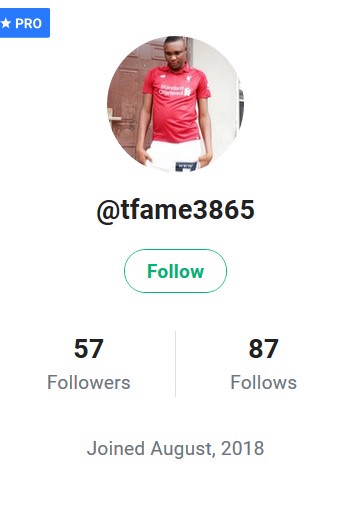 He has joined a year and a half ago and seems to post frequently recently. Let's see what he is coming up with this coming week!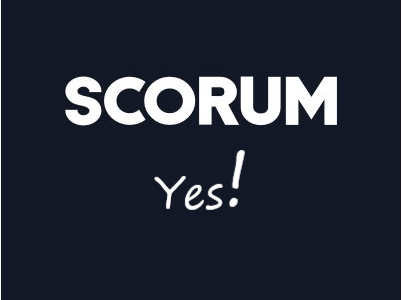 Some last words...
Did I ever tell you guys how much I am into snowboarding? Or actually how much I used to enjoy it when I had more time and was more flexible?
Oh yes, the good old days when I couldn't wait to hit the slopes and find some fresh powder. Unfortunately I grow up quite far for the nearest mountains and had to drive quite some hours to the next ski field. We usually went only once a year but then mostly for about a week to make some sense out of the long travel. So far I have run down the hills in six different countries on four different continents. And now when I am quite close to the mountain I am always excusing myself for not having the time anymore and for being to busy. Well, it is not a lie but I am also not as flexible as I used to be. Getting all the stuff snowboarding stuff and ourselves readily prepared was always quite some task of its own but when you are younger you don't feel that hustle at all. Not close to my mid-life crisis things have changed a lot and I am trying to avoid too much effort.

But I still cherish those great memories I have, and there are quite a few places I would love to go again to catch up with what's still there. There are also many new spots I am pretty keen to visit and check out what they have to offer and if I am still able to keep up with whoever is out there. I am sure my snowboarding days are nit over yet, it's rather some hibernating and thoroughly planning before I will be back on the slopes to join the craze and the fun in the mountains. Meanwhile I am wishing everyone out there in the snow lots of fun and excitement and always some safe and controlled ride. Safety comes first brother and sisters!

---
Alright, that is all for today, I am wishing all of you a great rest of the day and a week full of exciting tasks and encouraging challenges.
Feel free to leave me some comments or critics, since I am still planning on improving my initiative. Just hook me up with your thoughts.
Catch all you guys soon...
Love and Respect !