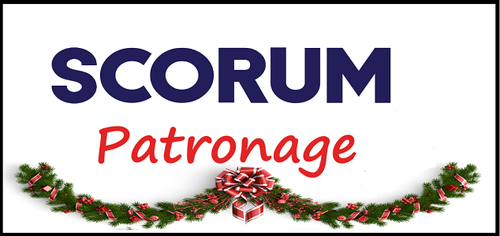 Hello everyone
Another year has almost past which has been shaking our world and lives more than expected. But well, 2020 was and is still a wonderful for me! Nothing and nobody can take this believe away from me and if I look around me I am more than positive about it. Sure some things could be better but I am surrounded but some lovely and loving people which lift me up every given day and help to get over the hurdles which cross my ways.

I have been here on Scorum for almost over two years and three months and for over years I have been running Scorum Patronage. I have done over 100 rounds of my little initiative which I started to help some aspiring and new writers here on Scorum. We good lots of different nominations for people for sport bloggers from around the world, writing about all kind of sports and topics. Sure some weeks we didn't get any nomination in at all but this is completely fine with me as well. No pressure folks, we are still going through some rough and challenging time here at Scorum and I understand why people are losing hope and confidence, I need to motivate myself too to continue what I have started here even though I often have my own doubts whether I am betting on the right horse.

I hope so much we will hear something from the dev team about their plans, hopes and ideas for the coming year. The community needs some clear words about what is going on and what might be in the pipeline. I am all in for another year on Scorum, but I will appreciate some honest announcement where we are sailing now and what to expect and what not.

As for today I want to invite you to a last Scorum Patronage round in 2020. As usually you don't have to do much, just nominate a writer you came across who you think could be in need of some support. Just drop the name in the comment section and on Sunday I will chose our next beneficiary, which I then will support for the next week. Maybe my upvote will encourage them to write even better articles about the exciting world of sports.

---
You can find the last winner announcement by following this link
https://scorum.com/en-us/scorum/@sport-frei/kscno-scorum-patronage-week-51-the-community-has-spoken

Nominations for WEEK 52
This gonna be the 52th round of Scorum Patronage in 2020. I usually ask you a very simple question:
Which user here at Scorum deserves a little attention and should be supported by me for a whole week?
Please nominate some Scorum users who needs some support or some initial boost. I am thinking about all those new members of our growing and creative community but also about everyone else who is having a hard time finding its place here on Scorum.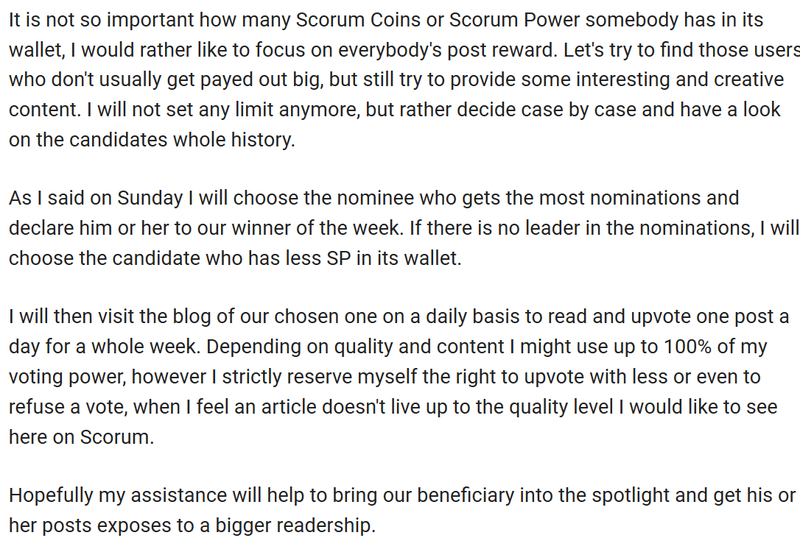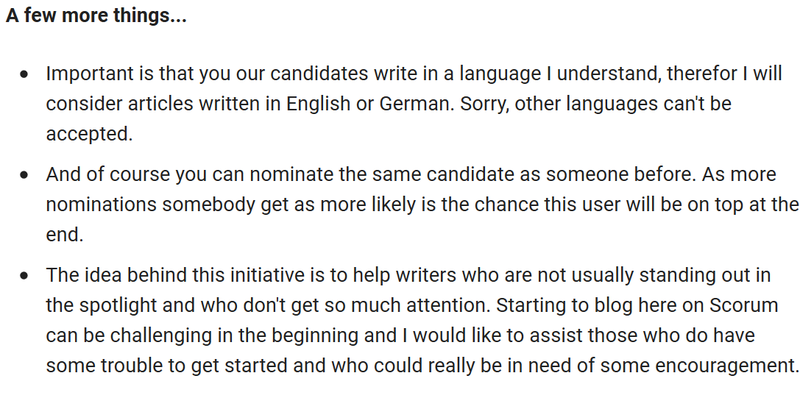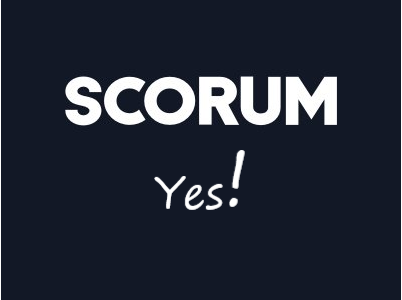 Now we are entering the merry time of the year and I hope all of you can find some moments to relax and rewind, together with people who make you smile and warm your heart.

I am wishing all of your a Merry Christmas, or that you will enjoy whatever holiday are event your are celebrating now. Let's move together a little closer and look for each and everybody around us. We can make this world a better place, even with little gestures and small steps. It is all up to us!!


Love and Respect !