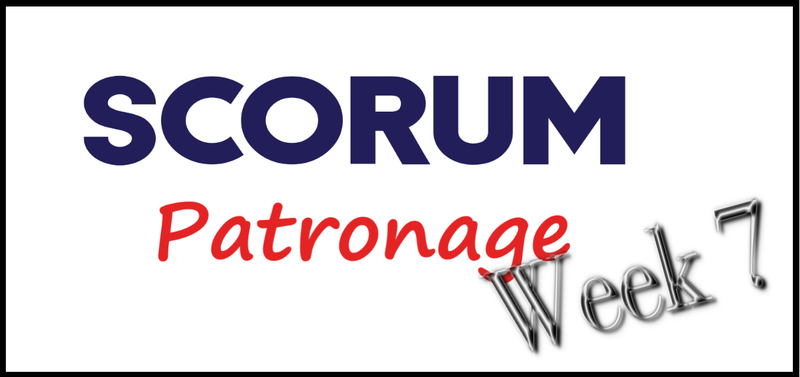 Hey Scorum what's up?

I am now cruising somewhere between the worlds and if things go well I should touch some base anytime soon. I don't enjoy flying anymore these days, too long and too noisy, too crowded and too narrow. Lack of sleep and just not relaxing at all. But the only way to link up with both of my families who live in completely different parts of the world. So it takes quite a while to move from base to base to catch up with each other, but hey it is definitely worse it. Fortunately I will have some time to wind down and hopefully also to recharge my batteries, something really needed right now.

I am planning to take Scorum with me, I prepared this post in advance and I am hoping to bee able to post it on Thursday morning before taking of for the second leg of this trip. And if things go right I should have another computer to log into by Sunday to catch up with you guys again.

Thursday and Sunday are the two days I have devoted to my Scorum Patronage initiative which I am planning to keep running for the few weeks I am away. I am not sure how often I will have access to a computer or the time to be active on Scorum and hopefully I will also be able to upvote and read lots of the posts you guys are writing here on Scorum. I might be a bit late but I will still be with you and follow you from the background.

As for today, it is Thursday and therefor the day we start the nominations for the next round of Scorum Patronage. I need you to to have a look and tell me in the comment section of this post which Scorum user could use some more support. On Sunday I will check through all nominations and chose the candidate who got nominate the most as our next beneficiary.
My job won't be finish yet, since from there I will accompany the chosen user for a total of seven days to read their articles and to support them with my upvotes. Which will hopefully help to bring some more attention to their profiles and to encourage them to continue writing quality sport blogs.
But I will not only visit the winner's blog, but in addition give out some big votes for the person who nominates this round's winner first. Plus I will also leave some upvotes on every genuine nomination or comments. Let's see if this will eventually bring some more people onto joining the nominations.
---
If you want to see the last winner's announcement, please follow this link:
Nominations for WEEK 7

This gonna be the seventh round of Scorum Patronage in 2020. I usually ask you a very simple a question:
Which user here at Scorum deserves a little attention and should be supported by me for a whole week?
Please nominate me some Scorum users who need some support or some initial boost. I am thinking about all those new members of our growing and creative community but also about everyone else who is having a hard time finding its place here on Scorum.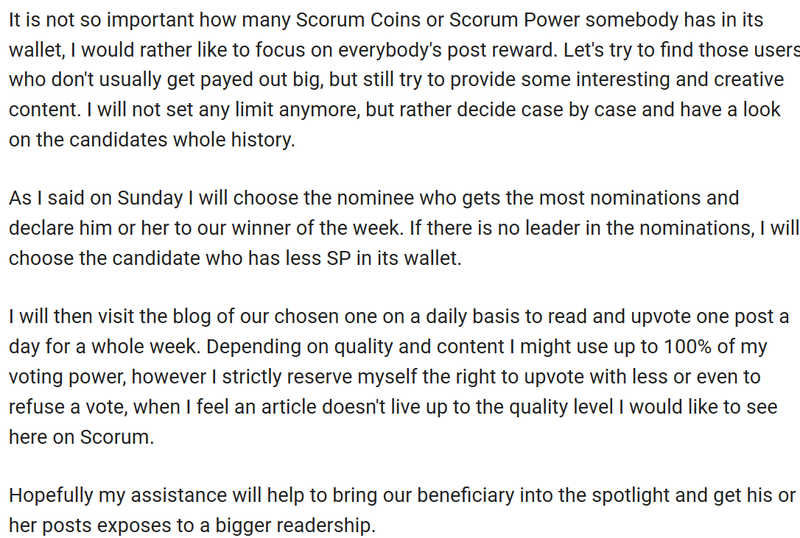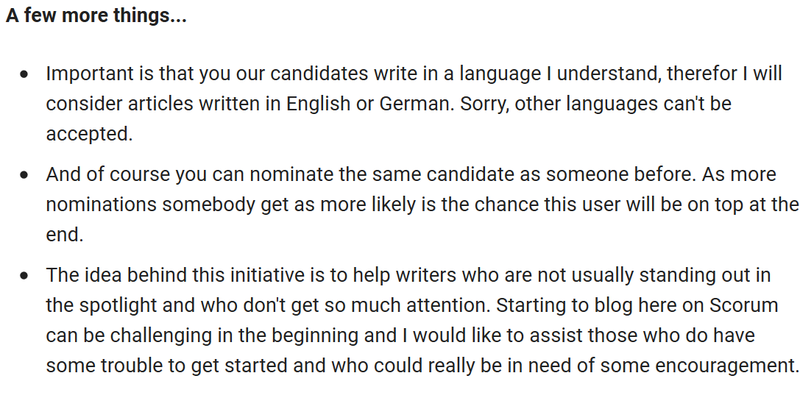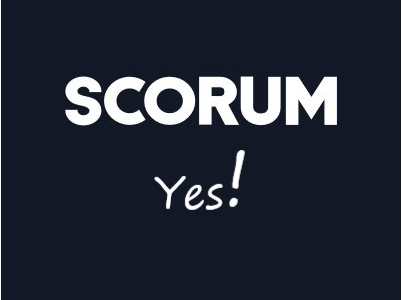 Some last words...

I can't remember when was the last time I watched a game of the 1. Division of the German Bundesliga, I guess it must have been Hertha BSC vs. HSV, many many years back in the days. My favorite team Union Berlin is now playing in the Bundesliga 1 and I would love to watch them there on day. I have seen them in many different leagues, 2. Bundesliga, Regionalliga, (East German) Liga and many minor leagues when there were struggling to survive. But these days there are pretty much right on spot and are having some good chances to get a second year in the top German football house. I don't expect I won't be able to get a ticket or two for some of their home games, every match has been sold out for a while but I really hope that some day I will get the chance to witness Union versus some of the big names in German football.

From the place where I grew up I can walk to their stadium which I still recall as a pretty windy but rather cool and genuine football ground. Sure things have changed there as well and the stadium has been reformed a few times to adjust to the new requirements in profi football. I often pass there when visiting my old home and I am keeping up with what is going on around there. On the first glance it seems that things have changed to the better but of course Union now needs way more money than before and it will be hard to keep the healthy balance between being a genuine team and a professional club. Not sure if this can be hold for long, maybe Bundesliga 1 isn't the place where you can hold on to your ideals forever, maybe a league down the football is more real and clean. I don't care about any trophies, I'd rather wanna see some real people on the field and on the stands, living what they are doing. Fingers crossed those people will still be to find when I will enter the "Stadion an der Alten Försterei" the next time.

As it looks I haven't written enough to get past the plagiarism checker today, so I need to add a few more lines. That's the reason I am now using photo modules of my older posts to avoid that problem. I know it doesn't look great, especially if you use the mobile version, but I was just tired the fights a plag bot. So I hope this few lines will do the trick today and I can concentrate on reading and upvoting.
Enough said, I am ready to receive your nominations! Don't be shy, just bring them on folks!
For questions or comments please hook me up in the comments as well. In addition you can find me in the Scorum Patronage channels which I am hosting on the I am Scorum discord channel.
I am hoping to reading from you soon!
Catch you later...
Love and Respect !