Football is one of the most watched games in the world. While it's an interesting game, sometimes, some things happens on the pitch due to uncontrolled anger, indiscipline or carelessness
I present to you 5 weirdest things footballers have been banned for

5. Luis Moreno - Kicking the mascot
Deportivo Pereira VS Barranquilla in 2011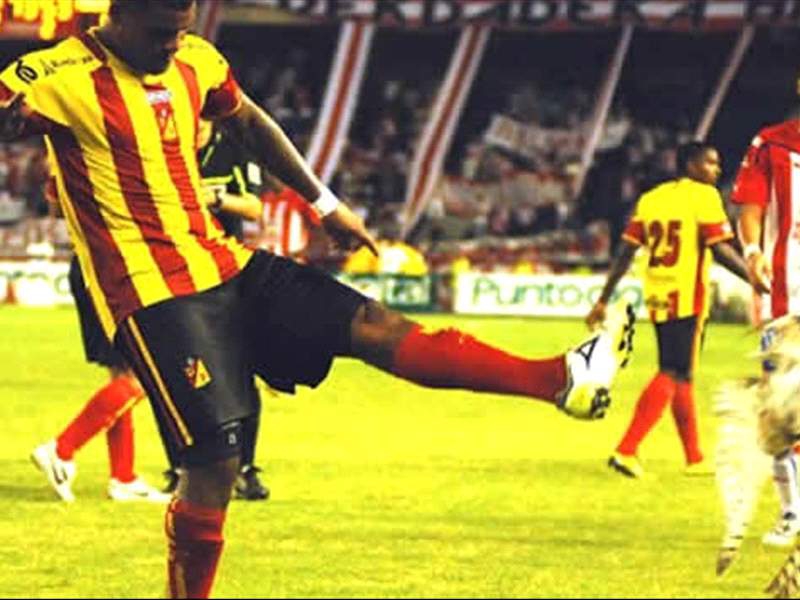 When talking about the weirdest things footballers have been banned for, this is a match that comes to my mind. During the match between Deportivo Pereira and Barranquilla in 2011, an owl flew down to the pitch towards Moreno's direction and he kicked the owl just like a football which resulted into its death.
Things didn't end just like that. Mereno luckily escaped jail but was fined $500 and was forced to do community work at a zoo

4. Lee Bowyer & Kieron Dyer - Fighting
Newcastle United VS Aston Villa 2005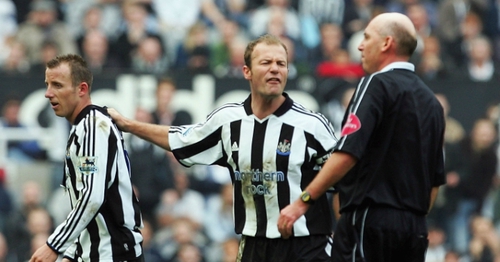 When you talk about fighting on the field, it's a common occurence but when players of the same team are fighting on the field, you should know that's an absurdity. During this match, Dyer was expecting a pass from Bowyer which didn't happen. Out of anger, Dyer punched Bowyer and this resulted in a fight between them until fellow players intervened. This was an act of undiscipline and the two of them were sent off the pitch, banned and disciplined by the club
3. Paul Gascoigne - Booking the referee
Rangers VS Hibernian, 1995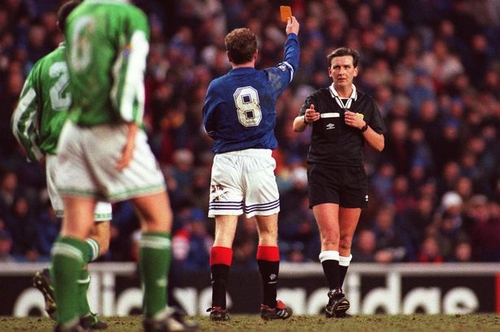 This is probably one of the weirdest bookings I've seen in football. During the match, Gascoigne noticed the referee's yellow card fell to the ground, he then picked it and jokingly booked the referee. This seemed like a joke but the referee saw it as an offence. Gascoigne was banned for two matches
2. Eric Cantona - Kung fu kick
Manchester United VS Crystal Palace, 1995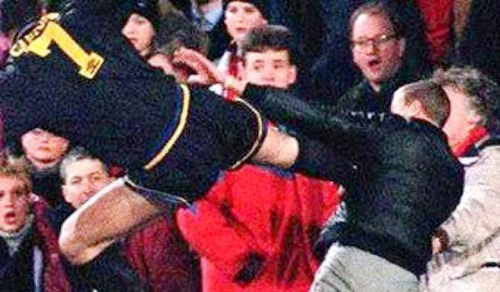 During this intense match, Crystal Palace Player, Eric Cantona had already been sent off and was tired when a Crystal Palace fan abused him and what we saw next was Cantona flying at him with a kungfu kick just as Jet Li does in his movies
This Kungfu kick landed Cantona in 9 months ban

Luis Suarez - Biting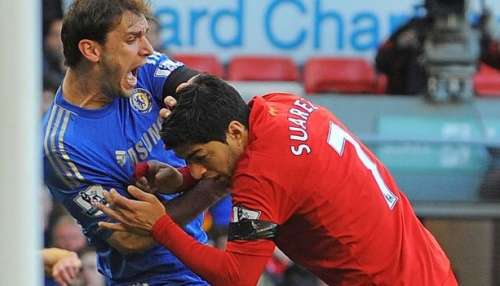 Suarez should top the list. He has been banned not once, twice but trice for this barbaric act. When you talk about bitting on the pitch, Suarez remains an undisputed champion in this act.
His first bite was in 2010 against PSV's Ottoman Bakkal. Suarez was sent off the pitch and was given seven match ban. His second bite was in 2013 against Chelsea's Ivanovic. He was also sent off the pitch and was given ten match ban
The last was in 2014 against Italy's Giorgio Chiellini. Suarez was sent off the pitch and was given four months ban.
Feel free to add yours if you can remember any