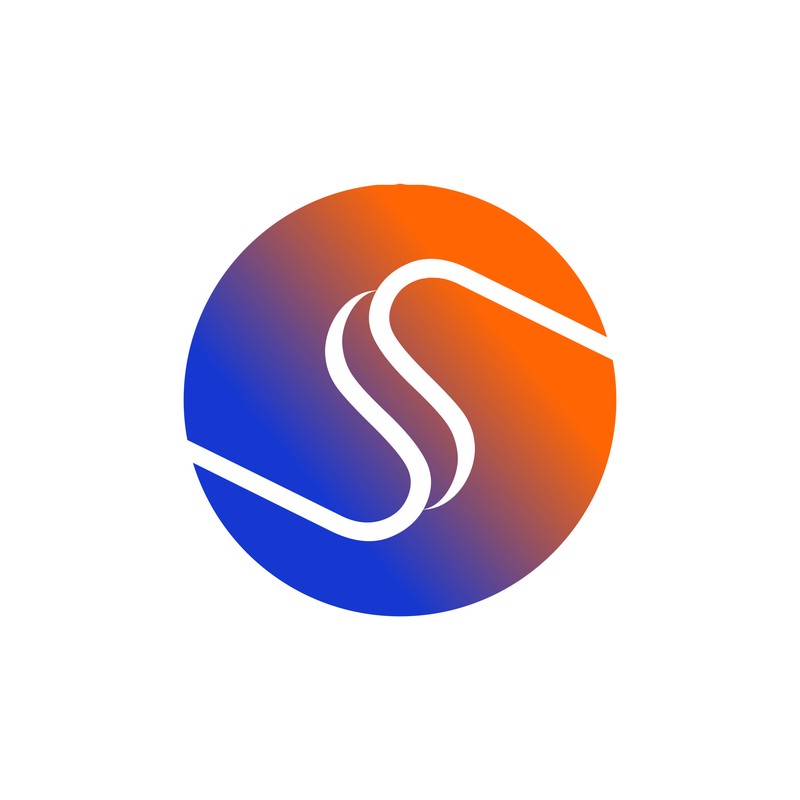 Sport Finance Project is happy to announce the launch of their casino platform sftcasino.com. The Casino originally scheduled for Quarter 2 2021 came earlier than expected.
---
Sftcasino will utilize the SFT token and users will be able to deposit SFT token on the platform using METAMASK and withdraw their earnings using SFT tokens.
---
Users can also deposit SCR and use it to play the casino games and withdraw their earnings. It is simple, fast, and easy.
Depositing SCR
Create an account on SFTCASINO and note your username
Send atleast 1000 SCR to zoneboy with your sftcasino username as memo
Login to your account and click on deposit >> deposit again.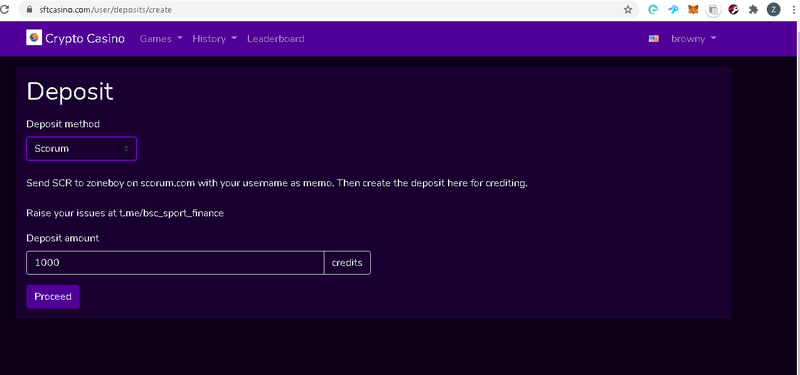 Choose Scorum from the deposit method and input the amount transferred to zoneboy.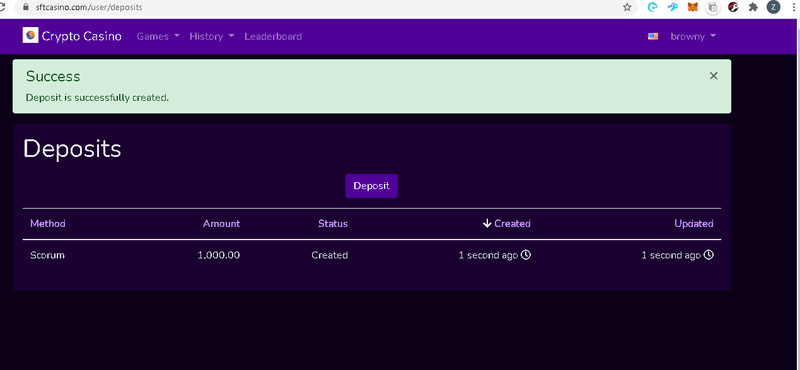 Click Proceed and your deposit will be credited within minutes.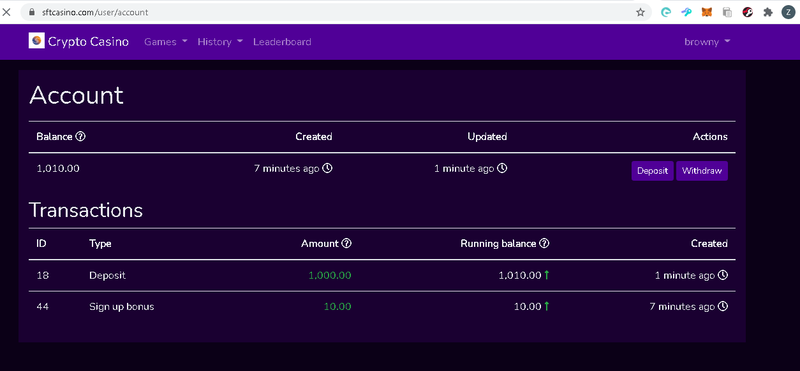 You can see the confirmed deposit which will be visible in your account.
Withdrawing SCR
Click on withdrawals >>> Withdraw
Select the withdrawal method Scorum.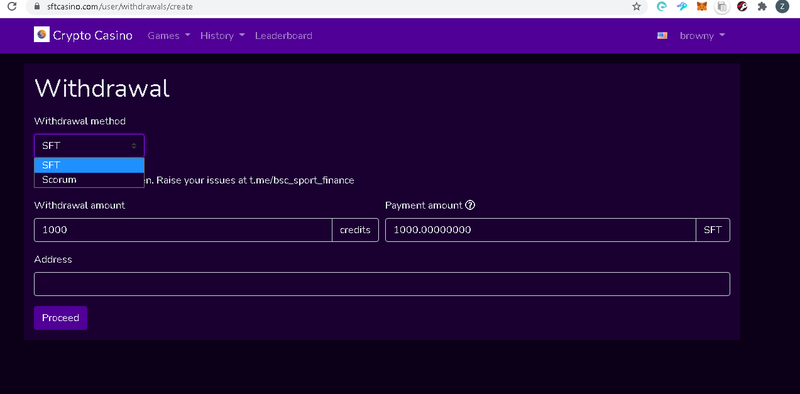 Input your scorum username and click proceed (There is a 2% withdrawal charge)
The withdrawal will be created and you will receive it in your scorum account in minutes.
Installing METAMASK
You need to install metamask as an extension on your PC Google Chrome.
---
Create a new wallet or import your existing smart chain wallet. On importing, this will be automatically converted into the Ethereum wallet.
---
You need to go to settings page >> Add a new network and fill in the following
Network Name = Binance Smart Chain
New RPC URL = https://bsc-dataseed1.defibit.io/
Chain ID = 56
Block Explorer URl = https://bscscan.com
Then click Save
---
Your Binance Smart Chain account will now be active. You can add SFT to the token page by clicking add token >> input the SFT contract code 0xe4eb998a6640008d760cba9bd0213e6ddb75f8d0
Depositing SFT
Create a new account on sftcasino.com or login if you are already registered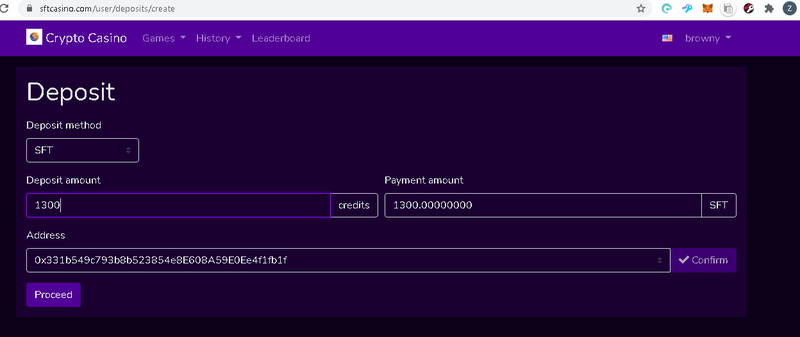 Click on deposit >>> deposit. Your metamask will pop up asking to connect with sftcasino in order to read your wallet address.
---
You can select deposit method. Choose the deposit method which is SFT and the deposit amount (Minimum 1000).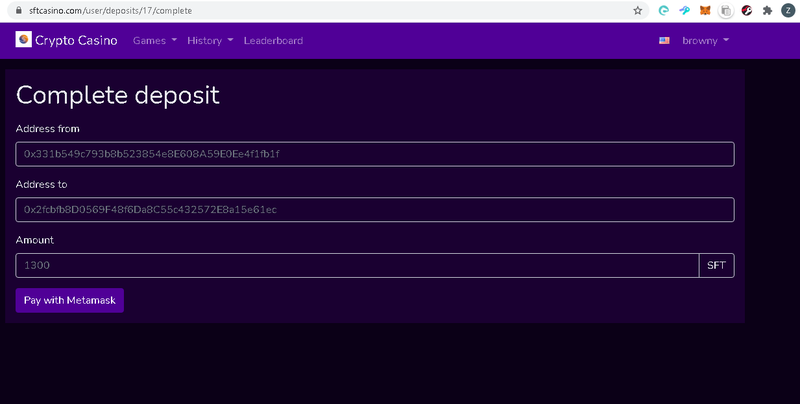 Click proceed and you will be asked to pay via Metamask.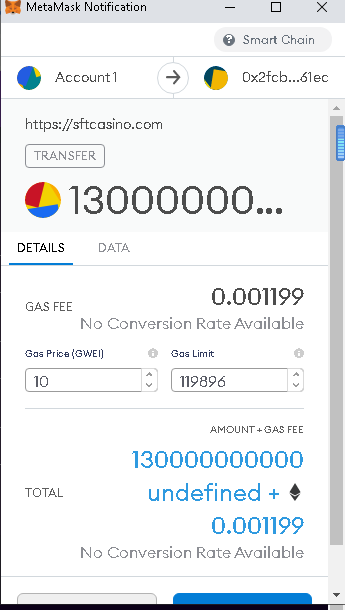 Click on pay via metamask which will trigger the metamask to pay. You need to have little BNB for transfer charges and the required amount of SFT.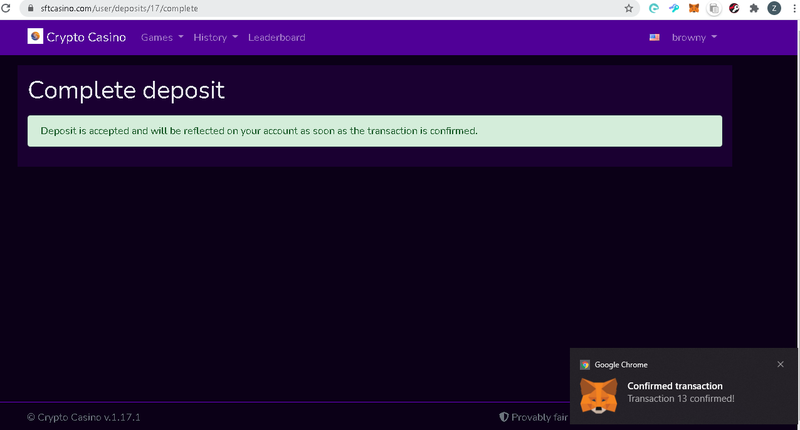 Once you have paid, you will receive a transaction confirmed and it will reflect in your wallet immediately.
---
You can start playing the slots or American Roulette.
Withdrawing SFT
Withdrawals are processed almost the same way deposits are made.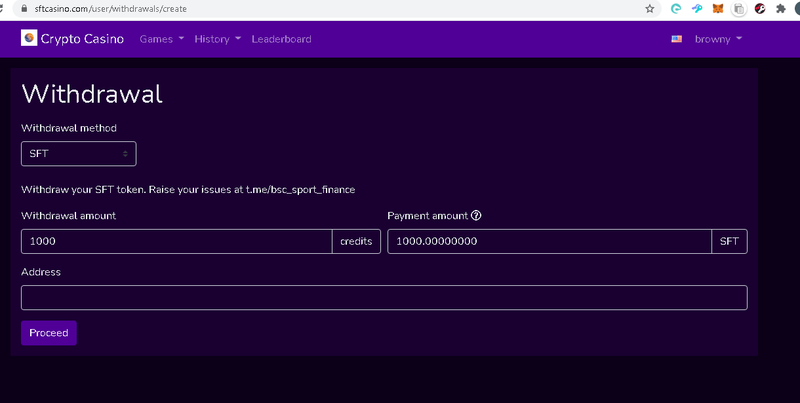 Click withdrawal, select the withdrawal amount (minimum withdrawal is 1000) and input your address.
---
Click Proceed and you will receive a withdrawal successfully created message. You will receive your withdrawal in your address in minutes.
Updated BSCSCAN page
The Bscscan page has now been updated to reflect our logo, information, website, and social media platforms.
---
Catch a glimpse of what we are about now on https://bscscan.com/token/0xe4eb998a6640008d760cba9bd0213e6ddb75f8d0
Future Plans
Fix any bugs on the casino platform
There are plans to launch deposits of other tokens on sftcasino which they will use in the platform. There will be withdrawal charges of 2% which will be used to buyback SFT in the market.
More games such as Keno, Lucky wheel, Bacarat, Dice, 75 Bingo, BlackJack, Poker, Horse Racing will be added
Hop into the Sport Finance Token Telegram channel t.me/bsc_sport_finance for any issues encountered.
Important Links