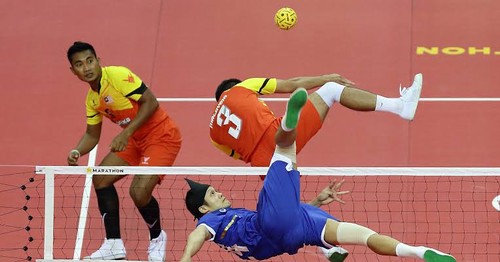 Indonesia again added gold at the 2019 SEA Games held in the Philippines, this time from the soccer takraw sports team event number double which was strengthened by Andi Saputra, Syaiful Rijal, Muhammad Muliang and Mandeg Suharno.

This is a new history for sepak takraw Indonesian team in the SEA Games. Because in the 2017 SEA Games, Indonesia only won a bronze medal in the same number.
In the 2019 SEA Games semifinal, the Takawood sports team Indonesia event double number eliminated Vietnam with the same score 2-0. While Myanmar in the semifinals get rid of host Philippines.
https://www.facebook.com/irak23/
https://www.linkedin.com/in/kampret-kocak-06346519a
https://twitter.com/tarmizi60183653?s=09
https://vk.com/id570965381
https://www.facebook.com/updategam3rs/
https://timeline.line.me/post/_dRlOqPCShTFRz1JaFYssEvadSGJVl8YkFzWSX2k/1157701834710086299
#SCORUMPROMOTION
#SCORUMITALIA
#SCORUMAFRICA
#SCORUMFANS
#SCORUMCOMMUNITY
#SCORUMTEAM
SCRUM IS THE BEST PLATFORM🗽🗽🗽