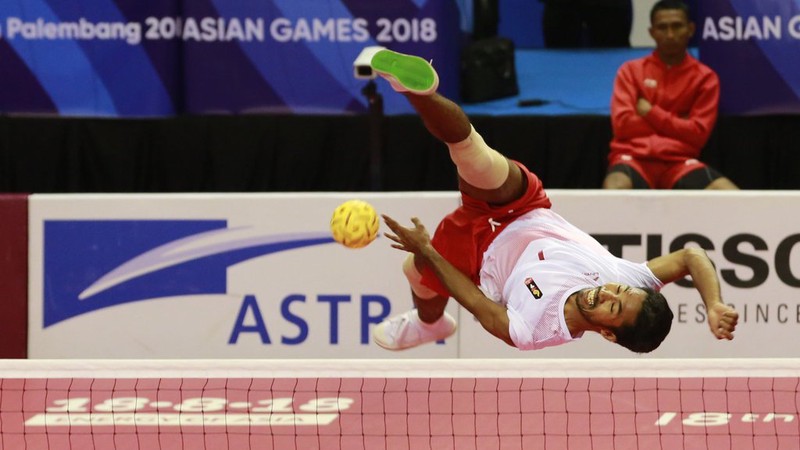 Meski hampir terhenti, perolehan medali emas untuk Indonesia tidak berhenti. Kali ini, medali emas ke-31 diperoleh dari olahraga sepak takraw. Indonesia mampu mengalahkan Jepang di final Quadrant putra yang diadakan di kompleks, Jakabaring Sport City, Palembang. Pada 1 September 2018.
Meski sudah menjadi tim yang unggul karena sebagai tuan rumah, ternyata untuk mendapatkan medali emas bukanlah hal yang mudah. Ini dibuktikan dengan ketinggalan Indonesia di set pertama.
Sejak awal pertandingan, Indonesia berada jauh di belakang Jepang dengan 9-15 hingga 13-19 poin dan set pertama berakhir dengan 15-21 poin. Namun di set kedua game, Indonesia jauh lebih unggul, meskipun pada awal permainan Indonesia juga memiliki 2-5 poin di belakang Jepang, tetapi berkat antusiasme penonton yang notabene adalah orang Indonesia. Hingga akhirnya mampu membalikkan keunggulan klasemen dengan 7-6 poin.
Hingga pertandingan kedua berakhir, Indonesia mampu bertahan sebagai pemimpin yang mengalahkan Jepang, dengan total 21-14. Karena posisinya seimbang, panitia akhirnya membuat set ketiga untuk memperjelas juara di sepak takraw sport. Di set ketiga ini, tim merah dan putih tentu lebih siap untuk memenangkan medali emas ke-31.
Pada set ketiga, Indonesia langsung unggul 3-0. Tim merah dan putih lebih bersemangat dan optimis untuk memenangkan kejuaraan. Indonesia terus membuat tim Jepang semakin tertekan, hingga pertandingan berakhir, Indonesia memenangkan kejuaraan dengan 21-16 poin.
Asry Syam, sebagai pelatih sepak takraw Indonesia menyatakan bahwa tim merah dan putih telah kewalahan oleh tim Jepang di set pertama, karena mereka mengubah strategi dari 2 sayap. Namun di final, tim Jepang berubah lagi menggunakan strategi 3-sayap.
Indonesia mampu memenangkan medali emas dalam pertandingan sepak takraw. Selain emas dari tim kuadran putra, Indonesia juga memenangkan satu medali perak dan tiga perunggu. Medali perunggu dipresentasikan oleh tim tim, ganda putra dan ganda putri. Sementara perak diperoleh dari nomor tim putra.
Ini adalah sejarah baru bagi Indonesia, yang berhasil memasuki pertandingan final dan memenangkan satu medali emas dan perak. Ini menunjukkan bahwa cabang sepak takraw Indonesia patut dipertimbangkan oleh negara-negara lain di Dunia.
Dengan prestasi yang didapat dalam olahraga sepak takraw, tentu kita semua berharap bahwa pemerintah jauh lebih peduli dengan cabang olahraga sepak takraw. Salah satunya adalah dengan menggelar sepak takraw liga. Ini untuk menciptakan atlet baru dalam olahraga ini yang mampu bersaing dengan atlet internasional, terutama dalam olahraga sepak takraw.
Selain memegang sepak takraw liga, alternatif lain sebagai sumber untuk menciptakan atlet bergengsi di setiap olahraga adalah untuk menciptakan sekolah olahraga, sehingga dapat dengan mudah bersaing di dunia internasional. Inilah harapan kami, harapan semua orang Indonesia. Bravo Indonesia.
Translation in English: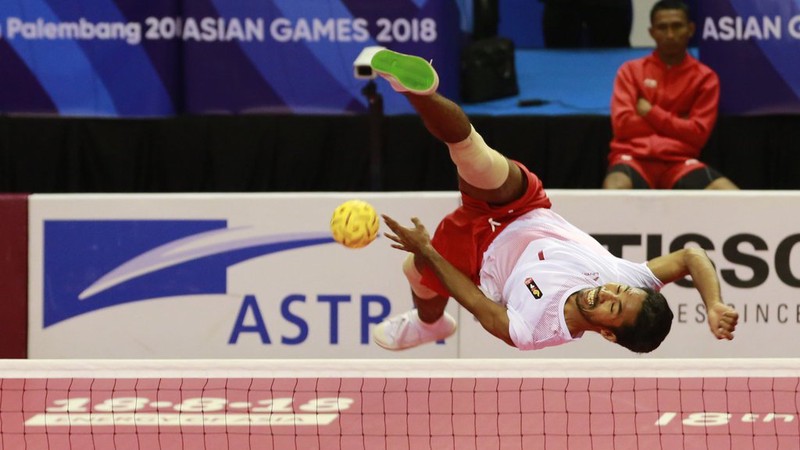 Although almost stalled, the gold medal for Indonesia did not stop. This time, the 31st gold medal was obtained from sepak takraw. defeating Japan in the Quadrant Son final held at the complex, Jakabaring Sport City, Palembang. On September 1, 2018.
Although it has become a superior team because as a host, it turns out to get a gold medal is not an easy thing. This is evidenced by the departure of Indonesia in the first set.
Since the beginning of the match, Indonesia was far behind Japan with 9-15 to 13-19 points and the first set ended with 15-21 points. But in the second set of games, Indonesia was far superior, although at the beginning of the game Indonesia also had 2-5 points behind Japan, but thanks to the enthusiasm of the audience who were actually Indonesians. Until finally able to reverse the superiority of the standings with 7-6 points.
Until the second match ended, Indonesia was able to survive as the leader who defeated Japan, with a total of 21-14. Because of its balanced position, the committee finally made the third set to clarify the champion in sepak takraw sport. In this third set, the red and white teams are certainly better prepared to win the 31st gold medal.
In the third set, Indonesia immediately won 3-0. The red and white teams are more eager and optimistic to win the championship. Indonesia continued to make the Japanese team increasingly depressed, until the match ended, Indonesia won the championship with 21-16 points.
Asry Syam, as the Indonesian football takraw coach stated that the red and white teams had been overwhelmed by the Japanese team in the first set, because they changed the strategy from 2 wings. But in the final, the Japanese team changed again using a 3-wing strategy.
Indonesia is able to win a gold medal in the sepak takraw match. Besides gold from the men's quadrant team, Indonesia also won one silver medal and three bronze medals. Bronze medals were presented by team teams, men's doubles and women's doubles. While silver was obtained from the men's team number.
This is a new history for Indonesia, which successfully entered the final match and won one gold and silver medal. This shows that Indonesia's sepak takraw branch is worth considering by other countries in the World.
With the achievements obtained in the sepak takraw sport, of course we all hope that the government is much more concerned with the sepak takraw sports branch. One of them is by holding the sepak takraw league. This is to create new athletes in this sport who are able to compete with international athletes, especially in sepak takraw sports.
In addition to holding the sepak takraw league, another alternative as a source for creating prestigious athletes in every sport is to create a sports school, so that it can easily compete internationally. This is our hope, the hope of all Indonesians. Bravo Indonesia.
#Best Regard rizal.steve