Petter Northug, an icon of cross-country skiing, ends his career. The Norwegian is record world champion and double Olympic champion in Vancouver.
Norway's cross-country skiing idol Petter Northug ends his career. The record world champion and double Olympic champion from Vancouver announced this decision on Wednesday in tears during a press conference at the Lerkendal Stadium in Trondheim.
"When I was a little boy, I had the dream of being a good skier. I'm proud of how I did it," said the 32-year-old in tears: "When cross-country skiing has been your life for so long, it's hard to stop, but at the same time it feels good". Northug had already stated that he was "in historically bad shape" in the face of continuing health problems.
Within eight months, Norway has lost the second outstanding figure in its recent cross-country history. In April, record Olympic champion Marit Björgen had finished her career. In contrast to the rather introverted "Queen Marit", Northug was probably the greatest showman of the cross-country skiing scene.
After a successful junior career, Northug had celebrated numerous great victories, including the 2010 Olympic races over the 50 km and in team sprint. He also won silver and bronze in Vancouver. Northug collected a total of 13 World Championship titles across all distances from 2007 to 2015, winning the overall World Cup twice (2010 and 2013).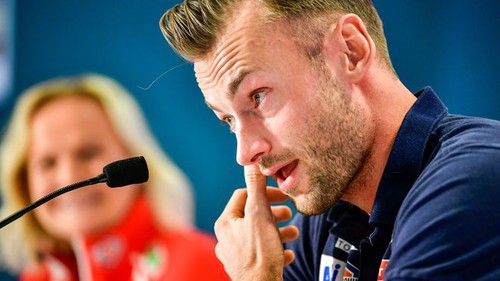 Northug: Athletes with corners and edges
In the past years Northug was in a permanent low of form, last time he was on the podium in March 2016 in the World Cup. He did not win a medal at the 2017 World Championships in Lahti, Northug did not even qualify for the 2018 Olympics, and he missed the jump in Norway's World Cup team for the second time in a row.
The athlete Northug was one with rough edges, which caused him a lot of trouble. In 2014 he was sentenced to 50 days imprisonment after an alcohol drive - and six months later he won four world championship titles, in Falun of all places, with his archrival Sweden, with whom he had a passionate favourite hostility.
In 2012 he won the World Cup in Gälivare, Sweden, and crossed the finish line with a Sverige flag. A year earlier he had braked before the finish line as a relay final runner at the World Championships in Oslo, waited for his Swedish rival Marcus Hellner and then climbed over the red ribbon on the ground with a broad grin as World Champion.