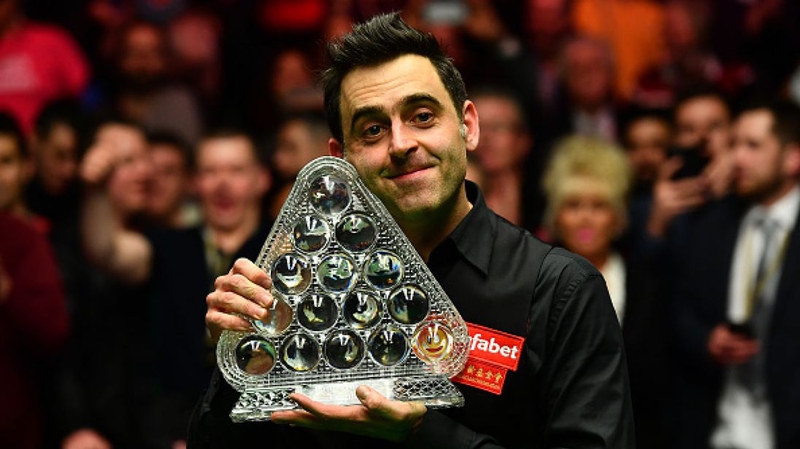 Ronnie O'Sullivan also known as The Rocket Is An English Profession Snooker player born on 5 December 1975 at Wordsley, West Midlands, England. He is regarded as the world's best and among greatest players in the History of the snooker. He is described as a genius by fellow professionals and commentators.
As a child, He began playing snooker at the age of 7 and made his first century break at 10.He won the title of British Under-16 championship at a age of 13. O'sullivan turned professional in 1992 at the age of 16. After a year means at the age of 17 he achieved his first professional success by winning 1993 UK championship making him the youngest player ever to win a ranking title.
He also holds the record for winning five World Championships (IN 2001,2004,2008,2012,2013), Seven Masters Titles, And a joint record six UK Championships.
His First ever 147 break was against Mick Price in their second round tie at the 1997 World championship and also set a record for fastest ever maximum in the History of snooker. He took only 5 min and 20 seconds which was then recorded in Guinness World Records. But this break time was investigated undertaken by Deadspin in 2017 revealed that the time recorded by Guinness is incorrect, and then said only 5min and 8 sec where taken by him.
List Of the maximum breaks by Ronnie O'sullivan.
In 1999,against James wattana in Welsh Open championship.
again in 1999 against Graeme Dott in Grand prix championship.
In 2000 against Quinten Hann in Scottish Open championship.
2001 against Drew Henry in Lg Cup championship.
2003 against Marco Fu in world's championship.
2007 against Ali carter in Northern ireland trophy.
2007 against Mark selby in UK Championship.
2008 against Mark williams in world championship.
2010 against Mark King in world Open (Q).
2011 against Adam Duffy in Paul hunter Classic.
2014 against Ding Junhui in Welsh Open.
2014 against Matthew selt in UK championship.
2018 against Elliot Slessor in China open championship.
His Carrier Total Century breaks are 948 and in 2017/2018 season he had made 74 century breaks.