As part of my twins stag we went Go Karting on Phuket island, Thailand's biggest island situated in its Gulf. With 5 of us on board to compete we did a 20 minute Grand Prix with the 400cc karts that can kick up to 110 kph, some serious speed for some small racers. Everything about the place was classic Thailand, relaxed staff that didn't treat you like babies driving buggies, no health and safety videos or patronising instructions before hand, a track where you had to run across it with live karts to get to reception and to top it off a small bar to have a beer afterwards. The place had got mixed reviews before we showed up but I was glad I included it on the stag itinerary. The adrenaline after fuelled us for an all night heavy one until dawn the next day.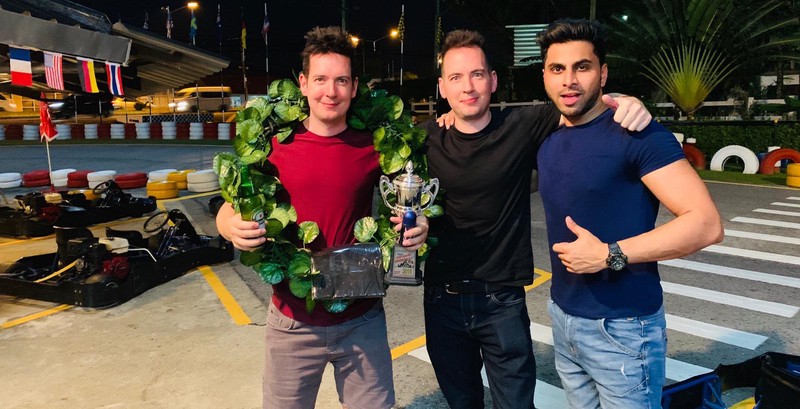 We had already driven 40 minutes south along the coast line to get there having opted to stay in the Laguna area, a much more plush and clean part of Phuket with lakes mixed with high standard resorts rather than the trashier Patong area which these days gets overrun with Chinese and Russians in their droves (think Spanish party islands with the " best of the British"). The drive down itself felt like a mini gp, granted on 125cc scooters it's hardly superbiking but they can easy reach 100 km/h in no time which is more than enough on the windy coastal roads where many tourists seriously injure themselves. Given big bikes and boys, you tend to feel the need to real burn rubber which is not at all advised given the way some people drive in Thailand.
I liked the format of the karting, it was the driver with the fastest lap time that would prove the champion, this helped avoid ramming and dangerous overtaking, especially around bends because it wasn't who finished first. Overtaking on karts = good buy deposit and hello £100's worth of repairs.
The track itself was fairly routine with some steady corners plus one particular accute one and a straight to finish. The accute one made the difference between my twin who finished first in the end and myself who was a half second behind in 3rd. Of course I honestly state there was no good intention or charity exercised by me to let him win just because it was his stag, he was simply the better driver on the day. He did sneakily look up Beginners Go Karting tips on YouTube the day before. What can I say? The man does his homework and truly wants to win! Probably to make up for all those times I beat him at tennis ;) Kind of funny they misspelt his name on the time board, Rat not Pat finished first, rather fitting given his sneaky prior day go kart revision!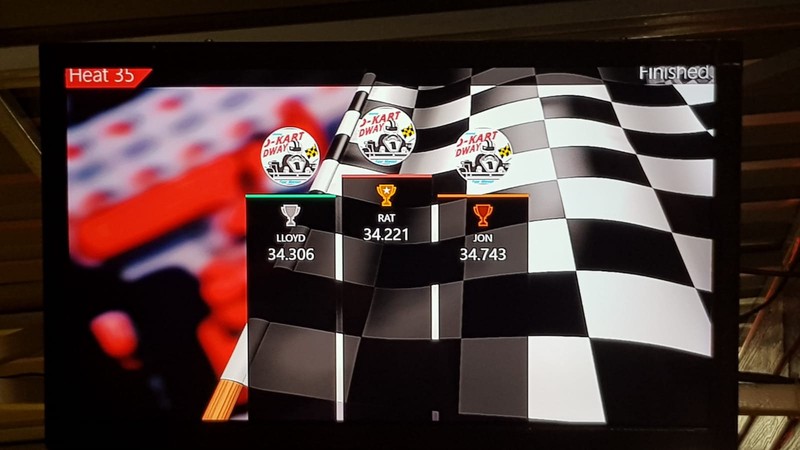 One thing I found amusing was watching my brother and mate compete lap by lap literally stuck up each others backsides (seems best lap wins wasn't enough for their egos!) whilst my other mate was scared witless being lapped countless times and serving as a useful floating obstacle in the middle of the track. He reminded me of one of those loose green shells fired off in Mario Kart that failed to hit their target and was roaming widely around the track waiting to claim an unsuspecting racer who was unlucky enough to come across its or in this case his path. In actual fact that victim was almost me when the staff flagged him down to stop and give him advice in the outer lane of the home straight. I was in auto pilot and only just realised he had stopped with 2 seconds to go when I slammed on my brake and came within a whisker of writing my kart and his off all together - that's Thai Go Karting for you!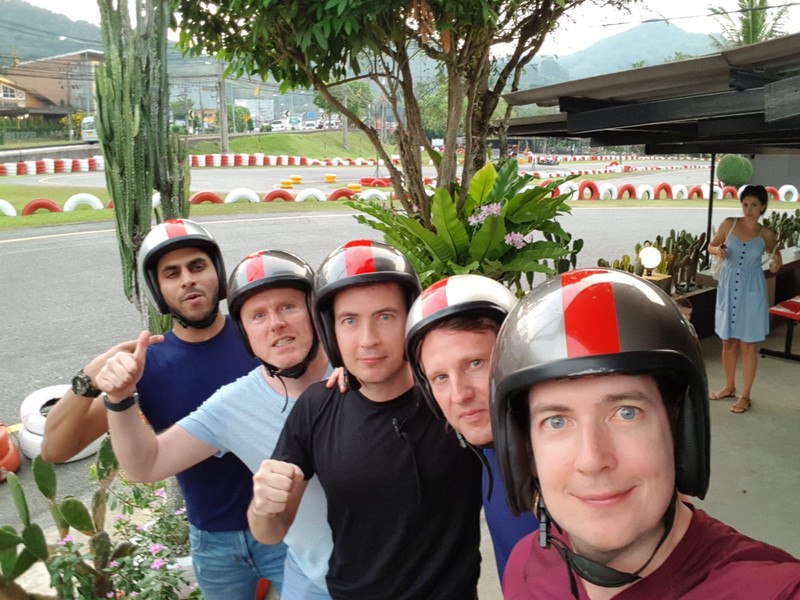 I was such a good sportsman I decided to buy my twit (twin*) the trophy to commemorate his famous victory. It can now collect dust lofted high up on his book shelf along with all his running medals from past and present. Atleast he has a trophy of his own to match my two very small tennis ones I've won out here.