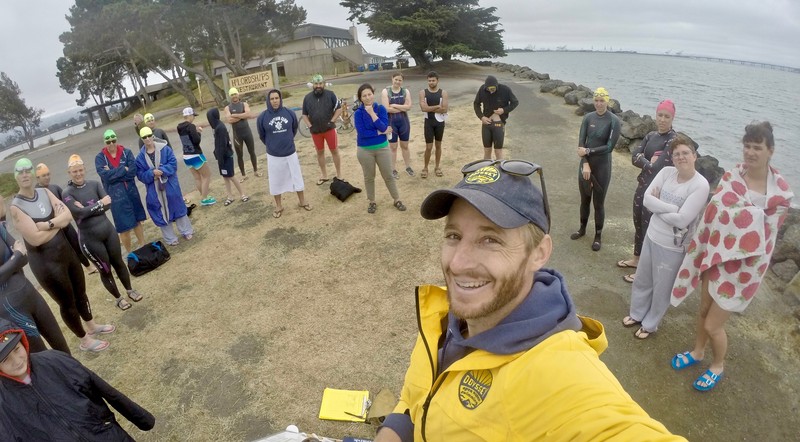 "It can be dangerous, but that's why we are extra protective when supporting swims." -- Warren Wallace, Odyssey Open Water Swimming Founder
Athletes often turn their passion into a career outside of the sport they love, which is exactly what Warren Wallace did. With a background in the sport and experience as a coach, Warren wanted to give himself and fellow swimmers opportunities to explore the open waters in and around San Francisco Bay. "I just chose a good spot for weekly swims, bought a few kayaks and buoys, and started getting the word out," says Warren.
Open water swimming is just what it sounds like -- swimming in oceans, lakes, rivers, and other bodies of water outdoors. The conditions vary and can be extreme. It's grown in popularity over the past two decades and has been featured in blogs, books, magazines, and television.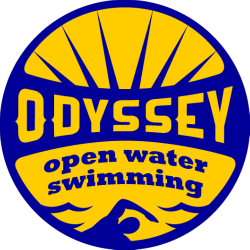 Five years after starting the business, Odyssey Open Water Swimming has become a favorite among swimmers in Northern California. The company is known for having a fun and laid back attitude while taking a serious approach to safety. They have added events, safety processes, coaches and kayakers, and work with thousands of swimmers each year. "I have learned a lot over the last five years and have worked hard to grow it, but a lot of the growth happens organically because there are lots of people looking for what we do," Warren says.
The company hosts weekly swims that are from 0.5 - 1 mile, but swimmers can choose to swim a shorter or longer distance, and large events covering several miles with hundreds of swimmers. Events include a swim to Alcatraz (2 miles), a Bridge to Bridge swim from the Golden Gate to Bay Bridge (6.2 miles), the TransBay Swim (8 miles), and more. For these events, Warren works with the Coast Guard to organize and ensure they are abiding by local laws and ordinances.
Swimming has always been an interest of mine and a difficult challenge. Spending my summers at a small private lake in West Michigan, I would try to muster up enough courage to swim across it. What I was scared to do in a calm and quiet setting, others take to the next level by swimming miles in cold and turbulent waters. I interviewed Warren Wallace about how he began the company, its growth, and how someone can learn to become an open water swimmer.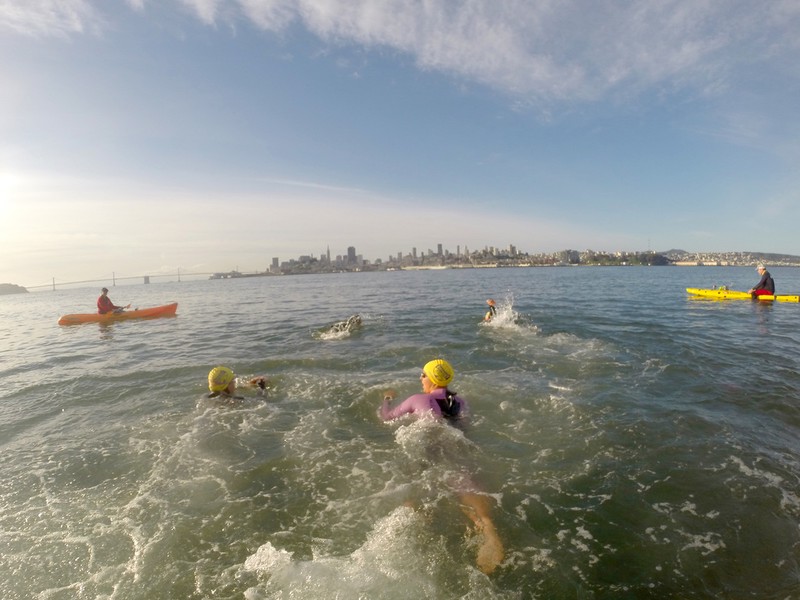 If open water swimming sounds dangerous, that's because it is, but Warren's goal is to limit that risk. "We want to create an environment where people feel comfortable and enjoy the experience without having to worry about safety," says Warren. He also recommends that swimmers never go out alone without support.
So how would someone transition from a pool to the open water? Warren says that the transition is different for everyone.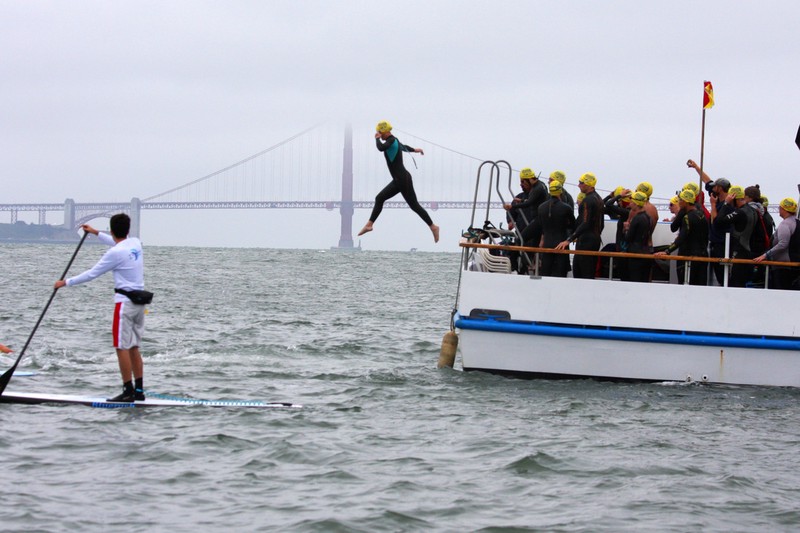 For some people, especially strong swimmers who are confident and comfortable in the water, they make the switch easily and just need a few swims to get the hang of the differences. For others, the transition can be very difficult and it can take hours of open water swimming to build up the confidence and technique. The biggest challenge is the psychological side. Swimmers get anxious because they can't touch the bottom, can't hold on to a lane rope, can't see what is under them, need to make sure they are swimming straight, etc. This gets easier with each open water swim. We get new open water swimmers at almost every weekly swim in Berkeley. A lot of them are really nervous at first, but a few weeks later they are extending their distances and feeling much better.
Training also depends on the preferences of the swimmer and what they're training for. Many of their regulars according to Warren are triathletes who are running and biking countless miles each week, but are looking to improve their swimming. Others enjoy the rush of swimming in the open waters and want a laid back and non-competitive environment to swim alongside friends.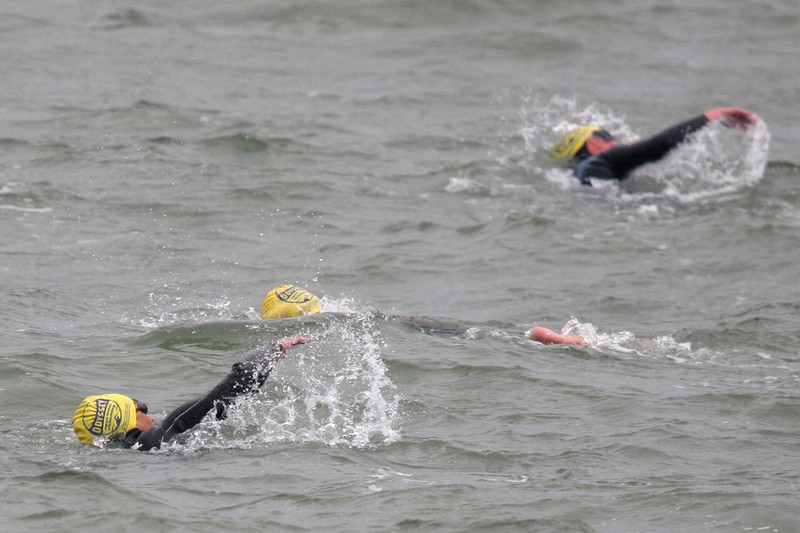 When first hearing of Odyssey Open Water, I wondered how the company dealt with unpredictable weather conditions. The company hosts swims throughout the year, from summer through winter. Surprisingly, weather is a minor issue according to Warren. "We check it (the weather), but have done over 500 swims and have never had to cancel one because of weather." Windy days do make for a challenge, but Warren says that they always have safety support. Trained coaches stay close to swimmers on a kayak to monitor and assist if needed, and for large events, motorized boats, an ambulance, and an EMT are nearby.
To those interested in trying open water swimming for the first time, Warren recommends to come out and try it, especially if you're in the Bay Area. "Our weekly swims are open to everyone, and they are very friendly and low-pressure." Warren adds that private lessons are also available to help swimmers work on their technique and feel comfortable tackling the open waters.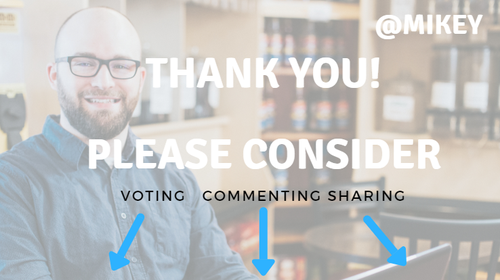 Would you try open water swimming? Comment below and thank you for reading.
I'd like to thank Odyssey Open Water Swimming founder Warren Wallace. Learn more about open water swimming and Odyssey Open Water Swimming by visiting their website here at odysseyopenwater.com.