Nowadays tennis is becoming more popular among people that want to maintain an active lifestyle. You need to be dynamic, fast, nimble and strong if you want to excel at this competitive kind of sport. And it goes without saying that you must have special equipment. All tennis players know that the main weapon on the court is their tennis racket. You need to be very careful to choose the best racquet for you after considering all the attributes. However, the wide variety of tennis equipment can often overwhelm customers when it comes time to buy the best racket that suits their playing style. We made this process easier and prepared detailed information about all kinds of tennis rackets, main attributes and technologies that well-known brands provide.
What kind of material, weight and head size the racket should be? How to choose rackets for kids and adults, beginners and intermediate players? What do the professionals prefer and what are the best rackets that make world top? Let's hit the court and break down all these questions in order.
Tennis rackets review: top features
The key features are indicated on each racket, additional information is often omitted. You should ask professional staff for more information. Aside from sales staff at your local sports shop, consider enrolling in several training sessions with an experienced coach who can guide you towards a racket that best fits your playing style.
Weight and balance
These two aspects have the most influence on your tennis racquet's feel and ball control. Heavy rackets provide higher impact power and less return. Lightweight rackets are easily maneuvered, allowing you to make fast shot and provide more topspin service of the ball. Total weight of the racquet measures in ounces and grams (1 ounce is 28,35 grams). High-quality rackets range from 9 to 11 ozs.
When you choose the weight of tennis racket you should consider physical features and level:
9-10 ozs – kids up to 12 and beginners;
up 10 ozs – experienced players;
up 11 ozs – intermediate and upper intermediate players;
more 11 ozs – professional male players.
You should keep in mind that heavy rackets strain your elbow and shoulder joints more and can lead to serious injuries. So, you should increase the weight of racket gradually and be sure to always take time for a thorough warm-up before playing.
Balance is set according to the center of gravity of each tennis racket and determines the style of your game. A racket that is balanced on handle will feel less heavy during the rally and will excellently suit volley and service. A racket that is balanced on head is heavier and it makes the big effect on return pace and power from the baseline. Beginners should find a compromise until they have enough experience to know which style of play they prefer. That is why neutral balance is universal for players as they work out their style of game.
Head Size
Head size is a very important aspect of racket design that influences spin, returns and accuracy of shots. Modern brands offer head sizes from 66-135 inches, and you may use square centimeters, one hundred inches of racquet equals 645 square centimeters:

Size: Standard in: 66'' cm: 426
Size: Midsize in: 70 - 89'' cm: 452 - 574
Size: Midplus in: 90 - 105'' cm: 580 - 677
Size: Oversize in: 110 - 115'' cm: 710 - 742
Size: Super Oversize in: 116 - 135'' cm: 748 - 871
Wide frame is more suitable for the big size head. Tennis rackets with larger heads offer easier control, smooth out inaccuracies and reduce strain on muscles and joints, so they are recommended for beginners and players recovering from injury. However, maneuverability and control can be reduced due to the larger string area. Advanced players tend towards rackets with less comfortable head size in order to provide the best control of power.
Midsize and Midplus are more universal and well suited for volley, Oversize and Super Oversize are good for slice and spin shots and therefore are more common for doubles or baseline gameplay.
Handle size
Manufacturers of tennis rackets mark the size of handle from 1 to 5, where 1 is the smallest size and 5 is the biggest. The choice of handle width varies according to the individual. You should use the rule of 1 centimeter: distance between thumb and middle finger must be equal 1 centimeter, this will be the optimal size for comfortable control. So the lower sizes will suit women and younger players while men fit well to size 3-4 and large-handed players will need size 5.
It is very important to select correct grip material, commonly known as grip tape, for the handle according to your physical features It may be leather, felt or synthetic with special impregnation for optimal tactile feedback and comfort.
Length
Accuracy and power depend on the total length of tennis racket – when it is long, the speed of ball increases. The choice of length of the racket depends on player's growth. For young players from 47 up 59 inches tall, rackets from 19 up 26 inches will suit. The middle length of the adult racquet is 27 inches. The longest rackets are used for strengthening of ground strokes if your reach top level amatuer or professional play.

Material of the frame
The frame material has direct influence on racket control. Today we have models which are made from aluminum, graphite, carbon, titanium and graphene. Cheap rackets are made from aluminum – for kids and beginners. It is short-lived material and may easily deform, however, you can learn to play with such racket without spending much money up front. Rackets which are made from graphite are stable and have light weight, so their price is higher. Carbon is a special material for frames – the best tennis rackets for professionals are made from carbon. Easy and stable material, it will stay for a long time but the price is high. Titanium is a less popular material but together with graphite makes good stiffness. And the latest material innovation for tennis rackets is graphene, which has optimal strength and weight that allows fast spin and high power for top players
String Pattern
As we show above, the bigger the area of the string surface , the easier and stronger each hit is, but this strength comes at the cost of accuracy and targeted ball placement. There is a "string formula" – a scheme of longitudinal and transverse strings of each model. More common formulas are: opened 16*19 and closed 18*20, where the first number is the quantity of strings by vertical, the second – by horizontal.
Open formula has less strung weight and bigger cells. When you hit the ball, it stays longer in the racket and makes additional spin, but strings do not last long time in such conditions. Closed formula makes shot less comfortable, but offers superior shot accuracy and control. A tight string pattern is more comfortable for advanced players in general and the tightness of strings must fit the style of your game. Advanced players prefer picking a frame by feeling its stiffness and stretch but beginners don't notice this. Total stiffness rating may vary from 55 to 80 rds for most models.
There are two types of strings: natural and synthetic. With the development of innovative technologies, excellent tennis strings from nylon are very strong and have low prices.
How to choose a good tennis racket for young athletes
Tennis rackets for kids are made from aluminum with light weight, short handle and bigger string square for better shots. It is a common mistake of most parents when they buy a bigger racket for their kid with the expectation that they will 'grow into it'. This will impede their skill development because the child will intuitively hold the racket in the middle of the handle. That will lead to an imbalance in control of the racket. For teenagers you may choose any adult models with easier weight.
You can see main features of tennis rackets for kids below according to their age and height and also recommended models of rackets.
Age, years: 3-4;

Height, inch: 39;
Weight of racket, oz: 5;
Length of racket, inch: 17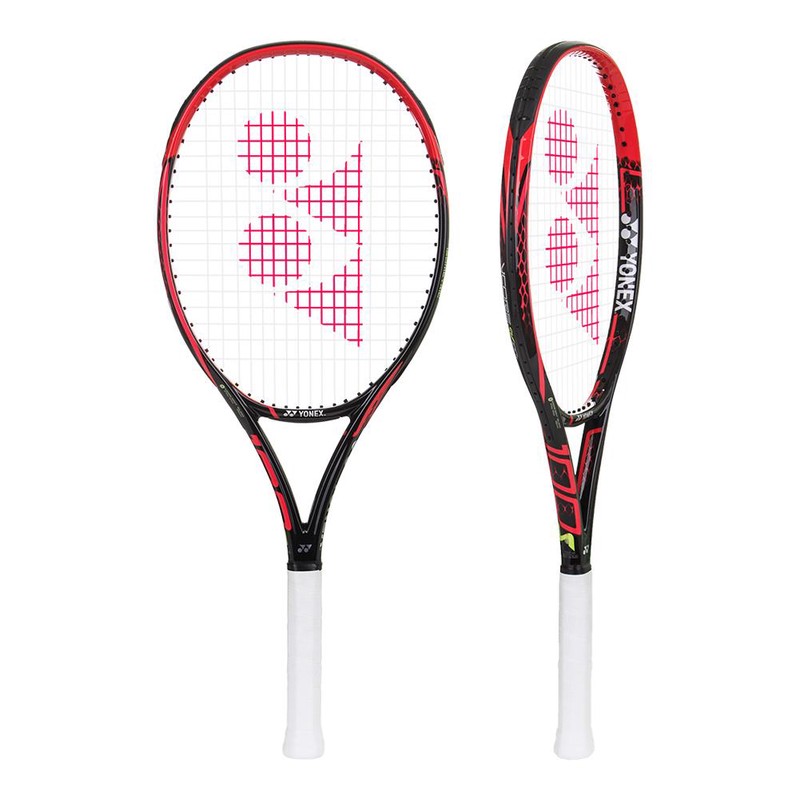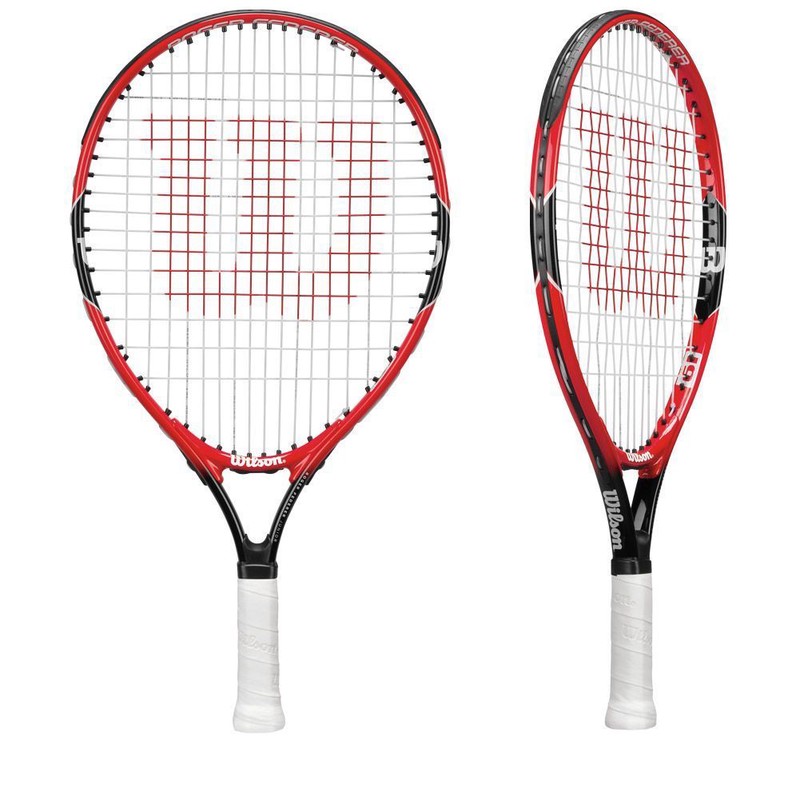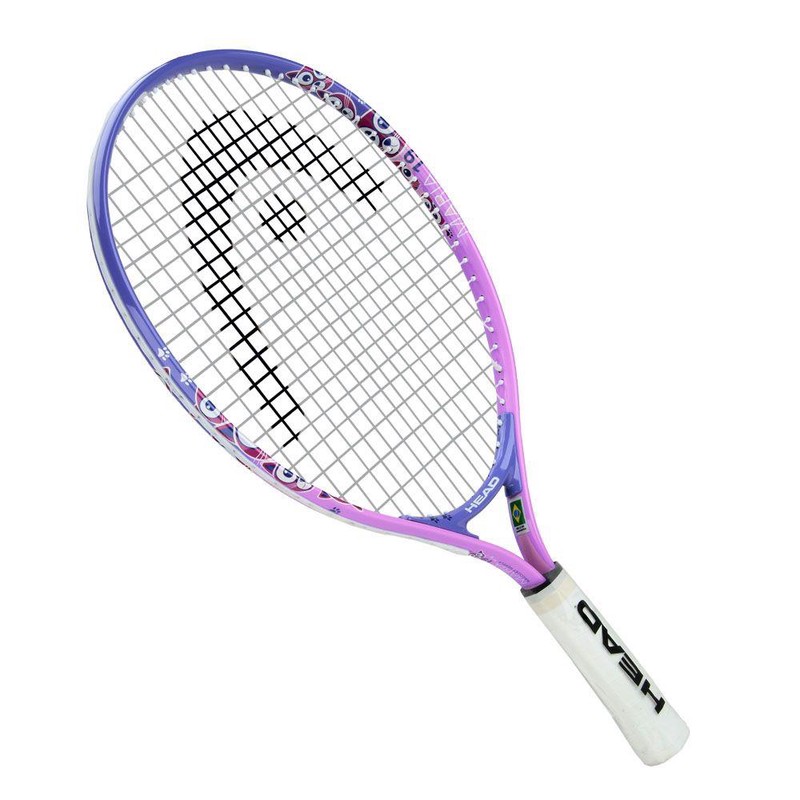 Age, years: 5-6;

Height, inch: 45;

Weight of racket, oz: 6;

Length of racket, inch: 19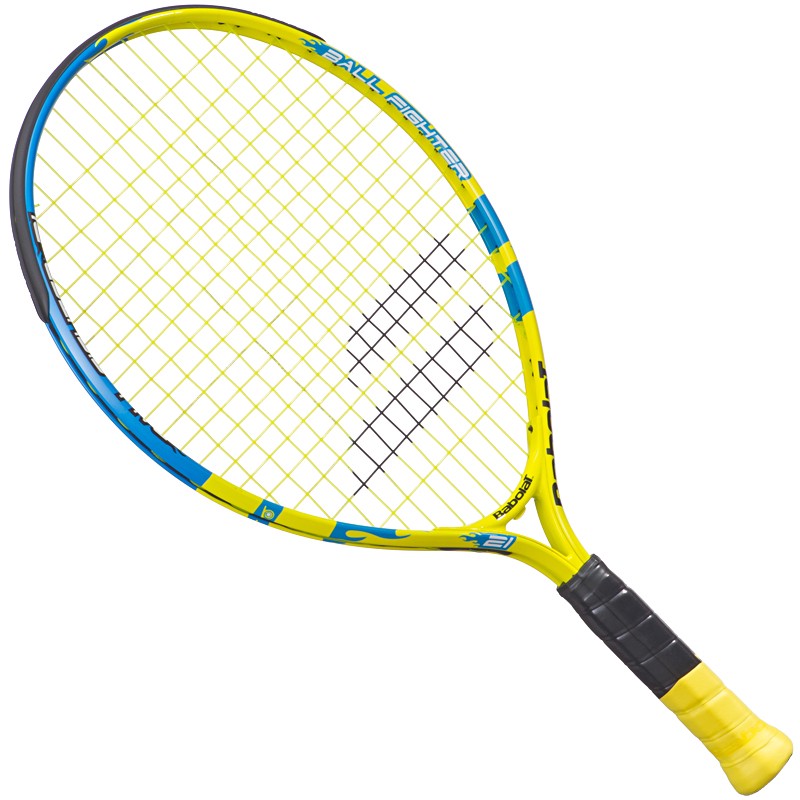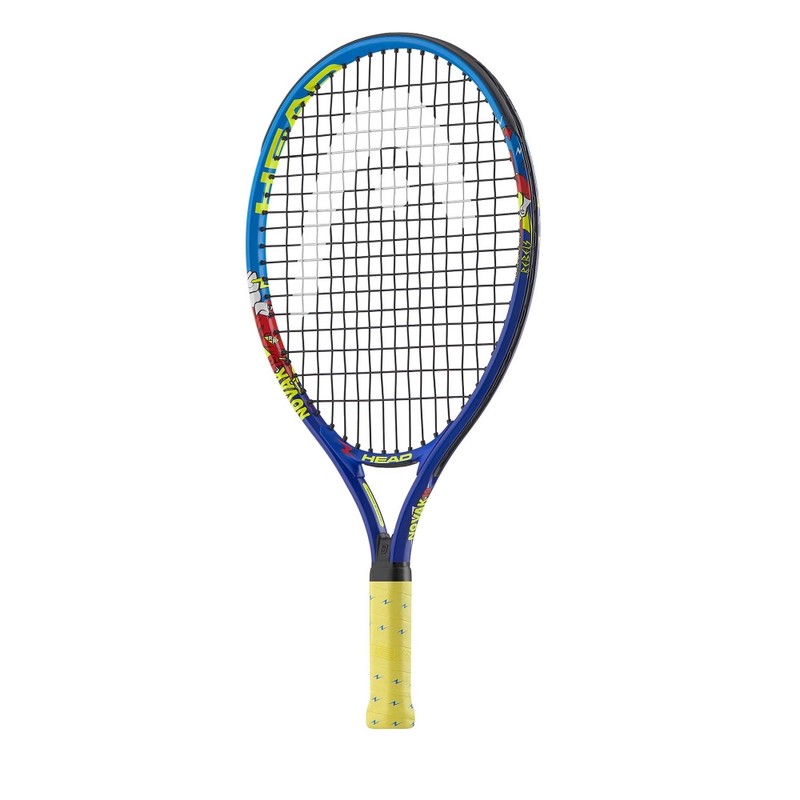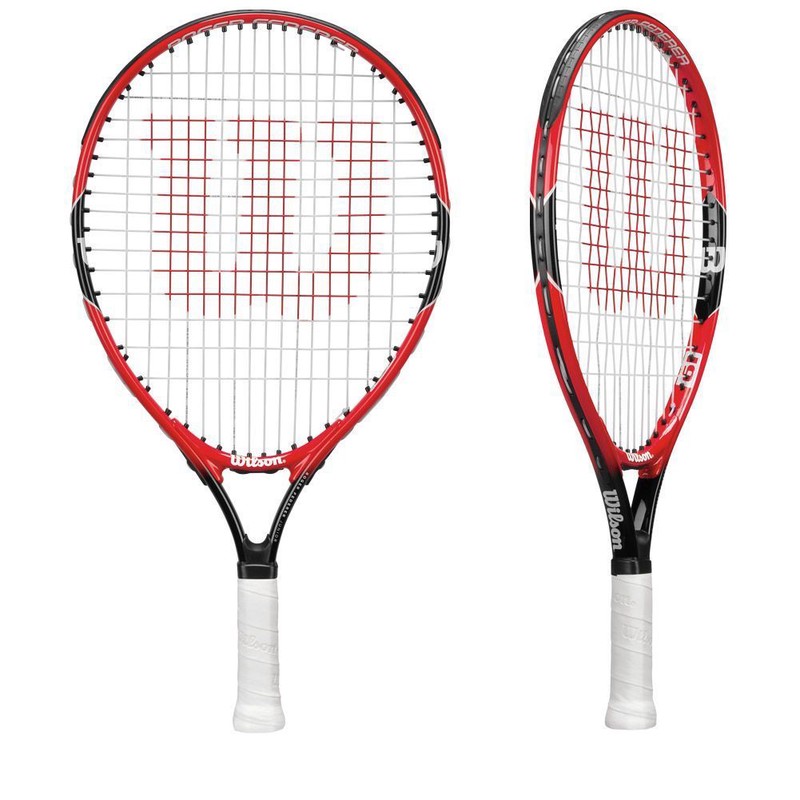 Age, years: 6-7;

Height, inch: 49;

Weight of racket, oz: 6,2;
Length of racket, inch: 21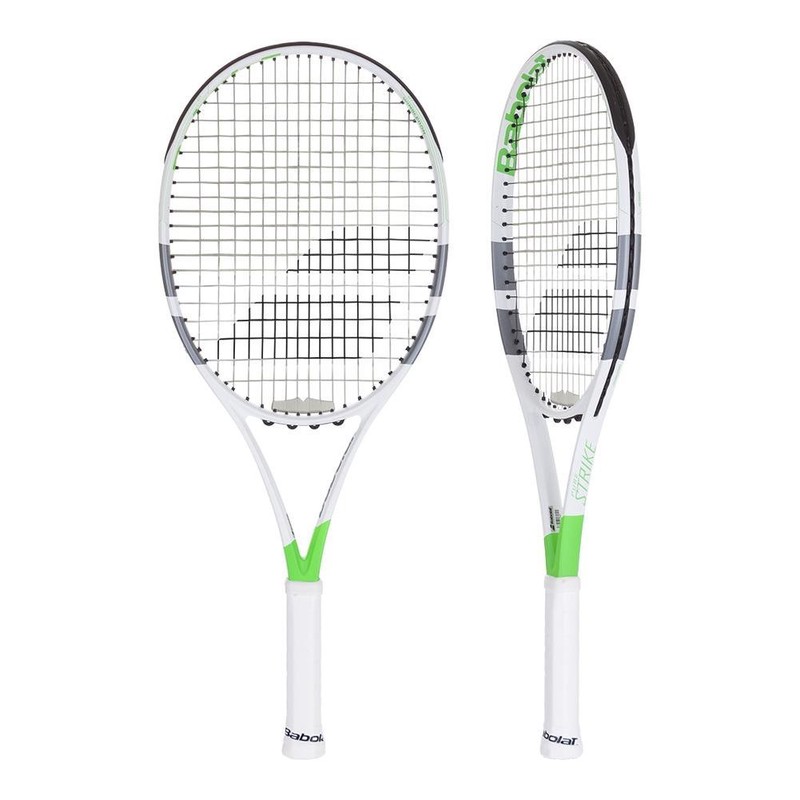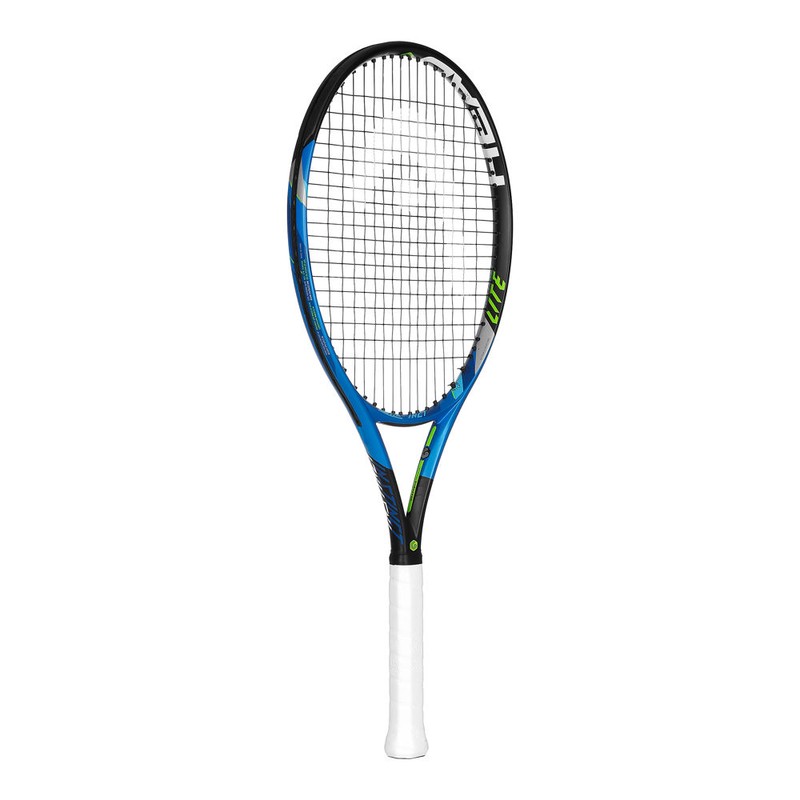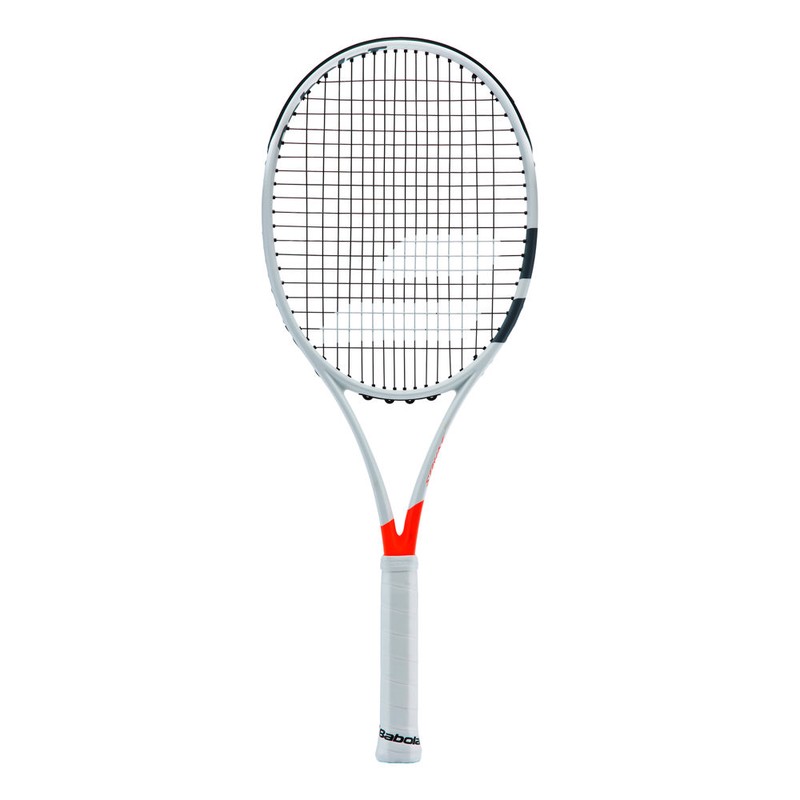 Age, years: 7-8;

Height, inch: 53;
Weight of racket, oz: 7,5;

Length of racket, inch: 25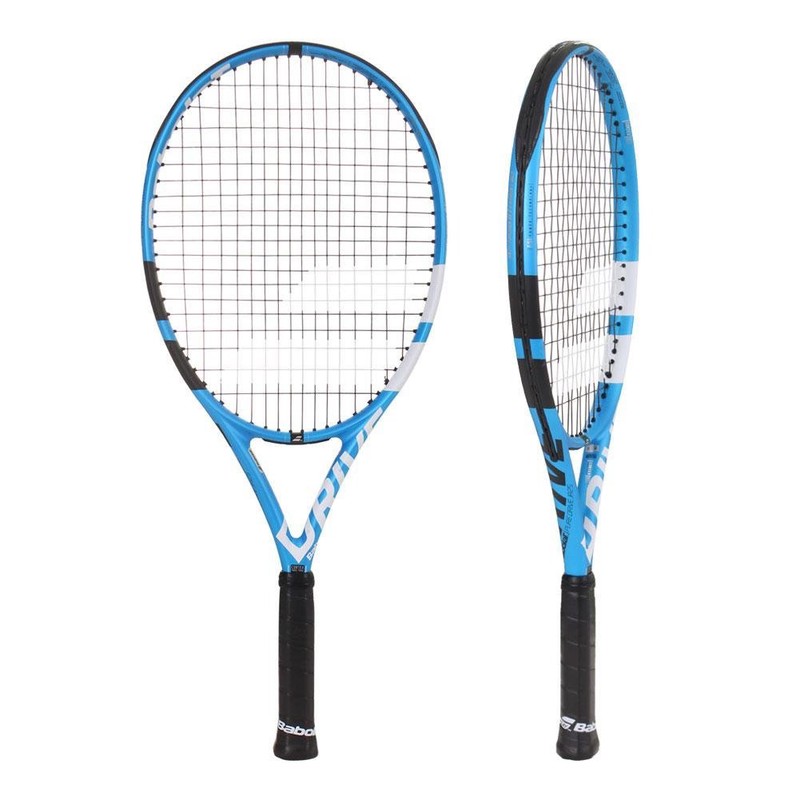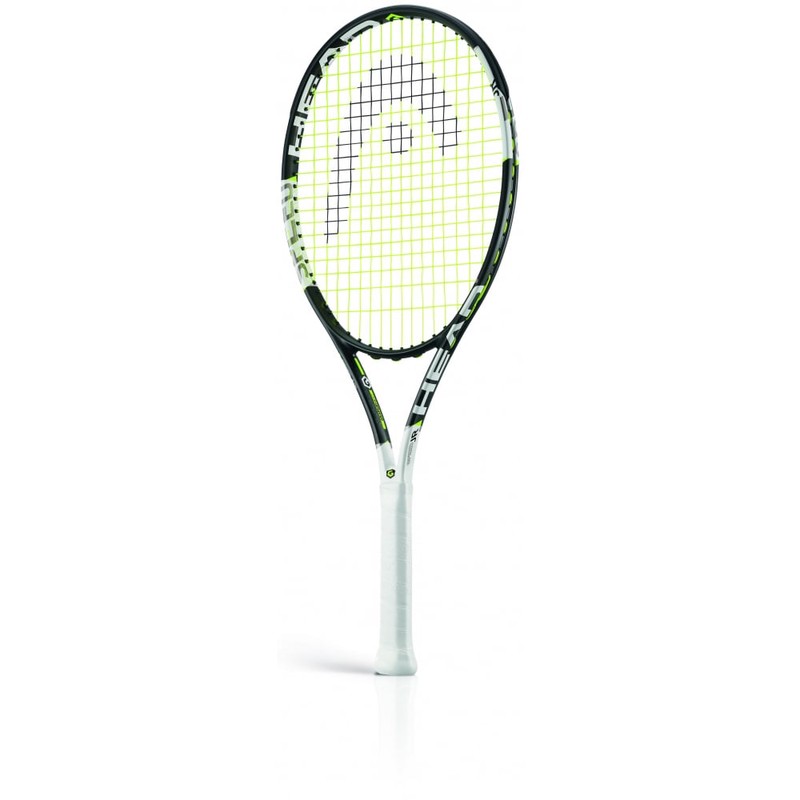 Age, years: 9;

Height, inch: 55;

Weight of racket, oz: 7,5;

Length of racket, inch: 25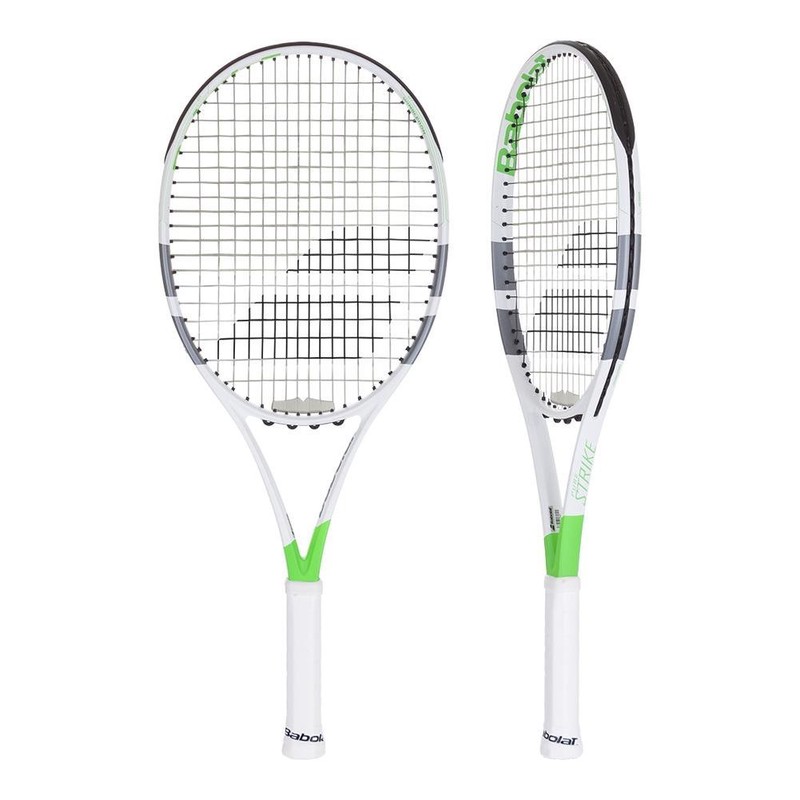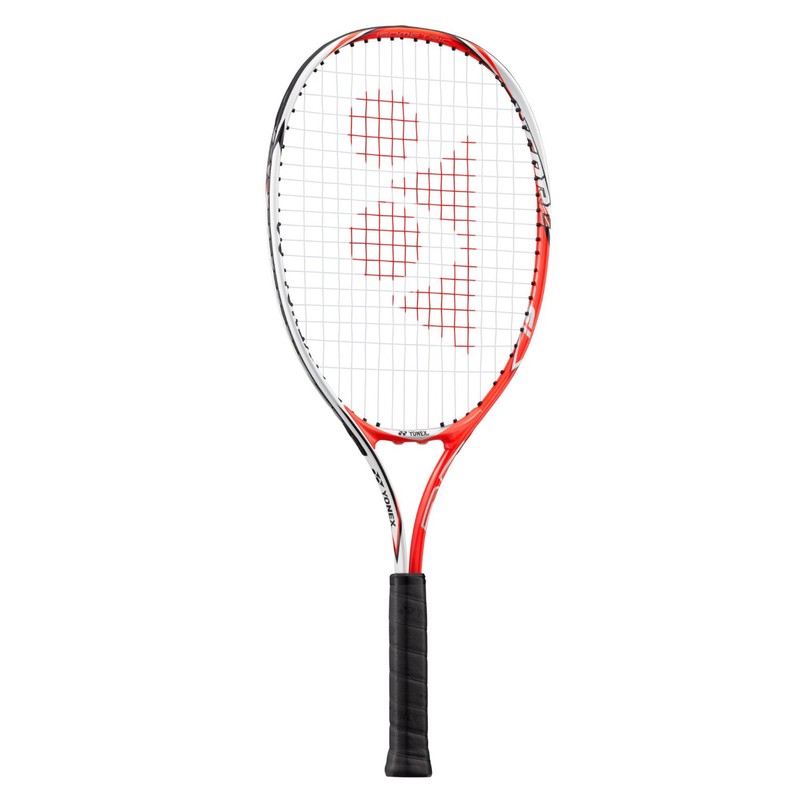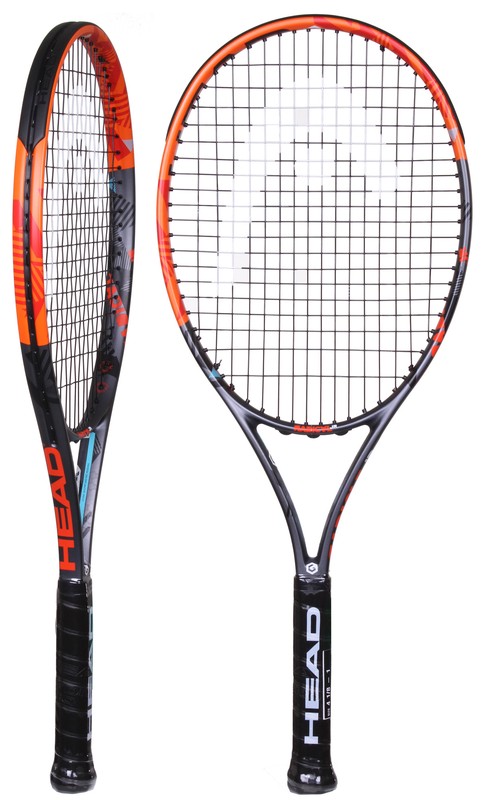 Age, years: 10+;

Height, inch: 57-59;

Weight of racket, oz: up 255;

Length of racket, inch: 26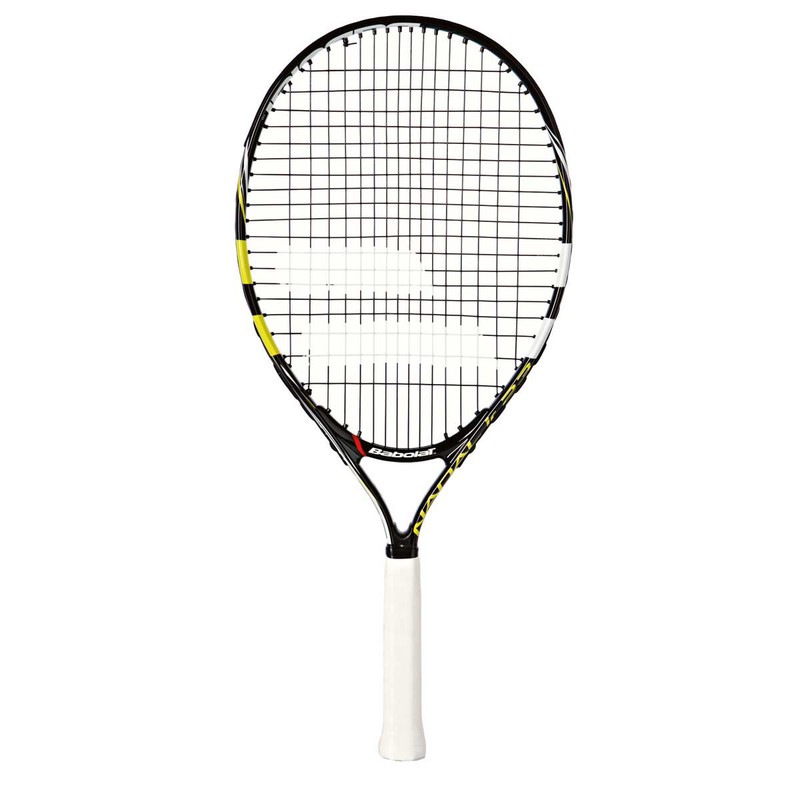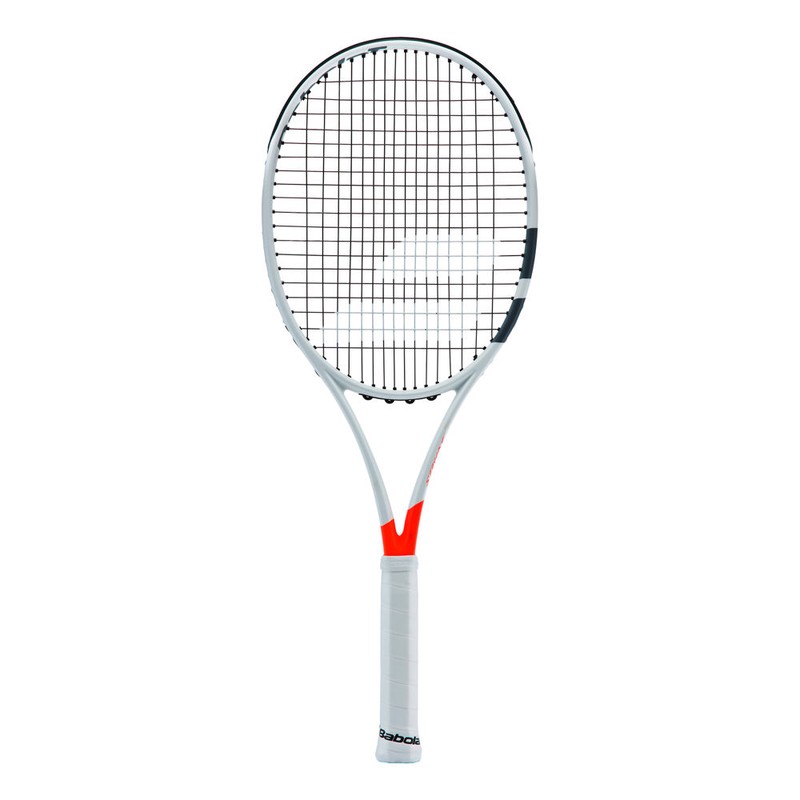 Best tennis rackets for beginners
If you just have started to play tennis you don't need to buy an expensive racket, you will not gain any advantages from it in this level of play. When you gain some mastery and individual style, you should then consider of buying the pro tennis racket.
Tennis rackets for adults are produced from graphite and composite. Women and girls should choose rackets with a weight under 10 ozs while men can handle rackets with a weight up to 11 ozs. You should buy a racket with a bigger head so you can develop your shot technique. But for beginners it is very important to improve the game style and then work on your shot power. Suitable square of string head for beginners is 100-105 square inches.
Review of some racket models
Babolat Drive 115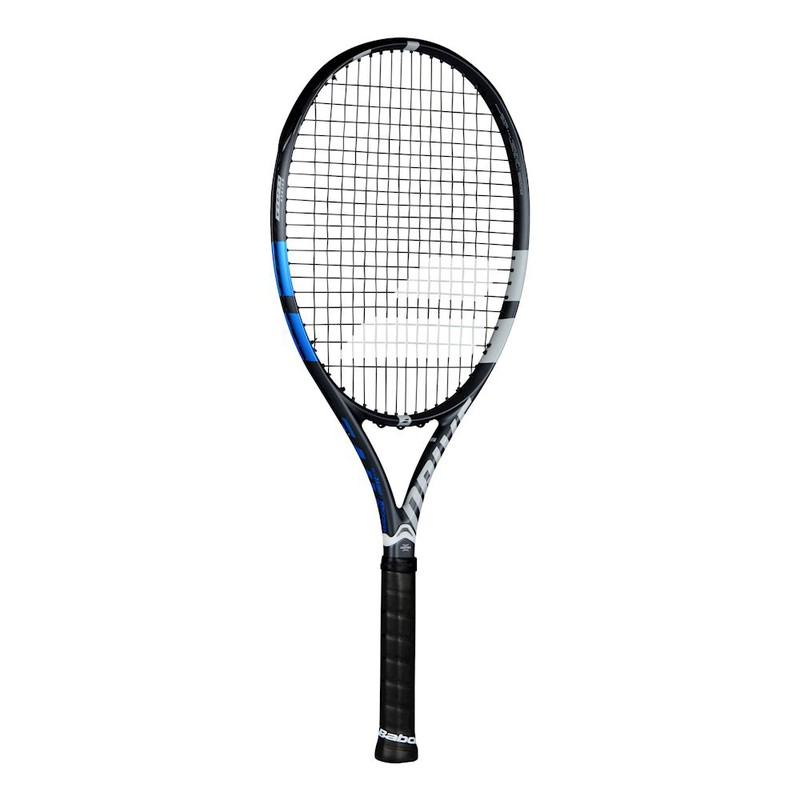 More comfortable tennis racquet brand for beginners with perfect playing features: lightweight – 9 ozs, high maneuverability and power. Big string head size with 115 square inches and the stiff frame will help you return more balls easily. Besides, the bigger shot zone will be effective with volley. This model will best suit doubles that play off the baseline. This racket is made of graphite, has 26 inches of length and makes fast and strong serves.
Wilson Ultra 108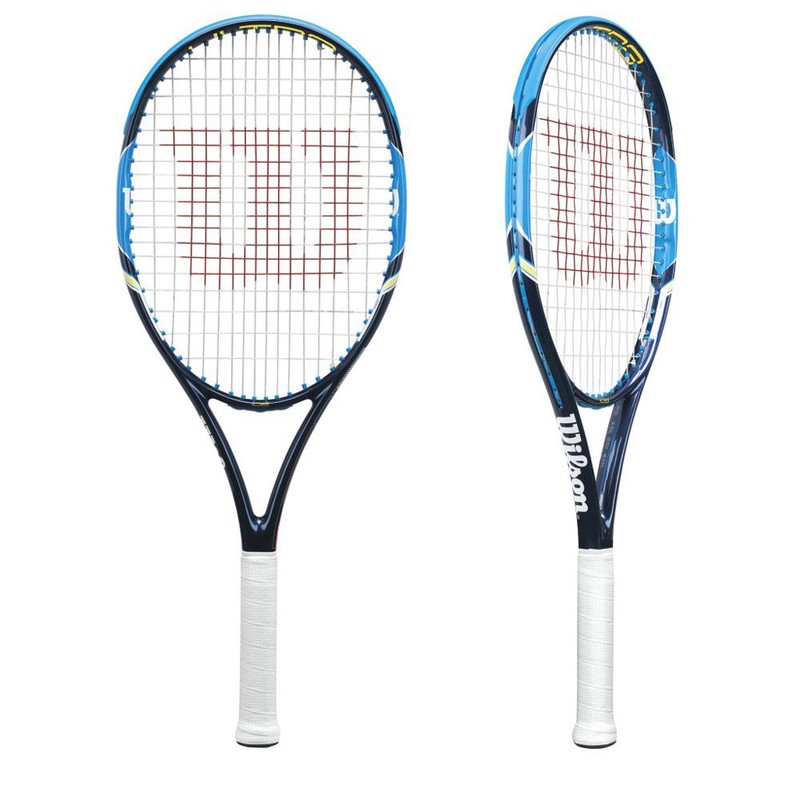 Comfortable, maneuverable Oversized model with an ample shot zone and comfortable handle that takes power and returns it to the ball. Total weight is 10 ozs, which makes for fast and accurate shots, improves swing and ball feed. Due to 108 square inches string square, this racket provides more accurate shot. The racket is made of graphite with carbon fibers. Beginners will appreciate this model because of aggressive shots and precise ground strokes.
The Wilson Hope Lite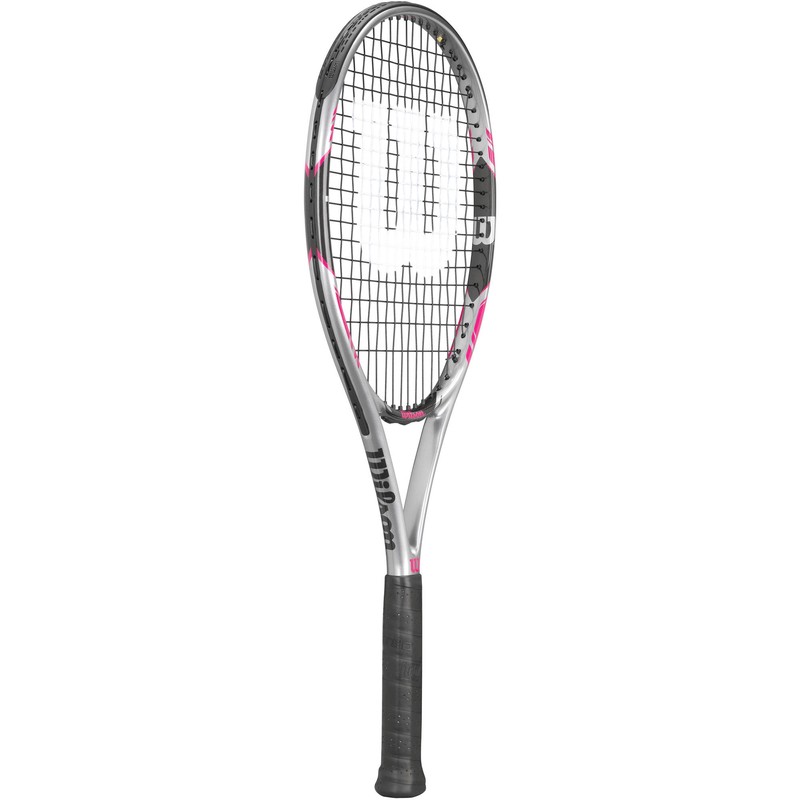 Lightweight racket at 10 ozs, which has proved excellent for beginners. Because of the light weight it is very popular among women. The length is 26 inches and head size is 105 square inches — sizing that provides full control and power.
Tennis racquets for intermediate players
It is recommended to buy rackets with little head size up to 100 square inches for intermediate players. For best control and accurate shots the strings should be stiff, they can be natural or synthetic. Models around 10 ozs will suit women and men can comfortably play rackets around 11 ozs. More attention should be paid to balance according to the center of gravity. This racket will be the best for serves and returns.
Racket models for intermediate players
Babolat Drive Lite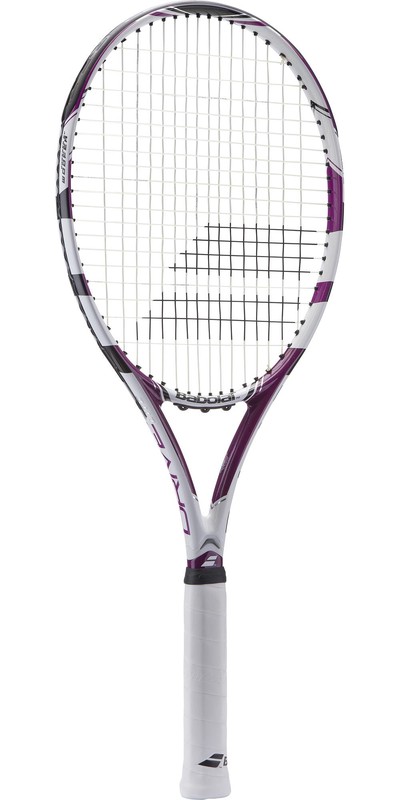 lightweight racket, which is made from graphite, with the weight of 9 ozs.. It is very maneuverable. The Woofer technology allow to cooperate strings and frame during shot, system Cortex dampens vibration to absorb the shock from the ball. The optimal length is 27 inches and area of strings – 100 square inches. The best choice for intermediate and advanced players.
Wilson Burn 100S
Excellent racket with 10 ozs of weight for dominant players who like to play from baseline. It is possible to spin the ball in any position. Stiff frame and higher heft combine for great power from the racket. With Parallel Drilling technology strings take vibration and give power to the ball. The handle was lengthened and narrowed for faster change of grip. This racket is good for short, smooth and wide swing.
Head Graphene Touch Instinct S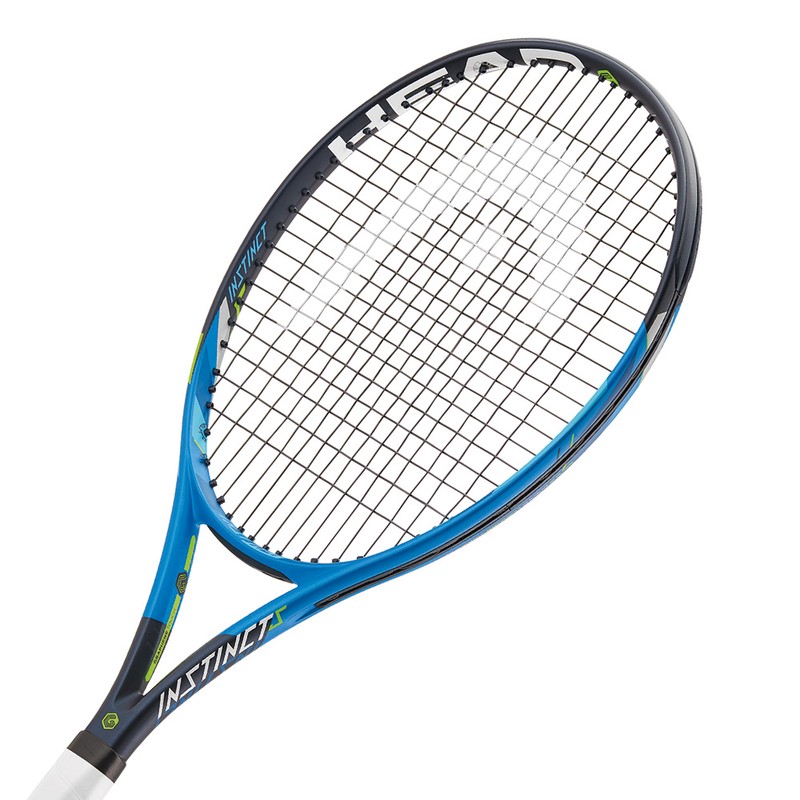 Lightweight racket with good control and accurate shots. Graphene Touch material provides sweet shots, weight balance and high power during play. This model has big sweet spot and opened string formula which allows fast spin and little head size – 100 square inches enhances control.
The choice of professionals: 5 best rackets
What rackets do great players use and does the best overall racquet exist? Professional players have their own rhythm and style on the court. So, each player chooses the main tennis weapon for themself.
Professionals use the rackets with head balance, but most things depend on behavior on the court. To increase the maneuverability and ball control, many professional players prefer the rackets with balance in handle. Models with high weight (from 11 to 13 ozs) and little string square (85-95 square inches) and also long grip are used by professionals for better maneuverability and accuracy and shot power.
5 tennis rackets of 2018 which are more popular among advanced players
Wilson Pro Staff RF97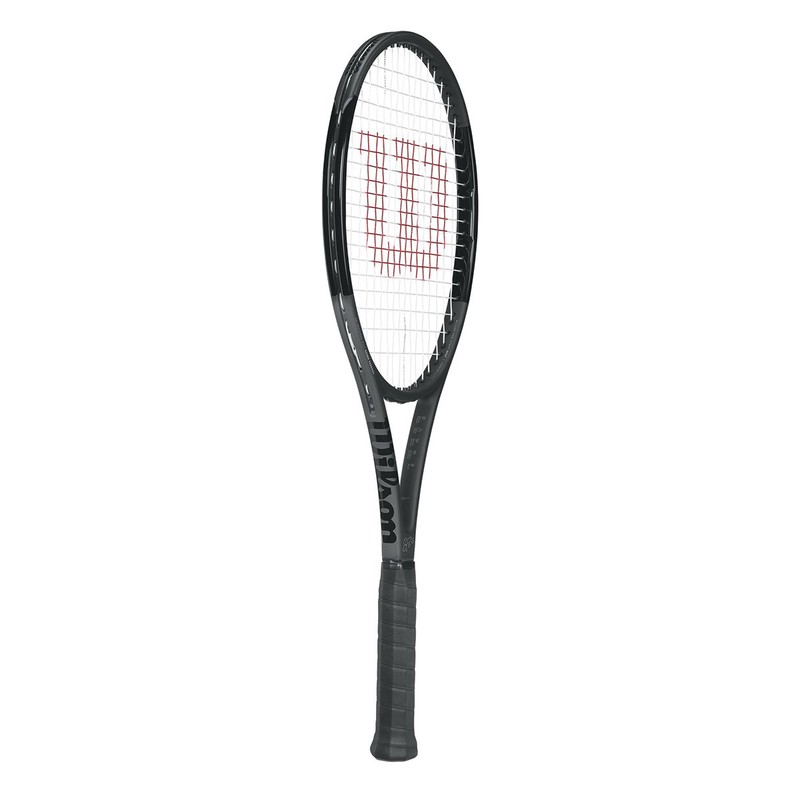 Professional racket with 12 ozs of weight for high-level players. In 2017 it was produced especially for Rodger Federer. This racket helps to give super serve with spin, used for left shot with wide swing. Balance on the head and opened strings produce dynamic style on baseline. Thick frame is made of graphite covered with innovative top, textile elements, and light absorbing sweet decoration.
Head Graphene Touch Speed Pro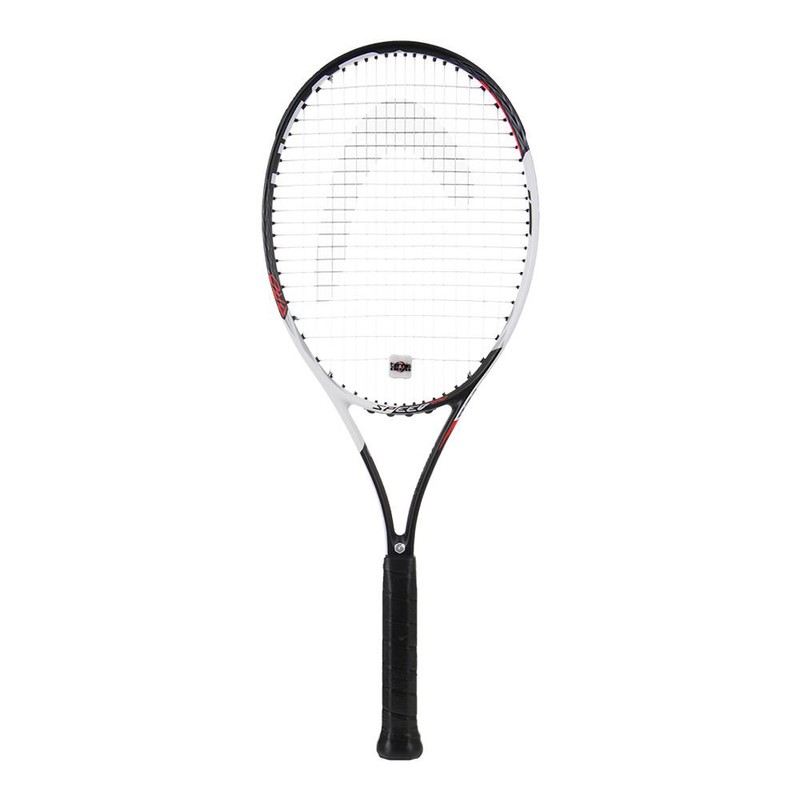 The new model of Novak Djokovic for advanced players. Graphene Touch technology helps to sweet the shots and improves the ball control. String formula is 18*20 and the head balance allows to reach best shot control, low vibration speeds the ball. The racket makes power shots easier, produces less pressing on elbow and shoulder, high level of maneuver provides wide swings on the court.
Babolat Play Pure Aero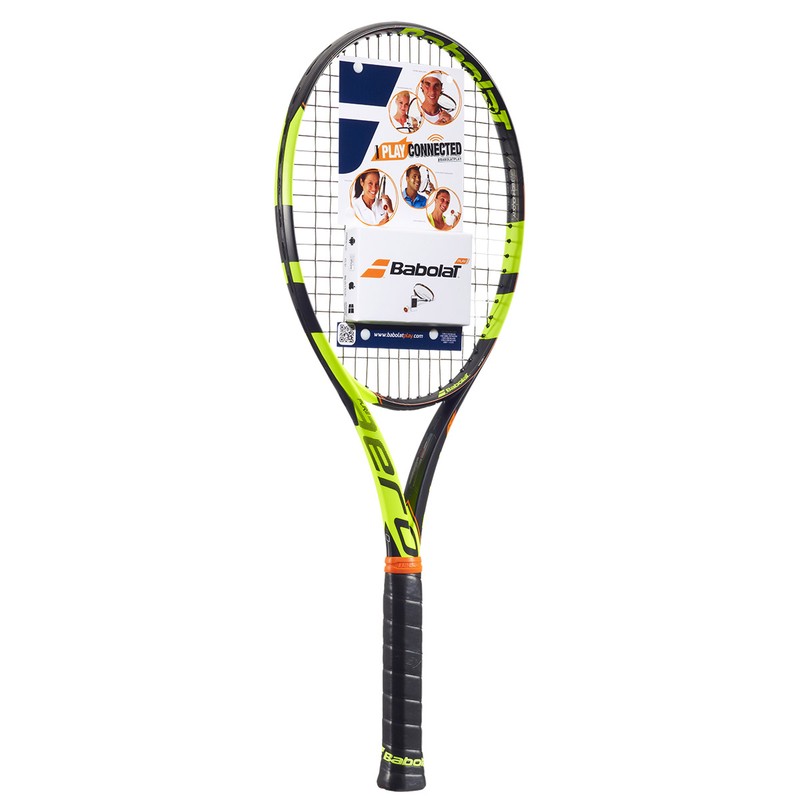 Racket of Rafael Nadal, which help to make crushing shots from aggressive players. Has the strong aerodynamic frame. Strings can make vibration lower due to strong stretch and oblong configuration of holes. Wide distance between horizontal strings provides power shots. racket suits excellent for baseline attacks. But the main figure is sensor built into its handle that accumulates all actions: number of serves, returns, power and kind of shot. All game information can be analyzed afterwards.
Graphene XT Radical Pro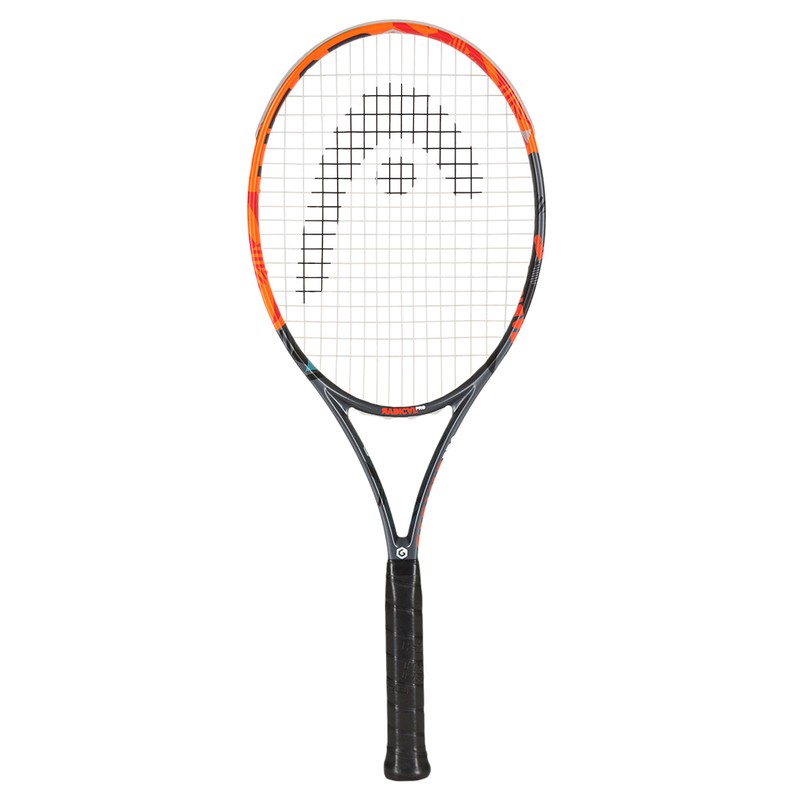 The choice of Andy Murray. Professional tennis racket for experienced players. Has high weight, that makes it aggressive. With ХТ Graphene technology the weight of the racket is equal for all square. This can speed the ball. Stiff string pattern makes control of the ball and gives opportunities for more accurate shot.
Babolat Pure Drive Plus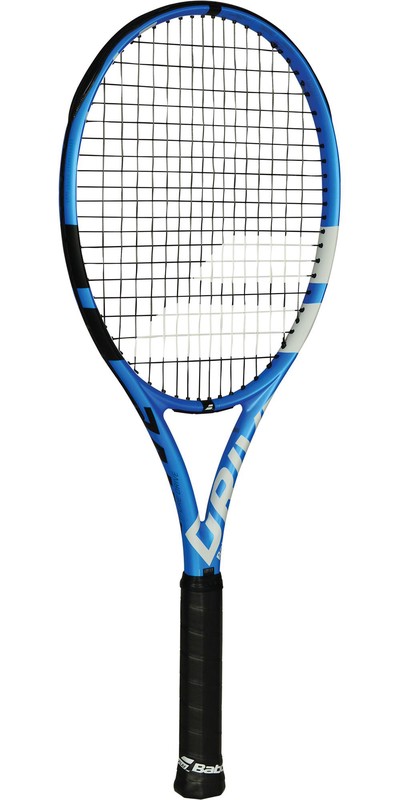 The racket of David Ferrer. It will be good for players with modern style. Keeps good balance between spin, speed and control. Big interval between the strings provides high altitude of the ball. This model guarantees stability and high maneuverability during net playing.

In conclusion, it must be mentioned, that options for choosing tennis racket depend on professional level, age and physical figures of player. There is no same condition for all players. When you choose the racket, it is important to pay attention to experience and ambition in tennis. Beginners must pay attention to universal and comfort racket. Advanced and professional players must choose racket due to style and personal experience.
----------------------------------------------------------------------------------------------------------------------------------------------
My publications about World cup kits:
----------------------------------------------------------------------------------------------------------------------------------------------
UpVote and follow :)