I don't watch most of my match predictions but tonight as I am inside with a bad throat I am enjoying watching Jack Sock's start against Dominic Thiem. Sock at 3.20 win has made the perfect start firing on his forehand that has been too hot for Thiem to handle plus sprinkling in a bit of fairy dust net volleying for good measure. As you can tell I am Sock man tonight, hes my prediction and given Zverev's dead man walking performance tonight due to a shoulder injury against the Russian which laid waste to my first prediction, I'd really want this one to come true.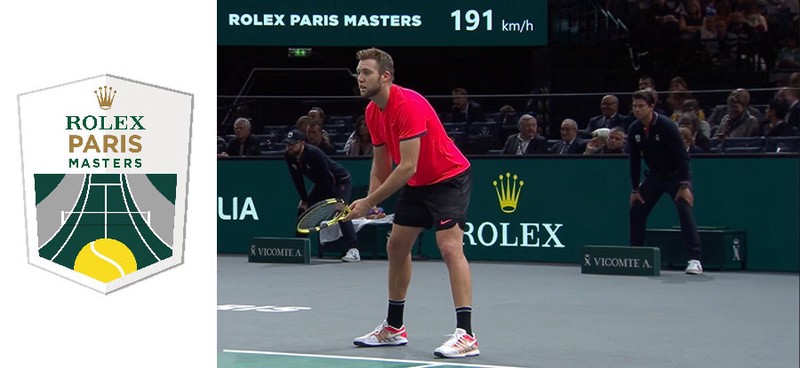 First Set Dominance So Far from Sock
Right now Thiem has not managed to find a way to quell the Sock forehand loaded with spin and pace. At 4-1 to Sock in the first set right now he is looking good for the American. He broke the Austrian in the second game and has enjoyed hammering his forehand at the Thiem single handed backhand that up until now has not managed to get any leverage on it.
He's also served smart to the Thiem backhand delivering plenty of kick on his serve and drawing the errors from Thiem on the return.
4-3 in the First: Thiem Breaks Back
Sock has saved several break points through excellent second serves using the spin to kick up into Thiem's backhand. Sock is struggling to hold though and eventually on the third break point Thiem breaks back with a lob catching Sock at the net.
Sock Takes the First Set!
Sock steadied the ship after getting broken back then. Then at 5-4 managed to take the set after having 3 set points he breaks Dominic Thiem and takes the set. Sock deserved the first set, he was the more aggressive player and the defending champion is looking good right now going into the second set.
2nd Set
Both players make a good start looking strong on serve but Thiem still looks the more susceptible one of the two. This second set is going to be won by one break of serve only, let's see if Sock can make it 3 wins in a row in straight sets!
Sock Pressurising Thiem on Serve Again
At 2-1 to Sock in the second the American is sniffing around for another break of the Austrians serve.
After missing two break opportunities in the fourth game Sock then folds on his own serve and Thiem gets the key break. Sock missed a couple of big forehands and his first serve percentage that was 75% in the first and dropped to 35% in the second. Let's see if the American can break back quickly or will Thiem solidify the break?
Third Set Looking Likely to Decide this Match
Sock was threatening to break back at 3-4 on the Thiem serve but couldn't quiet make it count. He will have one more chance to do so at 4-5, otherwise we are going to a third which would be rather fitting!
Thiem Holds onto the Break and Takes it to Three Sets
This final set could go either way with neither player showing any obvious signs of weakness. It's 50/50 in terms of the odds so having Sock from the start at 3.20 still looks good at the moment.
Sock Holds a Tricky First Service Game
Crucially Sock holds the first game of the third set and saves a break point, how key could that hold prove.
2-1 Sock in the Third
Thiem and then Sock both hold, Sock is having to work slightly harder on serve right now but he has the advantage of being ahead of the serve so pressure will always be felt by Thiem as we get later into the set.
Sock is looking good at the net, he could really do with coming forward a bit more often because Thiem is landing a fair few balls short.
Thiem goes 3-2 Up
Sock tries to hit one too many big forehands and slips on serve. He was made to pay for serving two double faults in a game and he missed a decisive volley at the net when advantage up. Does he have anything left in the tank or is it curtains for the defending champion?
Thiem 5-3
Sock missed two break point back opportunities, one of which was a conventional forehand into the net. He will be really disappointed with that game, is that it now or will Sock give himself one more chance to square the match by holding here?
Thiem triumphs and deservedly so. For me the Austrian was the smarter and more mature player of the two tonight, he didn't try to over power Sock but played the percentages more than the American did and exercised discipline at the back of the court. Sock just went off the rails in the third trying to hit too many winners too quickly and that was the difference between the two for the night. Sock's key moment was in the second set where on a break point opportunity to go a set and a break ahead he spurned an easy forehand long, ever since that moment he had been stumbling backwards. Now the defending champion is out of Paris!