In one of my first articles on Scorum I laid out the case for why Roger Federer could lose at Wimbledon and how many people are overrating his chances to retain the title and at the same time are disregarding the wide range of talent in the men's game this year.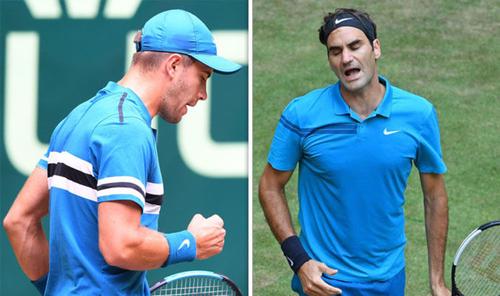 Well here's the first wake up call for all you Fed fans that have their blinkers on and it didn't even come from one of the potential threats on my list you can see here. Of all people to win Halle this year, you didn't expect it to be Borna Coric. The young Croatian who is only 21 years of age put on a mighty display to smash through what seemed to be an impenetrable style of play from Federer throughout the tournament to win 2-1 in sets against Federer.
It's not as if Federer played a bad game, on the contrary throughout the German grass court tournament this year he has pretty much played on the same level as in the final against Coric, it's just that Coric completely went after Federer on the front foot hitting some amazingly consistent and aggressive ground strokes whilst also mixing in some forecourt game that proved the decisive difference.
With Wimbledon around the corner it's important to remind ourselves that it doesn't necessarily take a poor game from Federer to crash out of the greatest tennis tournament in the world. It just takes a spectacular performance from one of his opponents to knock him out. With the lineup this year being rich with talent there are plenty of reasons to believe Roger will fall short of a 9th Wimbledon title.
If you watched the match tonight you would know there's alot to admire about Coric's display. He never took his foot off Federer's neck throughout the entire 3 sets, smothering his play whenever he got half a chance. Ironically Coric produced a typical Federer style match. He made plenty of serve and volleys whilst always looking for a chance to come into the net and apply pressure in rallies.
Federer who in Halle has been racking up what i'm sure will be proven to be a record number of tie breaks played by him in a single ATP tournament was looking just a little suspect. This tournament he had let too many sets go the distance and had been struggling to shut down players earlier in sets like he is so use to doing. In his two previous matches he allowed by Kygrios and Paire to take him to 3 sets and both matches featured two tie breaks. If that wasn't a sign Federer was fading in this tournament I don't know what was, especially judging by his lofty standards.
Federer will now turn his attention to Wimbledon where it is going to take one hell of a grass court display to retain his title. Good luck to him but I suspect he's going to need more than a bit of luck to avoid so many potential banana skins.