What a roller coaster of year Daniil Medvedev is having! The young Russian hailing from Moscow, Russia has climbed the slippery pole of the ATP Men's Rankings to go from a lowly 84th at the beginning of the year to an all time high 21st coming into the Moscow ATP. Kicking off his year by claiming his first ever ATP title in Sydney back in January that saw him jump 30 places. In Australia he had to play through 2 qualifying rounds before he even got into the main draw. From there on he beat the Number 6th and 4th seeds before facing off against home favourite and fellow Next Gen player Alex de Minaur in the final. de Minaur known for his excellent defensive qualities was enjoying a hot run to the final himself so that was by no means an easy victory for the Russian known on tour as 'the Bear'.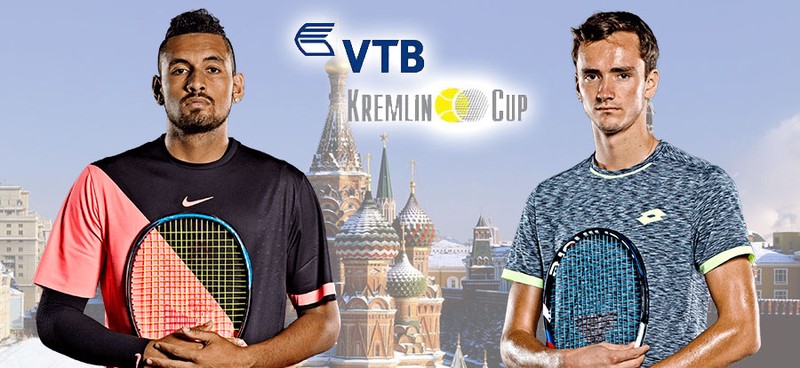 Begins to Stumble
However Medvedev could not follow that win up showing a less than convincing run at the Australian Open where he went out in the second round to Hyeong Chung in straight sets 7-6, 6-1, 6-1. That defeat seemed to be the start of series of haphazard results with average performances posted at a few more hard court tournaments before first round exits on clay reach 4 in a row.
Favourite Surface Brings More Misery
His favourite surface - grass wasn't' much kinder to him, going out in the first round of Queens to Steve Johnson before a 3rd round exit at Wimbledon to Adrian Mannarino. That last result was particularly disappointing for Medvedev after recording an emphatic 3 sets to 0 victory (7-6, 6-2, 6-2) against upcoming star Borna Coric in the first round. He was 4.50 to win that match!
It seemed the Bear had well and gone into hibernation at the wrong time of year. However after yet another first round exit - this time in the Cincinnati Masters where Coric took revenge on Medvedev reversing the Wimbledon score, the Russian finally got his act together. He made an excellent run to the final of ATP Winston-Salem where he took revenge on American Steve Johnson for his first round defeat at the Queens Club by posting a convincing 2 sets to 0 win to claim his second ever ATP title.
The Bear Rampages through Tokyo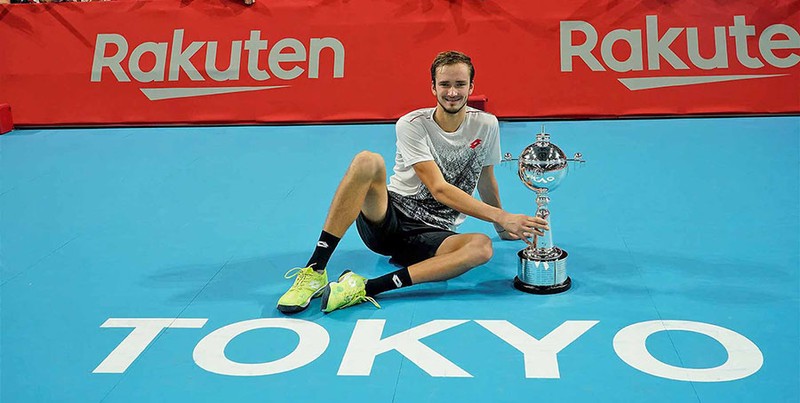 If you thought winning his first two ATP titles at the age of 22 was a dream come true for Medvedev he was yet to produce his best tennis of the year where this month he tore through a whole host of quality players to capture the title. At the Tokyo ATP 500 tournament (one step up in quality compared to his two previous titles) he again had to first go through two qualifying rounds before entering the main draw. Medvedev then went on to knock out Diego Schwartzman, Martin Klizan, Milos Raonic and Denis Shapovalov before facing Kei Nishikori in the final. Bear in mind (mind the pun!) a fair few of these opponents were in impressive form especially Martin Klizan and Semi finalist Denis Shapovalov. His biggest victory was in the final though where as the underdog he pounded into submission home favourite Kei Nishikori 6-4, 6-2 to win his first 500 ATP title. He also made history by becoming the first qualifier to ever win the title in Tokyo.
Watch: Medvedev Upset's Japan's Home Favourite in Tokyo Final
Standing at 6ft 6 inches tall Medvedev benefits from a fast flat serve he can rely on to see him through some tight matches in addition to an aggressively hit forehand which can bag him plenty of winners. This year in particular his back hand has improved substantially - one part of his game that was lacking. He shares similarities with one of the two next gen players above him for career titles won - Alexander Zverev. Both are the same height, hit their forehands fairly flat and have excellent court coverage considering their size.
Current ATP Next Gen Player Table
(1) Alexander Zverev: Age: 21 Country: Germany ATP Titles: 9 including 3 Masters
(2) Nick Kyrgios: Age: 23 Country: Australia ATP Titles: 4
(3) Daniil Medvedev: Age: 22 Country: Russia ATP Titles: 4
(4) Karen Khachanov: Age: 22 Country: Russia ATP Titles: 2
(5) Borna Coric: Age: 22 Country: Croatia ATP Titles: 2
If Medvedev can win on home soil in Moscow his fame will sky rocket him to new levels in Russia and he will also then be joint second in the next gen title table. Coincidentally the player he will share 2nd place with is the one he may have to defeat if he wants the chance of sealing the title in the final - Nick Kygrios.
Kygrios has had a very down and out year to date. Partly due to his own doing and part to elbow and knee injuries. Nevertheless Kygrios is still looking to capture his second title of the year. Like Medvedev he claimed his first title down under way back in January where he was celebrating victory in the Brisbane ATP whilst further south along the east coast Medvedev was battling it out in the second round of qualification for the Sydney ATP he would eventually go on to win.
Kygrios Has Debate with Umpire Over Possibly Purposely Tanking in Shanghai
Kygrios has been his own worse enemy at times this year including his recent spat with the umpire in Shanghai where he was almost accused of purposely not trying. I watched that match and the umpire was right, its also not the first time we have seen Kygrios do this. But it's not the calibre of opponents he has faced, whether brilliant or average that I think is his problem, it's his lack of desire to try on and off court. He doesn't look in the sort of top condition that many other young players do physically and I believe this makes a difference on court. Not to mention his mental discipline and focus. If he wants to start winning bigger tournaments than a few ATP 250's and 500's he's going to have to work harder on and off court and show the true desire to become a champion. This remains to be seen.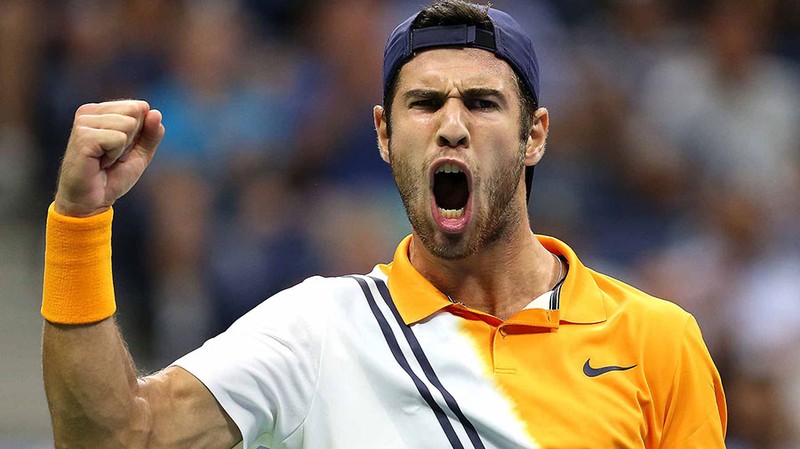 Before Kygrios gets a shot at stopping Medvedev in his tracks though he has to face another big hitting Russian youngster - Karen Khachanov.
Khachanov like Medvedev hits his serve and forehand with power, standing at the same height as Medvedev - 6ft 6 inch and also at the same age - 22, the Russian giant serves and hits the ball with no compromise. Khachanov won his first title in Chengdu at the age of 20 but has taken another 2 years to capture his second, which was earlier this year in Marseille where he beat home favourite Lucas Pouille in the final. It seems like Russian's have a habit of upsetting the home crowd in ATP finals!
Khachanov won't give an inch to Kygrios, so the Australian will have to show a lot more heart than in Shanghai against Klahn if he wants to face Medvedev in the Semi Final. Khachanov has a massive serve so Kygrios won't just be able to rely on his own serve to see him through this game, he will have to be prepared to fight on the Khachanov serve. Khachanov is a great one two puncher so Kygrios is going to have to focus on returning balls deep and getting into points the hard way.
That's also assuming Kygrios doesn't mess things up against world number 76 - Mirza Basic tomorrow. Kygrios for me has an equal chance as Medvedev of winning the title in Mosco if he shows the heart and the desire to compete - that's a big if. If he's focused and wants to perform rather than show boating he is capable of stopping both Russian's cold in their tracks. The likelihood is though that the Australian will turn up in name only and tank when the going gets tough.