Before the London ATP Finals dazzle us with this year's greatest players minus the iconic Spanish star Rafa Nadal, we have the Next Gen Finals starting today and they come with an intriguing trial of news rules for tennis. Will these rules make much of a difference to who will win what if they are implemented next year or indeed for this tournament too, the answer is a resounding no.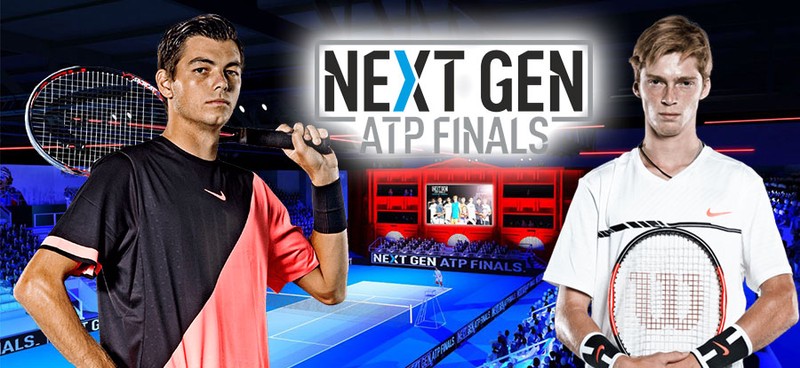 The new rules being trialled at the next gen tournament in Milan, Italy today are merely designed to increase the entertainment factor for a new generation of fans. I actually like them and don't really hold any reservations regarding them, they will not impact the quality of the tennis but they will deliver to fans more edge of the seat moments.
New Rules to be Trialled for Tonight's Match
No advantage point: If either or both players get to 40, the next point wins the game
Sets are first to 4 games: Shortened sets means it's first to 4 and if the score gets to 3 games each, then a tie break ensues.
First to 5 Sets: Each set may have been reduced to 4 games but the matches have been increased to first to 5 sets, which means the number of games in a match remains the same as before.
No Let Rule: I really like this one, it may seem trivial to some but it makes complete sense. If a ball lands in but first touches the net on the way, the serve is now counted as good.
Only One Medical Time Out Allowed: A great rule to stop players cheating and indeed turning up thinking they can last a whole match injured by using as many time outs as they like. Some players have abused medical time outs just to take a rest or annoy their opponent as a tactic to over turn a match. Right now you can take an unlimited amount of timeouts for none pre-existing injuries, here you will only be able to take one for the whole match.
Having just one per match will make players think twice about using it for strategic reasons because if they actually need a proper time out later, they won't be able to take one and will have forfeit the match or play on risking making an injury worse.
Taylor Fritz vs Andrey Rublev
The above serves as an indication of the research I generally do into each match. You may feel it's no relevant but I don't predict matches based on a small amount of research, even if I get many predictions wrong sometimes I still put in the time to know what is happening in each match and tournament so you can read my predictions and make your own judgement from the research too.
So on with the show, here we have two promising next generation players who have yet to really set the tennis world alight in any big way.
Rublev
Rublev may have won his maiden ATP title last year with the highlight being his win over Fabio Fognini in that tournament but he was actually a lucky loser then and so shouldn't have really been in the position to win in Croatia. Still all credit to him for shocking everyone at the tournament in 2017.
He started 2018 well with a final appearance in Doha, along the way claiming impressive wins against Fernando Verdasco and Borna Coric. In the final he lost out to Gael Monfils - a tough ask compared to his final last year where he just had to face Paulo Lorenzi. Since his final in Doha in January he has had a very poor year with 11 first round exits and 5 second round exits, one of which involved his failure to defend last years Croatia title where he lost in the second round to Robin Hasse.
He did reach the Semi Final's in Washington, all be it due to weak competition he faced before then, but he lost out to De Minaur of Australia - his first half decent opponent of the tournament.
I'm not a great fan of Rublev, I think he's one of the weaker Russian players, compared to the likes of Daniil Medvedev who has won 3 ATP titles this year and who can forget Karen Khachanov who last week beat Novak Djokovic winning his maiden Masters title. Both those Russian's have clear strengths, I can't really say at this point in Rublev's career what his strength is. His forehand can fire but I am yet to believe it's a strenght that has seen him through enough matches and tournaments.
In the next gen tournament you get more than one match before your eliminated which is a saving grace to Rublev who I think will make a slow start here. He is likely to continue his statistic of 11 first round defeats this year here against Fritz.
Contrast him to Taylor Fritz who may not have won his first ATP title yet but has had a far more consistent year making the 1/8-finals at Indian Wells in March where he actually beat Rublev in straight sets along the way. He followed that up with a Semi Final appearance in Houston in April and at Wimbledon in the summer he put on a great fight to almost beat Alexander Zverev where he was 2-1 up in sets but collapsed in the fourth and fifth. His strength is his serve and forehand which he can rely on to close out matches against weaker players unlike Rublev.
Fritz is 22-18 this year vs Rublev at 17-21. In their last tournaments Fritz won his first two matches in straight sets before losing to finalist Marius Copil in the Quarter Finals which was not such a bad result considering this is the guy who beat Cilic and Zverev in the same tournament. Rublev fell a round before the Quarters in Austria.
There's not a huge difference between the two players but there is a meaningful gap and I feel Fritz is the more promising talent. The American has made better progress this year where as I feel as the year has gone by Rublev has got progressively worse.
Match Prediction:
At 1.86 Fritz has decent odds for an outright win. I feel he could take it in straight sets but an outright bet is safer and feel he has a 70% chance of winning this game based on this years and recent form. He has the only win in their head to head thus far too.
The change of rules may take both players a little time to adapt to, especially the no let call rule but this shouldn't distract from the noticeable void in class between the two players.