What better way to kick off our Tri Sports Super Series than to focus on some of the greatest comebacks of all time, a great idea by Hassan and one I happily took up the reigns for concerning tennis. In my three part tennis comeback series Wimbledon is a great place to feature heavily in my list of comebacks because it's the birthplace of tennis itself with the first tournament happening all the way back in 1877 - just over 140 years ago!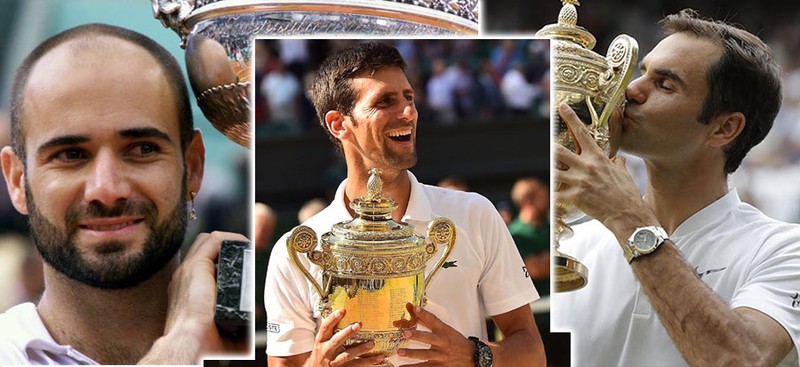 As you can imagine narrowing down 140 years worth of matches into one article, even when focusing on comebacks is not the easiest of tasks to undertake so rather than focusing purely on match comebacks I was reminded recently of some unbelievable comebacks from scenarios far more challenging than being 2 sets down in a Grand Slam, these players overcame big injuries and major life problems to comeback and win Grand Slams including Wimbledon in their return season - quiet an achievement!
Winning Becomes a Habit
It's always easy to win things when your already winning - you feel physically fit, you feel mentally fit and you have an air of confidence which everyone can see. Competence breeds confidence as many have said but where does that leave a player who has been out for a considerable period of time with a fundamental injury or even worse has a personal life crisis outside the sport they play? The player has to fight back from such a crisis on multiple fronts at once.
Crisis Fightback
I think it's important to highlight these in the article before going on to tell a short story about each chosen player's great comeback from crisis at Grand Slams. It will set the tone for just how difficult the task at hand is and why it makes each comeback truly special. So here are the multiple fronts a player has to fight back on, on his return to the court from a substantial injury or personal set back.
Reoccurring Worries: Even when the player makes a return to the court, in the back of his mind he will be worried about whether the injury will rear it's ugly head again during their first match and first tournament back, in fact for the entire year to come! This affects their game because they can easily be distracted with this worry and in tennis you cannot afford to be this way, being in the moment on every point is key to victory, especially as you progress through the tournament and face seriously epic clashes with big opponents.
Confidence: In tennis your strength of mind and your confidence are everything. Without these you will not play to your ability and full potential on every point. Having been out of the game for so long you don't really have any match confidence because you have not exercised competence in winning for a long time - your past success can feel somewhat distant and removed from reality. 6 months to a year out in tennis is like a life time, ask any of the big players who have endured an injury lay off.
Physical Fitness: Men's Grand Slams are one of the most brutal sporting events on the body of a professional player. That's because they can last up to 5 sets and therefore 5 hours just for one match. Add to that fact that you will then be back out on court 2 days later again...and again...and again and you get a true appreciation of just how hard Grand Slams are on a player returning from a major injury. You can prepare somewhat physically for your return but you cannot prepare for a 4-5 hour battle on multiple occasions within the two weeks a tournament persists. The amount of repetition and therefore strain put on your area of weakness is incredible as well as the overall body. A player has to have the true spirit of winning and coming through physical adversity if he wishes to have any chance of winning a Grand S,lam on his return. There will be players in far better condition due to their regular match practice.
Sustained Mental Focus: Of course many fans are very familiar with players and their injury woes but few appreciate that sports people are human beings too and have a life outside of sport. When this life breaks down fundamentally and the player faces a major personal crisis this can have an even great impact on their sports career than even a serious injury woe. Trying to recover from a personal crisis that can affect your mental stability to the point where you crash and burn is an arduous task no matter how talented a player is. Keeping focused on a step by step process to recovering your career and reaching the top once more is not something many players have managed to achieve when falling from grace. Think about how hard it would be to go from number 1 to 100 and then back to 1. A hell of a lot harder than when you first went to 1 being in great mental shape and your personal life being stable and happy.
So with these key variables in mind, let's get to history's more recent stories of three big tennis players and their incredible comebacks at Grand Slam events where each one was not expected to get anywhere near the final, never mind to claim victory two of the four Grand Slam events in their return year.
3. Novak Djokovic: 2018 Season
Problem: Major Elbow Injury | Injury Length: 2 Years | Time Out: 6 Months
Novak Djokovic had never missed a Grand Slam since he began competing way back in 2005. Since early 2016 he was so committed to the sport and his personal ambitions that he spent 18 months playing through the pain in tournaments with an elbow injury. Even with such an injury he still managed to win the Australian Open, the French Open and 4 Masters Titles! Most tennis fans didn't even realise he won all these titles whilst being injured, an unbelievable achievement. But this was to be nothing compared to his return after major elbow surgery this year.
After Djokovic retired against Berdych after just one set in the Quarter Finals of Wimbledon in 2017 he was to spend 6 months out to fix his on going elbow problem that became too painful to ignore anymore.
After his return in the Australian Open in January 2018 where he was defeated by South Korea's Hyeon Chung in the Quarter Final, Djokovic went onto loose against world number 75 - Japan's Taro Daniel at Indian Well's in the first round followed by another first round defeat to World Number 53 - France's Benoit Paire at Miami. He subsequently lost against an unknown Italian player in the French Open Quarter Finals. Pretty much at this point everyone had his year written off after too many wobbles against sub standard players.
Claims Wimbledon Victory from Nowhere
What came next was quiet extraordinary, Djokovic managed to find parts of his previous dominant game on the grass courts of Wimbledon where he overcame not just the big time players but also those that perhaps were lesser than him but who he was tripping up against in earlier tournaments. Suddenly he was sweeping players aside with ease where he recorded dominant wins against big hitters Kyle Edmund and Karen Khachanov - both of who were in very good form before brushing aside Japan's Kei Nishikori in the Quarter Finals. He came into his true element in the Semi Final's which many deemed 'the real final' this year at Wimbledon when he managed to out maneuver Nadal in an an exhaustive 5th set winning 10 games to 8. The final was a foregone conclusion at this point where he swept aside Kevin Anderson in straight sets. The Djoker was back just when most had written him off. Kissing the oldest lawns in tennis you could see what this really meant to him and just how shocked he was himself to pull off this victory.
Watch: Djokovic Win Wimbledon 2018 on Comeback from Injury
Watch Djokovic Post Match Celebration
Seals His Comeback with a Golden Masters Crown
If you thought the second half of his comeback year could not really get much more dramatic Djokovic then went on to accomplish what no other singles tennis player has managed to do in the history of the game - he won his Golden Masters crown. He obtained his elusive 9th Master's 1000 trophy in Cincinatti when he beat Roger Federer in dominant style in the final.
Cincinatti was the only Masters 1000 Djokovic had yet to win and he had also failed to win against Roger Federer on 3 previous occasions here in the final so history was not on his side. So who would have expected him to beat Federer in straight sets and with relative ease too. The Djoker was not just back now, he was flying high!
Watch: Djokovic Beat Federer on the 4th time of Asking to Seal His Golden Masters
Wasn't Finished Yet!
Ok so could it get any better for the now 13 time Grand Slam winner?
More was yet to come with momentum on his side and his confidence restored from two huge victories.
Dominates the US Open: Storms to Glory
Djokovic was to go on and win the US Open 2018 where in the final he made light work of Del Potro aka 'The Tower' making the Argentine flat hitter look rather ordinary. This cannot be emphasised enough. Del Potro had subsequently made Rafa Nadal look rather ordinary in the Semi Final's forcing the Spanish bull to retire after taking the first two sets off him in confident fashion.
In the final Djokovic was able to deal with Del Potro's big forehand rather comfortably turning defense into eventual attack effortlessly. With opponents that other big players had succumbed to Djokovic had ousted in an unforgiving manner. Federer had gone out to Millman in a round before the Quarters where he struggled to find consistency on his serve. Djokovic was the complete opposite - for a man who had comeback from major elbow surgery and had struggled to achieve anything meaningful in the first half of the year he had turned the boat around from sailing to the gloomy lands of despair to those of truly bright and sunny horizons.
Watch Djokovic Dominate through Defense to Defeat Del Potro in 2018 US Open Final
2. Roger Federer: 2017 Season
Problem: Major Knee Injury | Injury Length: 6 Months | Time Out: 6 Months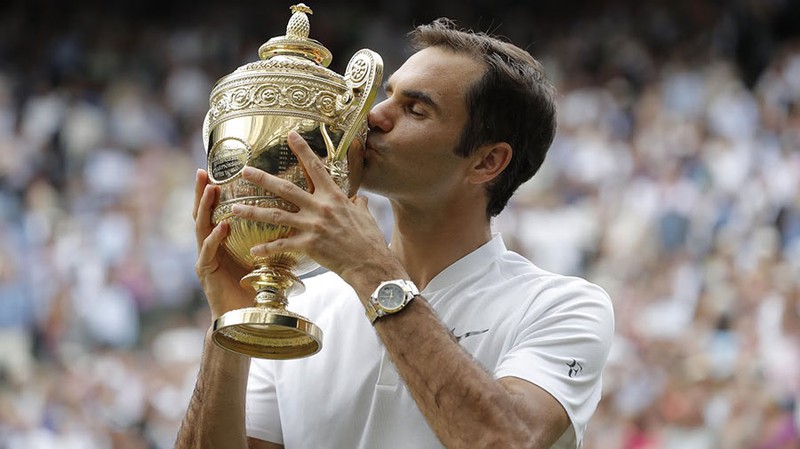 In early 2016 after going out to Novak Djokovic in the Australian Open Semi Final's, Roger Federer suffered a freak injury when he twisted his knee whilst...wait for it...running a bath for his kids at home. Yes of all the ways to pick up an injury it wasn't on court but on domestic duty! Federer had surgery on his knee in March and then landed awkwardly on it when going out against Milos Raonic in the Semi Finals at Wimbledon in the summer. He was not to be seen for the next 6 months as he spent time resting and recovering from the knee injury.
Wins Australian Open Instantly on Return
After enjoying 6 months out with his family Federer felt very optimistic about his return to tennis at Brisbane in January ahead of the Australian open. He had a decent enough start when getting through to the final there but falling to Milos Raonic. But bearing in mind he had not won a Grand Slam since Wimbledon 2012 no one expected him to come close to winning the Australian Open having just returned from injury, with little match practice and a long gap in between his last Grand Slam victory. He was 20/1 at most bookies to win the Australian Open in 2017 and we are talking about an all time great here - that's how much everyone had written him off.
Federer went on to defy the odds and win his first Grand Slam in 4 years just 3 weeks from returning from his knee injury. Along the way to victory he overcame Stan Wawrinka and Rafa Nadal in the final. Federer had not beaten Nadal in a Grand Slam event since Wimbledon 2007 so the chances of him doing so now in the final didn't look great.
Backhand Switch Up Proved Key
But there was one fundamental difference between the Federer before injury and the one after. He was taking his backhand on extra early, hitting flat more than his slice and this was paying dividends in his lead up to the final.
Federer had revealed in interviews since his famous victory over Nadal in the 2017 Australian Open Final that this was a real conscious choice that he made in order to give him a better chance of beating players such as Nadal. Where as before his backhand had broken down against Nadal in Grand Slams this time it prevailed more than it failed and this was one of the key differences that allowed him to edge the Spaniard out in the final 3 sets to 2.
Watch: Federer Stun Everyone By Beating Nadal in Comeback Aussie Final
Backs Up His Blitzing Comeback with 2 Hard Court Masters
Federer went on to win both hard court masters right after Australia, beating Wawrinka in the final of Indian Wells where he did not drop a set against any player before facing Nadal for a second time in 3 months where he defeated the Spaniard in straight sets. Again Federer's fire power overwhelmed a somewhat bemused Nadal.
Wins 8th Wimbledon Title: Supreme Grass Court Tennis Shows Federer is All Time Greatest
If that hard court comeback wasn't spectacular enough, having smartly chosen to skip the clay court season Federer returned on his favourite surface - grass where at Halle he beat Alexander Zverev in the final. Again in that tournament Federer did not concede a set against any player - highly impressive. Halle was just a precursor to a dominant and climatic display that was still to come at Wimbledon.
It was rather fitting that to cap off Federer's stunning comeback he would reach new heights with his tennis when claiming victory at Wimbledon for an 8th time in his career. He now has the all time record at Wimbledon winning more than any other player in history. Again what was truly astonishing about his title accomplishment at the most prestigious and oldest tournament in history is he did not drop a set against any player along the way, sealing yet another page in the scrap book of tennis history as the greatest injury comeback ever made by a tennis player. We were lucky to see it come to fruition only last year!
Watch: Federer Brush Aside Cilic in 3 Straight to Win Wimbledon
Finally we can talk about the character it takes to overcome a major physical injury to a player until the sun sets on the grass lawns of Wimbledon. It is an admirable accomplishment that many have failed at or even those that have succeeded have never achieved the heights demonstrated so perfectly by Novak Djokovic and Roger Federer. But it is quiet something extraordinary to pick yourself up after a personal crisis in life and goes to the heart of what truly makes a great sporting legend and human being.
We can down play their achievements compared to more noble or braver men of history for sure, but life is relative and you deal with the hand that is dealt to you. This great tennis legend did exactly that.
It is our ability to pick ourselves up from major stumbles in life that truly defines who we are, not the victories and glory at our peaks.
With this in mind it's my pleasure to reveal to you my number 1 pick for comebacks from crisis and the story behind this mans trial through adversity.
Andre Agassi: 1999 Season
Problem: Marriage Breakdown/Crystal Meth Abuse | Length: 6 - 12 Months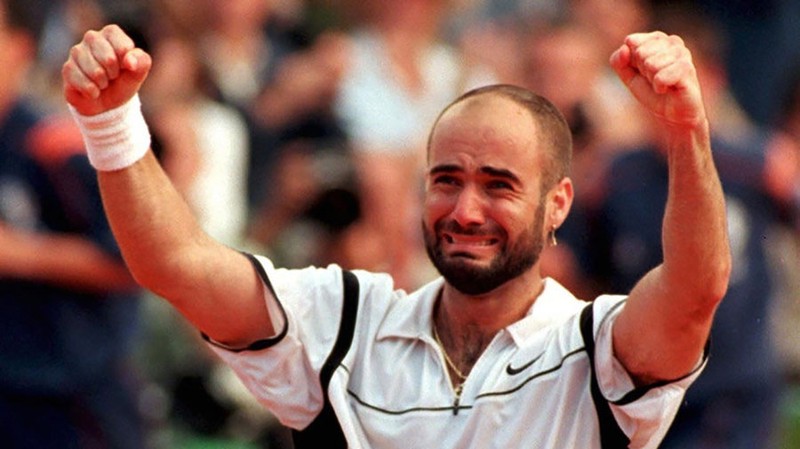 Throughout most of 1995 and some of 1996 Andre Agassi was the best tennis player on the planet, the world number 1 he had won the Australian Open in 1995 and a series of masters 1000's tournaments.
The Las Vegas player was trained in an unforgiving fashion by his father - a former Olympic Iranian boxer to the point where he hated tennis. At the age of 13 he was sent to Nick Bollettieri's Tennis Academy in Florida which Agassi considered a prison rather than a tennis camp. Nevertheless this training made him a brutal tennis player and was given the name 'The Punisher'. Even though only 5ft 11 inches tall he was an incredibly powerful player who would pulverise players into submission on court.
In 1995 he was flourishing on court and looked like he was cementing his position for years to come as the best player in the world. But suddenly his tennis began to decline in early 1996. Agassi went within 1 and half years from world number 1 to 141st by the end of 1997. He did not suffer any injury set backs, his decline in performance was due to a break down in his marriage, a somewhat hateful relationship with the sport he played so incredibly well due to his father and a brush with Crystal Meth.

Agassi played only 24 matches in 1997 clearly suffering mental problems from his marriage collapsing with super model Brook Brooke Shields. But his relationship with his father from childhood also played a major part and reared it's ugly head just as he reached his peak at the sport he hated.
He used Crystal Meth to escape from his relationship and childhood abuse from his over domineering dad. It's not clear from his book how long he took the drug but he ended up having to lie to the ATP about why he tested positive for the drug claiming at the time it was accidental and later admitting it was intentional.
At this point most pundits and critics wrote off Agassi's chances of returning to the top of tennis, presuming amongst other things that he would not have the will or fight to do so after his dramatic fall from grace. However having sworn to himself to clean up his act and continue to play tennis Agassi was so ashamed of his lie for using the drug that he rejected any wild card invitation to compete in any Grand Slam or major tennis tournament upon his return.
Instead Agassi started from the bottom again playing in the Challenger series of tournaments where he picked up his own balls. He was playing in front of 200 people rather than 20,000 people at the US Open. His tournaments included a loss in the final of the Luxor Las Vegas/USTA Men's Challenger to an unranked player in November 1997, a player not even in the top 1000 players in the world. You see people presume if your a Grand Slam winner and in the top 10 in the world it's easy to overcome guys outside the top 100 or even in the top 1000. But actually the margin of error is so small, it's a hugely competitive sport and extremely hard to climb your way to the top. Agassi was prepared to fight his way back the hard way, make his own opportunities, rather than it being handed to him.
Agassi persisted through the lower tournaments to reclaim his self respect and reputation which included putting himself through a rigorous physical conditioning program along the way. He ran on Christmas and New Years Day to the point where he threw up he was that committed to getting back to the top in peak physical condition as well as on the court. He worked so hard that within the space of a year he had managed to comeback from 141st in the world to number 6.
Wins French Open 1999
This culminated in winning 5 ATP tour titles in 1998 before his fall from grace was completely wiped out in 1999 when he somehow managed to win the only Grand Slam that was eluding him the French Open against all odds and expectations! Roland Garos was his true redemption from the hell he had experienced.
No Easy Way Out, No Short Cut Home!
The win was not an easy one, he faced a resurgent and unforgiving Russian Andrei Medvedev in the final who ironically had found a new lease of life in his tennis purely for this tournament only thanks to Agassi. Medvedev was almost ready to quit the game at the ripe age of 24 years old after suffering a loss of form. Agassi found the Russian player drinking himself into oblivion in a bar in Monte Carlo when he gave him a pick me up talk before the French.
Medvedev had told Agassi he was old, he couldn't play "this f---ing game anymore."
Agassi had replied with tips on how to change and improve his game as well as the following:
"How dare you? Here I am, 29, injured, divorced, and you're [complaining] about being washed up at 24? Your future is bright."
Agassi had later laughed at the fact that it was his own fault that he found himself 2 sets to love down in the final having awoken a sleeping giant in Medvedev with his motivational bar talk.
It looked like Agassi was his own worse enemy in the final when he faced a Medvedev who amongst other's had taken out World Number 2 Pete Samprass in the second round in rampant fashion. He had literally transformed his game off the advice of Agassi that one fine drunken night in Monte Carlo.
So in a certain way it was not surprising that 2 sets into the final, Agassi had lost both 1-6 and 2-6. It looked like he was going to stumble out of the final to the Russian when a twist of fate came his way. It started to rain in the third set which sent both players back to the locker room. This allowed Agassi's coach Brad Gilbert to give him one hell of a dressing down and rant where he told Agassi that if he was going to bow out having come so far to go down with "Both Guns Blazing". The rant seemed to jolt Agassi into a totally different gear as he came back to amazingly take the next three sets and the Open 6-4, 6-3, 6-4.
Watch: Agassi Win French Open to Seal His 4 Grand Slam Crown
Watch: Agassi Talk through the Final
Not only was this perhaps the Greatest comeback in tennis history ever from a personal crisis but the final itself was also one of the greatest ever turn arounds.
Agassi had sealed his comeback by claiming all four grand slams, something at the time that only one other player had managed to do in the Open era. In the same year, at the same tournament a lady by the name of Steffi Graf had also managed to win the French Open for the first time in her career. She would later become Andre's wife who he is still married to this very day!
Agassi went on to win the US Open after the French in the same year and three more Grand Slams after that before retiring bringing his total to 8! He is now considered one of tennis's greatest ever players and legends.
Watch Agassi's Tennis Career in a Nutshell