Simply put he won't win because everyone expects him to and since his come back from injury he has already far exceeded expectations. This year even without Andy Murray there are too many threats and some very good looking younger players to contend with.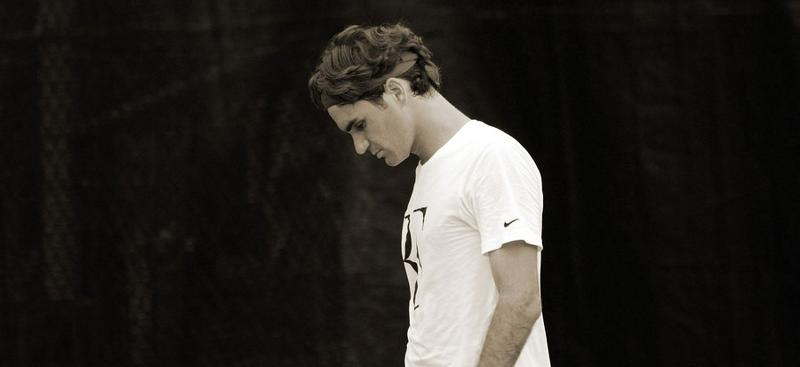 I have been watching Federer a lot over the past two years. I backed him to win the Australian Open in early 2017 after returning from injury (the odds were ridiculously generous on him then) and he has looked as impressive as ever this year claiming another Australian Open title. But people overestimate one man's ability to always be so consistent and under estimate all his opponent's abilities to stop him just for one match. Look what happened to him in the Quarter Final of the US Open 2017 when Del Potro comfortably dispatched him in 4 sets when people could imagine him being the champion.
The bookies have Federer total favourite to win this year (15/8), I think that's a big mistake. Yes he's more likely to win vs any other player on their own, but vs all other players I think he has a 3/1 chance and there are more than a few banana skins along the way he will have to try and avoid.
Threat 1: Nadal
Let's get the obvious one out of the way, Rafael Nadal who for me looked so formidable vs Dominic Thiem in the French Open Final. Let's not underestimate Nadal's victory here where he blew away a player who had looked a real threat to when claiming his 11th French Open. I had been watching Thiem throughout the tournament and his ground stroke power and accuracy was jaw dropping (he actually defeated Nadal in Madrid this year). So I honestly thought he stood a good chance against Nadal in the final and at a bare minimum believed he would at least take a set off him. Nadal dominated that match to the point where it was a total anti climax for a final.
Even though grass is not Nadal's best surface he has beaten Federer at Wimbledon in the final back in 2008 and I am sure he will be feeling confident going into the grass court season after Roland Garos. But and this is quiet the but at the moment, he has had an injury scare meaning he's out of Queens and there's no guarantee he will make Wimbledon at this point.
Threat 2: Djokovic
I wrote a piece about Djokovic before, he's definitely my dark horse for Wimbledon. I just have a feeling he's going to come into his own again at this tournament. Let's wait and see how he looks on grass at Queens. But his performances have been somewhat overlooked on clay this year by many, especially since he went out against a little unknown Italian player in the Quarters.
Throughout the French Open there were signs that he was getting back to his old best with his ground strokes. His forehand started to show glimpses of its clinical past. Of course his rise in form since injury started before the French Open. If you watched him in Rome against Nadal you would have swore it's the old Djokovic just playing slightly below par.
Djokovic has the defensive capabilities to really push Federer whilst his shots are flat enough to penetrate through Federer's dubious defense giving him less time on the ball. Nadal's shots are obviously hard to deal with due to the height kick off the surface (especially on clay) but Federer can struggle against more flatter hitting players as he's not known for his tenacious defense (especially at 36!). We actually got a glimpse of this the other day where he dropped a set in Stuttgart this week against Mischa Zverev.
The last time Djokovic met Federer at Wimbledon it was in the 2015 final where Djokovic won in 4 sets. He actually defeated Federer the year before in the final too so you would be a fool to think grass isn't where Djokovic can pose a real danger to Federer's ambitions of a 9th Wimbledon slam. Djokovic's all time record is 23 wins to Federer's 22 and it would be a fascinating rematch to see this year.
They have yet to meet since Federer turned his game more offensive on the forecourt and altered his tactics on his back hand. The question is how much can Djokovic up his game from the French, can he rediscover the form that took him to two Wimbledon championships in a row?
Threat 3: Del Potro
Where as Djokovic has a superior record against Federer including grass Del Potro falls far short, he is 7 wins to Federer's 18. So what makes him a threat at all?
Well as I mentioned in the introduction of this article, Del Potro beat Federer in the Quarter Finals of the US Open last year in 4 sets when Federer was on a hot streak, it was a big surprise.
7 wins is still pretty good as well for a big man like Del Potro (6ft 6) and one of those other 7 also came recently at Indian Wells this year where he won 2 sets to 1. So there's no doubt if Federer was to face him again at Wimbledon those defeats will be fresh in his mind.
Del Potro has a massive forehand that has been proven to disarm Federer on occasions. They have only met once on grass way back in 2007 when Federer won in 3 straight sets though Del Potro was just getting started at that time in his career.
For such a big guy Del Potro did extremely well to progress to the Semi Finals this year in the French Open on clay of all surfaces, it's by far his least desirable surface. He took out Marin Cilic in the Quarters in 4 sets which was no easy feat, Marin has become a far more improved player on his serve due to his former coach Goran Ivanišević and Cilic himself almost took down Federer in this year's Australian Open final.
If Del Potro plays this year at Wimbledon, Federer will be weary of the threat he poses, he's a definite banana skin to consider.
Other Threats to Take Seriously
A Zverev (2-3), Thiem (2-1), Cilic (1-9), Raonic (3-10) and Kyrios (1) should not be under estimated.
As you can see Federer's path to victory at Wimbledon is by no means a walk in the park. I believe this year to be more difficult than the previous. For one Nadal is looking formidable, actually more so than the previous. Djokovic is looking more like his old self, Del Potro has defeated him twice in 2 years. There are also various other young players who have had excellent progressive seasons winning various ATP tournaments such as Alexandra Zverev (2 on Clay) and Dominic Thiem (2 on Clay), both of which have defeated Federer before of late.