The much anticipated wait is over! Roger Federer and Rafael Nadal would be taking the centre stage on the centre court for their semifinal meeting in SW19 on Friday. This would be the 40th meeting between the two. Federer with 20 grand slams and Nadal with 18 are the front runners in the list of number of grand slams won. The Nadal-Federer rivalry is a storied rivalry and is considered amongst the greatest in tennis history. This would be their second meeting in five weeks when they face off in the Wimbledon semifinal on Friday.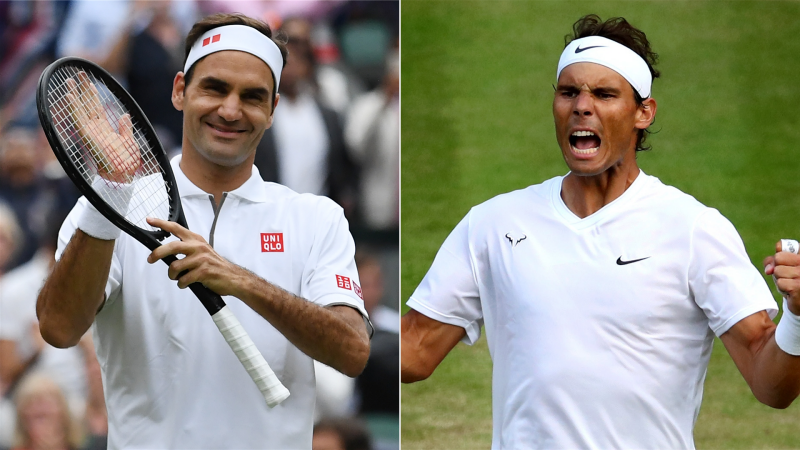 They have met each other thrice at Wimbledon, all of them being in the finals. Federer leads that head to head record 2-1, which includes the epic 2008 Wimbledon final. The 2008 final is considered by various as the greatest match in tennis history. Nadal finished off that game in near darkness. Flash lights had to be used to complete the presentation ceremony. It was the match when the apprentice had dethroned the king in his own backyard to become the new king. It was Federer's first loss at Wimbledon in five years.
Federer, 37 and Nadal, 33 would have never imagined that they would still be dominating the sport 11 years after their last meeting at the All England Club. They are way ahead of their younger opponents, who at this age are at the peak of their powers. It's quite gratifying and at the same moment scary to see it. This shows that young guns like Dominic Thiem, Alexander Zverev, Stefanos Tsitsipas and many others should really take a look into their lifestyle.
Federer finished his quarterfinal first on Wednesday, rallying to defeat Kei Nishikori, 4-6, 6-1, 6-4, 6-4, on Centre Court. Nadal joined him soon after, defeating the big serve of the American Sam Querrey to win, 7-5, 6-2, 6-2, on No. 1 Court. The semifinal was all poised when Nadal defeated Nick Kyrgios in round 2, the same opponent he was beaten by in 2014 in the 4th round.
Nadal is itching towards reaching Federer's record tally of 20 grand slams. He had the toughest draw among the top three. But he just dropped only one set on his way to the final. In his dominant quarterfinals win against Sam Querrey, Nadal broke serve six times. This doesn't mean Nadal is favourite to win against Federer. You really can't count out Roger in Wimbledon. He is 11-1 in the semifinals. All-time at Wimbledon, Federer is a stunning 100-12, and at this tournament, he's been broken just three times. After losing the first set to Nishikori on Wednesday, Federer stormed back to win three straight.
Experts and bookmakers around the world are considering Nadal as the favourite for the win in the semifinal. Since the first day of Wimbledon 2019, plenty has been said about how slow the grass courts have been this year. This kind of surface has given an advantage to clay court players like Nadal. Federer professed to it, after his fourth-round win against Matteo Berrettini, a big-serving Italian who managed only three aces in a 6-1, 6-2, 6-2 demolition. "What was I going to say? The guy is serving on average 130 miles (per hour) and second serve 105 or 110. He gets three aces. It's just slow. Especially tonight, conditions are a bit cooler. I just felt like, you know, it's not really going through."
It is gonna be a battle for the ages and who knows probably their last meeting at the All England Club. Lot's of things have changed at Wimbledon in the last 11 years, with addition of retractable roofs and lights. But the only thing which hasn't changed on the centre court after that epic final 11 years ago is their shear hunger to add one more grand slam in their illustrious cabinet.