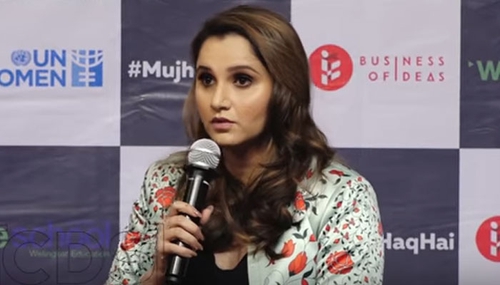 Mumbai: Indian tennis player and Pakistani cricketer Shoaib Malik's wife Sania Mirza says people beat tennis and inspire them to say that it will be black and no one will marry her.
Sania Mirza openly expressed her views on the opportunity to attend the inauguration ceremony of 'I Right' song created by UN Women India working for women in India.
Sania Mirza said that she started playing tennis at age 6, it was the time when she could not even hear that a girl playing tennis in Hyderabad.
SHe said she belongs to a family where there are many cricketers, even her father used to play cricket.
Speaking on the occasion of her career offense, Sanya Mirza said how she faced criticism of people and relatives.
She said that her success in her success is an important role that she always encouraged.
When my parents told my uncle Anty to play my tennis, he said, 'It will become black, then no one will see it to marry'.
Women should not be courageous, rights like men and women and society should walk on equality, Sanya Mirza said.
Tennis star also contradicted the world's sports faculty, saying that women have not been given equal importance to men in sports, even men's rewards are higher when women's less is unbearable.
when i was reading her twitter page, and view, i was thinking very sad, that why in india poeple think about white beauty,, read this twitter talk
She said that whether her children are a son or daughter, I do not care about it, but the important thing is to teach them that all are equal.
Meanwhile, Sanya Mirza also told that Shoaib Malik wants daughter and she also wants her first child to be a girl.
It is clear that Sanya Mirza and Shoaib Malik have been married for 8 years, both of whom had heard the good news of the arrival of the ninth guests on April 23 in social media.
My feeling about post
When I was reading this news, I was very surprised that in Asia and especially inda people prefer the color white, but I was also surprised after reading that people prefer boy, not girls, but why? in her last interview she was very happy when she said that she was the first girl, and also her husband has the same feeling, I agree with her that we must provide equal opportunities to both, there is no young or small matter, in my country people do not think about it, girl or boy, but in my country both sexes have the same right, the same freedom, the feeling, the action of thought, here in my country, white is not beauty, here beauty is your behavior with your partner, here every person loves to respect. here black white, color without preference ... it was a good interview, so I published here, I have a great desire that all my scorpions also like it. Thank you