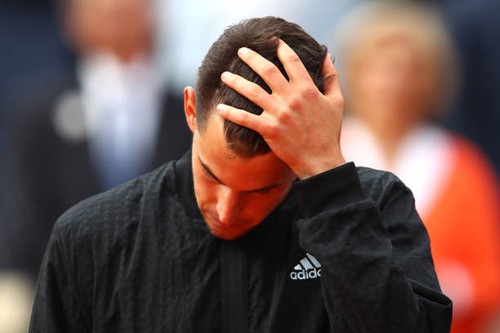 There is a saying that lightning does not strike twice, well, it does in the case of Austrian Dominic Thiem. The 25-year-old lost the French Open final to Rafael Nadal twice in succession. Thiem was aiming to be the man to dethrone the king of clay for the 1st time in 12 attempts, however, his dream never saw the light of the day, as he settled yet again for 2nd place for the 2nd year running.
I just came from heaven to hell...- Thiem
That was how Thiem described his final loss to Nadal, referring to his marathon semi-final win over Novak Djokovic as 'heaven' and then the final loss as 'hell'. He also referred to it as 'unique' and 'brutal'. A moanful comment from Thiem if you ask me.
I had, until now, my best year for sure...-Thiem
This kind of words from Thiem suggested that the Austrian was disappointed with the outcome of the final.
Dominic Thiem's rise to prominence cannot be undermined, The Austrian won his maiden ATP Masters 1000 title in March at the Indian Wells defeating all-time greatest of the open era, Roger Federer in the final. He followed that up with his 2nd title, defeating Rafael Nadal en route to the Barcelona Open triumph. He is widely tipped as the man to take over the clay surface reign from Nadal, probably someday, but that day is not now.
Thiem need not to be reminded of whom he lost to, the duel between him and Nadal at the French Open has been overwhelmingly one-sided. The duo had met 3 times in previous tournaments with Nadal claiming straight-set victories in all 3, including last year's 6-4, 6-3, 6-2 victory, with Thiem failing to win a single set in all 3. So, this year's final was deemed by many to be a hard nut to crack for the Austrian. However, having defeated Nadal on clay in one of the dress rehearsal of the French Open(Barcelona Open), Thiem drew confidence going into the final claiming a set off Nadal for the 1st time, taking the 2nd set 7-5, but Nadal is called the king of clay for a reason, he raced to win the next 2 sets in style and claimed his 12th French Open 6-3, 5-7, 6-1, 6-1, his 18th overall grand slam titles.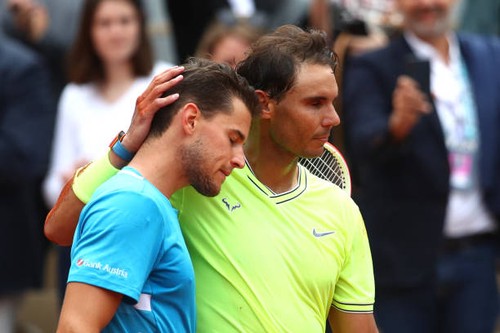 Nadal won his 1st title at the Roland Garros in 2005 and has been on an outstanding 92-2 win-loss record at the event, and now his 12th title at the French Open, surpassing the record of 11 titles jointly held by him and Americas Margeret Court. It was always going to be an impeccable performance to take away Nadal's stranglehold on the Coupe Des Mousquetaries, unfortunately, Thiem could not produce such flawless display to dethrone the King.
Thiem need not be disappointed, he lost to the King, winning a set off Nadal shows that he is getting closer to a grand slam win. A wise saying goes thus;
Disappointment to a noble soul is what cold water is to burning metal; it strengthens, tempers, intensifies but never destroys it - Eliza Tabor
To be part of the Moanday blog by @pete, you are always welcome, click the link. Thank you all as always.