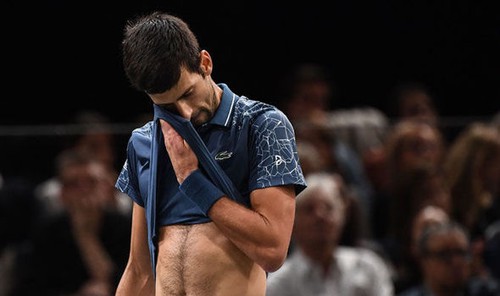 Novak Djokovic's 22nd match winning streak was brought to an abrupt end by an unfazed world ATP ranked number 18 Karen Khachanov. The final ATP Master's final played on evening of 4th November was almost like a tale of David versus Goliath, as little or non gave the Russian any chance, he was written off to lose the match against world's inform number 2 in ATP ranking. It was supposed to be Djokovics 23rd straight win, the lower ranked Russian had other idea, as he condemned the Serb to defeat with a 7-5, 6-4 straight set win.
It is my entry post to @pete happy moanday https://scorum.com/en-us/ncaa/@pete/hurray-it-s-happy-moan-day, you should be part of it.
Djokovic was aiming for more than the tournament win, he was fancied to at least match Rafael Nadals record tally of 33 ATP masters 1000 titles. It was a match up of experience 31 year old Djokovic versus youthfulness in 22 year old Khachanov, in which youthfulness prevailed.
The Russian who had already battled past 2 of world ATP top 10 ranked players in Alexander Zverev and Dominic Thiem to reach the final is beaming in confidence and was noticeably charged up for the match, Djokovic on other hand looked off the pace at some point during the match, an hangover of his 3 hours semi-final win over old war horse and rival Roger Federer.
Djokovic quickly started on front foot, and rushed to a 3 games to Khachanovs 1, but young Russian wont panic or be bullied, he crawled his way back to level games at 3 all, a very close 1st set it was, but Khachanov broke Djokovics serve at 5 games all, and went on to take the set 5-7.
The second set was almost a repeat of the first set, as Djokovic who needed a response, raced to a 3-1 lead, once again young Khachanov wont just lay down without a fight, he rallied back to make it 3-3, Djokovic added another game to make it 4-3, but that was the closet Djokovic would get to winning, once Khachanov levelled at 4-4, he pulled away and there was no stopping him to take the second set 4-6.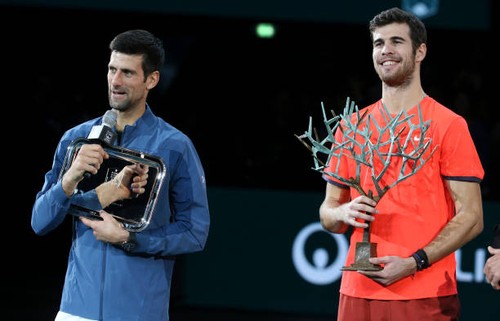 He did it, he pulled an upset and claimed the trophy, Djokovic had to settle for a tray. Khachanov has brought Djokovic bandwagon to shock stop. The elated Young Russian said "...it meant the world to me...", what part buddie? Stopping Djokovic unbeaten run or winning the tournament.
In his post match speech, Djokovic said "i dont feel good today", referring to flu-like symptoms he had been experiencing all week, but hey man! you defeated Roger Federer in a 3 hours match-up with this same symptoms, No excuses man.
Djokovic probably must have underestimated Khachanov, he was brought down to earth, He should next time consider the words of Lao Tzu...
"there is no greater danger than underestimating your opponent"
Doug Baldwin, an NFL player also said...
"if there are cracks in your armour, your opponent is going to find them", Khachanov did just that on Djokovic.
Thanks to you all for the supports and shout out to contest host @pete and several donors and judges of the contest.