There will be a new name inscribed on the Australian Open Trophy come Saturday when 14 seed American, Sofia Kenin take on unseeded Spaniard Garbiñe Muguruza in the women final. Kenin had defeated Ashleigh Barty in straight sets 7-6(8-6), 7-5 in the 1st semifinal draw on Thursday while Muguruza ousted Simona Halep, also in straight sets 7-6(10-8), 7-5 in the 2nd semifinal hours later.
Kenin Crashed Barty Party;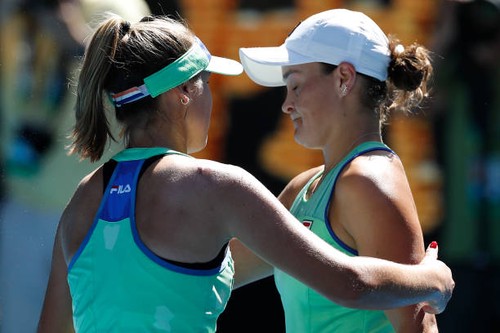 In the 1st semifinal, World number 1 and home favourite, Ashleigh Barty's hope to become the 1st Australian women champion since Chris O'Neil(1978) was dashed by the unfazed Sofia Kenin. Playing under the extreme temperature of about 40°C, the American produced a battling performance to oust the current French Open holder in straight sets in gruelling 1 hour, 45 minutes.
It was always going to be a tough tie for Kenin against Barty and the home crowd who were relentless in their support for their own and had hope for another "Barty Party". The early signs were good for Barty as she fired 6 aces past the understandably nervous Kenin in the early games.
Barty had the opportunity to go 4-2 up as she held 3 breakpoints in the 6th game, however, not for the 1st time in the tournament, Kenin showed character as she held her serve to level at 3-3, as the set went into a tiebreaker at 6-6.
Kenin trailed Barty for most of the tiebreaker but fought back to win 4 straight points and wrapped up the 1st set 7-6(8-6), thanks to Barty though who uncharacteristically made 21 unforced errors to hand the opening set to the American.
Though Barty raised her game in the 2nd set and broke Kenin in the 3rd game to lead 2-1 and was serving for the set at 5-4. However, Kenin won't go down without a fight, the American would break Barty serve to level at 5-5 and then raced on to take the 2nd set 7-5, her 1st ever Grand Slam final, what a remarkable feat.
Muguruza Outlasts Halep;
In the other semifinal draw, former world number 1s, Romania's Simona Halep(2018 French Open & 2019 Wimbledon champion) and Spain's Garbiñe Muguruza(2016 French & 2017 Wimbledon champion) were both bidding to add the Australian Open title to their Major laurels when they clashed. Remarkably, it was the unseeded Spaniard that came out of the encounter on top.
The 4th seeded Halep was in good form coming into the draw, having not dropped a single set all tournament and was tipped to keep the momentum against Muguruza who had to recover from a 0-6 set down to scale her quarterfinal draw. That being said, Muguruza had a 3-2 h2h advantage over her opponent Halep.
It was a topsy-turvy 1st set that saw Muguruza broke 1st in game 7 to lead 4-3, however, Halep responded in game 9 with a break of Muguruza serve to level at 5-5. The set would then go on to a tiebreaker which saw Muguruza claimed the set 7-6(10-8).
It was more of the same in the 2nd set as both players couldn't be separated as they locked horns 5-5 in game 10 after Halep missed the chance to wrap up at 5-4. Muguruza would then hold serve to lead 6-5 and then break Halep to take the tie 7-5.
Kenin vs Muguruza;
The only previous encounter between these 2 was at the 1st round of the 2019 Beijing Open in China some 5 months ago(Sept), a tie in which Kenin won in 3 sets 6-0, 2-6, 6-2.
Having swept past the likes of Cori Gauff and Ashleigh Barty to get to the final, who says Kenin cannot claim the title ahead of Muguruza, who in her own right will draw confidence in her battling victory over hi-flying Simona Halep in her bid to claim her 3rd ever Major.
Best of luck to both Sofia Kenin and Garbiñe Muguruza in the final.
Thank you all.