Hello! Friends,
The US open started last month has been brought to a close as Rafael Nadal draw closer to Rogers Federer Grand Slam Title. It was a great fightback from Nadal as he fightback to win Daniel Medvedev who is already leading.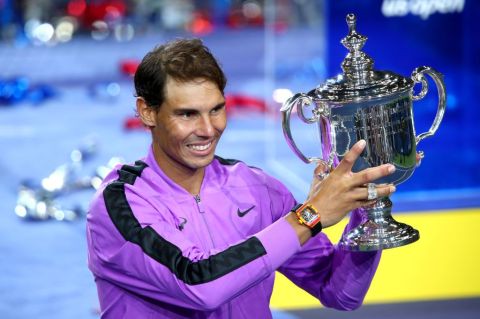 With this victory that happened Sunday night made Rafael Nadal 19- time Grand Slam title holder as
against 20-time Roger Federer's title. With this victory claimed by Nadal made it fourth of US open title claimed by him. The game ran for about four hour and 51 minutes with record of 7-5 6-3 5-7 4-6 6-4.
When you check through what is happening, it is certain Nadal will surpass Federer. With the numbers of games played by Nadal who is 33 years, he has not recorded any form of injury and this lock up in his strenght And as he continue fighting with gaining more Grand Slam title he may end up as a greatest in the world of tennis.
On the other hand, Medvedev is not part of three big name in tennis but he secured his name right there as the US open confirmed his spot as the active second player who is under 30 after Dominic Thiem, a player that finishes as Runner-Up in French open this year.
Congratulations to Nadal!