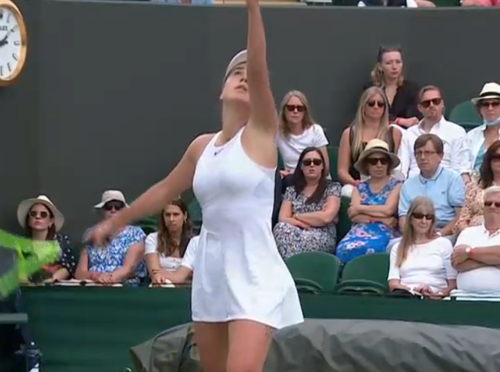 It's Wimbledon's turn. In the 2nd round match, Ellina Svitolina played against Magda Lynette. The Ukrainian is on the 5th line of the world ranking. Pole - on the 44th place meta. In the first match, Svitolina outplayed E. Van Eytvank in 3 sets. Lynette was stronger than A. Anisimova. It took the Polish tennis player three sets to win.

In this confrontation, the favorite is the Odessa woman. But, due to instability, she may lose one set. Reviewed TB21.5.
Review of the first set of the match 2 rounds of Wimbledon: Elina Svitolina - Magda Lynette
Magda Lynette was the first to serve. Elina immediately realized the break point. She took the lead. In the second game Svitolina was losing 0 - 40. She equalizes the score: 40 - 40. After three "exactly" Magda realized a return break-point. She evened the score in the set. In game 3, Lynette converted her serve. In game 4, Lynette converted her second break point. Score: 1 - 3. Immediately she wins 5 games on her serve. Score: 1 - 4. In the 6th game Svitolina wins her serve.
In the 7th game, Lynette was able to win her serve. Score: 2 - 5. In the 8th game Svitolina converted her serve. Score: 3 - 5. Magda went to serve for the set. She wins game 9. First set score: 3 - 6.
Review of the second set of the match 2 rounds of Wimbledon: Elina Svitolina - Magda Lynette
Svitolina served first. She wins the 1st game. Lynette wins the second game. The score is equal. Elina wins 3 games. Ultimately, Svitolina loses her serve. Lynette played more consistently.
Elina showed that she is far from optimal shape. She loses even winning confrontations. It's amazing how it still holds in the TOP-5 of the world rankings. The result of the second set: 4 - 6. The final score of the match: 0 - 2 (3 - 6 and 4 - 6).
Elina Svitolina earns 70 rating points. As for me, she urgently needs a coach change.