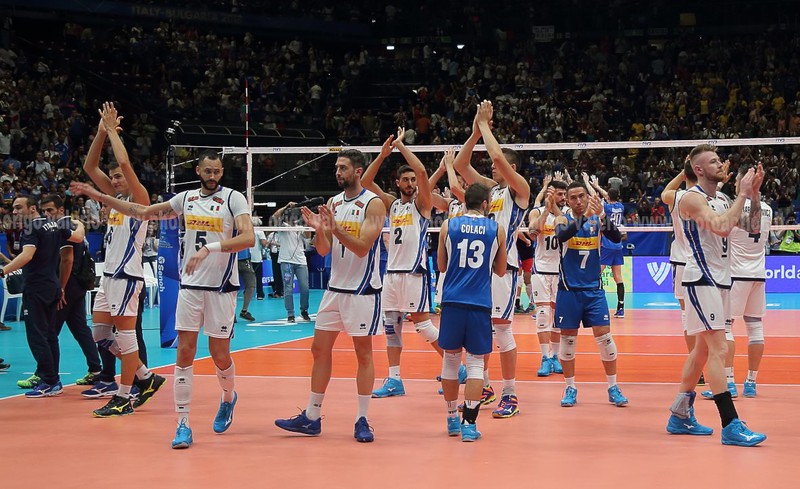 We already knew from the eve that it would be very hard, and the hopes ended up in the bud. Italy immediately condemned by the defeat of the first set.
Then the Azzurri have a reaction of pride and go to win the tie-break game. Partial 14-25, 25-21, 18-25, 25-17, 15-11
After the disastrous start to the final-six, with the beating remedied by Serbia, and the victory in turn of Poland on the same Serbs, Italy's only hope of qualifying was to win against Poland not only with the result of 3-0 , but also with at least 15 total points of difference.
It was hard to believe and the facts did not exceed the hopes and fantasies of the Italian public.
Poland flies in the semifinals, along with the already qualified Serbia and the other two teams of the other group, USA and Brazil. The semi-finals will see Poland-USA and Brazil-Serbia oppose.
The first of the semi-finals will see Brazil come first in Pool I, facing Serbia second in Pool J, while the other game will be opposed by the USA and Poland.
EVERYTHING END NOW
For their part, Poland winning the first set immediately wins its real race, which was to qualify for the semi-finals. It takes 25 minutes to destroy every faint blue hope and make the Poles fly in the semi-finals. The world champions in charge in the first set take off, never offer a real chance to Italy to return to the game and close the practice with a partial 25-14 that does not allow replicas.
Served the perfect game but too many players have had a bad start and too many mistakes have been fatal.
The rest of the game was conditioned by the fact that it had nothing more to give the ranking for which it is still struggling, there were also good looks and there was also the emotion of the tie-break
How to evaluate this world?
The enthusiasm after the first phase was soaring, seven wins and only one defeat in eight races, playing at home made more than one fan dream.
The hit with Serbia was a terrible awakening that effectively precluded the dream of the semifinal. The victory with Poland was obtained with an opponent already projected in the semifinals and whose coach has spared the owners, if it had been real, as it was only the first set, perhaps Italy appeared immediately nervous would have remedied another severe lesson.
Honor however to the Blengini team that for a while made us dream: Giannelli setter, Zaytsev opposite, Juantorena and Lanza crushers. Central Mazzone and central Anzani, Colaci free.
Thanks Azzurri!