Three teams of Indonesia beach volleyball are going to the semifinal. The first men's team that is represented by Yaya and Rachmawan. They won over China after thanking their hard-driven spikes and the frequencies of the ball out from China had led them to win the match. In the second set, Indonesia successfully reached match point 15 while China finished under 10 point that allowed Indonesia to win the game at 15 points. Ade Chandra Rachmawan and Mohammad Asyhfiya won over China, reinforced by Yajen Hsieh and Chinju Wang. The brilliance performances had become capital to play against China in quarterfinal, and again, Indonesia seemingly eased themselves to finish each set with good points and they will be going to semifinal along with other Indonesia teams, women's team and another men's team that also successfully won the games.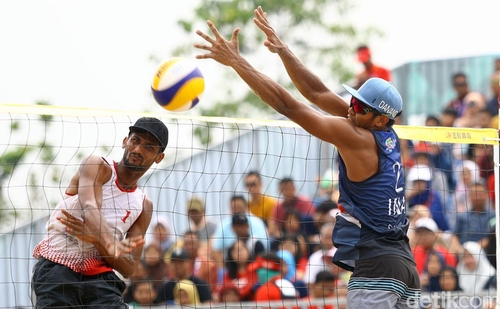 Another beach volleyball men's team also confirmed to continue to Semifinal after defeating Oman in Jakabaring Sport City, on Saturday 25 Agust 2018. This team was reinforced by Gilang Ramadhan/Danang Yudistira Pribadi who came to the victory by winning two sets. In the first set, the Indonesia team played all out that led them to finish 21-16 in 16 minutes time and in the second set, Indonesia finished 21-16. What a match score!
Indonesia team is expected to go the final, and if we look at the stats of the game, the men's team are quite promised to set them into the final such the performance of Yaya and Rachmawan who strove to secure a place to semifinal after beating China two sets. It is a good day for Indonesia to celebrate its victory of the beach volleyball. I still amazed the game when the duo Yaya and Rachmawan who seemed easy to beat China in the second set. The spikes and serious attempts had made China unable to reach ten points in the second set. After a short break, China expected to play all out that determined them to proceed to the third set. However, they could not able to make it happen, and Indonesia was easy to finish the match with an incredible score of 15-07.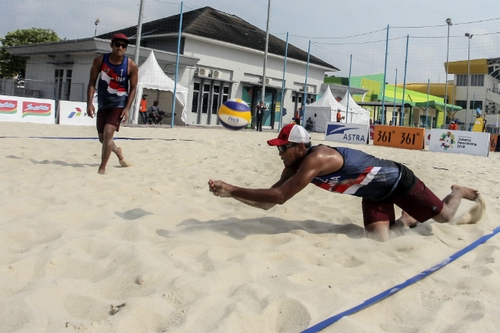 While another Indonesia women's team that was reinforced by Desi Ratnasari/Yokebed Purari Eka failed to continue the next game. They were defeated by Kazakhstan with the last point 21-12, 21-17 in the match. This game has put this team to overwhelm a strong smash from Tatyana Mashkova and Irina Tsimbalova. They made incredible spikes that pressed Indonesia downward spikes. The tall bodies of Kazakhstan's players used as the weapon to launch the spikes that allowed Kazakhstan to win the game and Desi Ratnasari and Yokebed Purari Eka, also downed by China. Fa Wang and Cinyi Xia defeated Indonesia 2-0. In the first set, China continued to attack Indonesia with hard smashes that led them to finish the game with a victory 21-16. China played all out in the second set, they still dominated the game with the smashed and the serious attempts that gave up satisfied point for China at the end of the game with 21-14.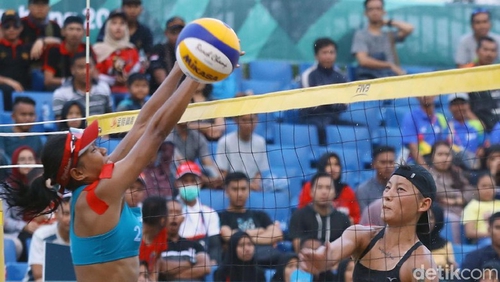 On today's match, another group of beach volleyball women's team reached a very positive point. Dhita/Putu won very hard over Japan. In the first set, these duos had to play die hard game in 22 minutes to win the first set. Japan seemed to give no chance for Indonesia but the spikes have brought Indonesia team to finish the first set with 21-19. In the following set, a dramatic game happened, where both of these team faced the frequencies match points and took a bit longer to finish the second set. This competitive match had made Indonesia to take a long breath to win over Japan. After having some intense match point, Dhita/Putu locked the victory over Japan with last score 29-27. The two points had made this women's team go to the semifinal and they will play against China team, FanWang/Xinyi Xia on Sunday 26th Agust 2018 in Jakabaring Arean Sport City, Palembang.
After finishing long run games, Indonesia confirms three teams will reach the semifinal, they are two teams Rachmawan/Yaya, and Gilang Ramadhan/Danang Yudistira Pribadi and it is also possible for both these two teams will play against each other in the semifinal. Another group came from women's team that was just won over Japan, they will face China team, FanWang/Xinyi Xia.