The last round of the first phase of the European Women's Championships will be played today, decisive for almost all the groups.
Meanwhile, Germany is the first team to secure first place overall, thanks to the fifth victory against Belarus. Poland's sensational defeat in the fifth set in front of its public against Belgium stands out, while they get the pass in advance for the eighth Slovenia, Azerbaijan and Spain (which will be Italy's opponent in case of victory over the Poles).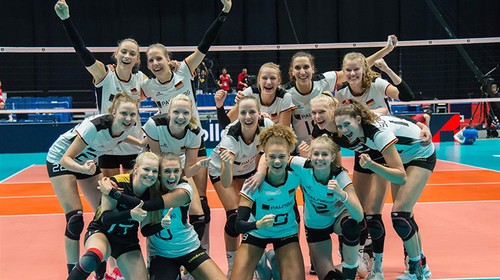 Pool A
Everything as planned: the current Serbian champions and Giovanni Guidetti's Turkey will play the first place in the group in the direct clash scheduled in Ankara (Sports Hall already completely sold out). Serbia gets rid of Greece by beating it 3-0 (25-21, 25-17, 25-21) in less than seventy minutes, with Terzic deciding to give Ognjenovic rest: twenty points for Boskovic, sixteen for Mihajlovic.
In Greece Vasilantonaki did well with 17 points, insufficient to keep the Hellenic up close, closing the group with two victories and they are sure of gaining access to the knockout stages. France, on the other hand, has now been eliminated after the heavy 3-0 defeat by Turkey (25-19, 25-19, 25-16) which turns almost all the players available. Erdem best scorer with 15 points. The direct clashes of today's round will decide the first classified and who between Bulgaria and Finland will access the knockout rounds.
[The asterisk teams have already played all the group matches]
Ranking: Serbia 4 wins (12 points); Turkey 4 (11); Greece * 2 (6); Bulgaria and Finland 1 (4); France * 1 (2).
Today: 4 p.m. Bulgaria-Finland, 6.30 p.m. Turkey-Serbia.
Pool B
With Italy stopped for the rest, the big surprise is Belgium's 3-2 victory (20-25, 27-25, 20-25, 25-21.17-15) over Poland just before the direct clash between the Italians and the host team. In Belgium, which closes the group with four victories, Britt Herbots unleashed with 33 points.
Poland, which criticizes the many errors in the decisive phases of the match, particularly in the third set. Smarzek-Godek as usual top scorer of Poland with 28 points (42% in attack). The decisive race also for Slovenia that beats Ukraine for 3-2 (22-25, 25-21, 18-25, 25-21, 15-8) and is sheltered from any surprise: it is the first historic qualifying for the Round of 16 in the history of the European Championship. Ukraine and Portugal therefore already eliminated.
Ranking: Italy 4 wins (12); Belgium * 4 (11); Poland 3 (10); Slovenia 2 (5); Ukraine * 0 (1); Portugal 0 (0).
Today: 6 p.m. Portugal-Ukraine, 8.30 p.m. Poland-Italy.
Pool C
Azerbaijan also secured a place in the eighth-finals: Giovanni Caprara's team suffered but won a very valuable victory against Estonia 3-2 (25-20, 18-25, 25-22, 22-25, 15 -11) thanks above all to the usual Polina Rahimova, the protagonist of 27 points well.
Hungary is not able to achieve a very difficult victory against Croatia despite a third set played at death: it ends 3-0 for the team of Daniele Santarelli (25-20, 25-23, 35-33) which again highlights once an irrepressible Samanta Fabris (25 points).
Estonia now eliminated, Hungary will be forced to look for a practically impossible feat against the Netherlands that aims to close the group in the lead and full of victories.
Ranking: Netherlands 4 wins (12); Croatia * 3 (10); Azerbaijan 3 (7); Romania 2 (6); Hungary 1 (3); Estonia * 0 (1).
Today: 3.30 p.m. Romania-Azerbaijan, 6.00 p.m. Hungary-Holland.
Pool D
The great expectation was for Russia to return to the field after the defeat suffered by Germany on Monday: no concession to Spain beaten 3-0 (25-15, 25-19, 25-22) in 77 'at the end of a very concrete performance and essential. Spain, however, accessing the second phase.
Germany, on the other hand, completes its clear path by winning the fifth victory thanks to a 3-0 victory over Belarus (25-10, 25-15.25 - 25) in a never-debated contest that sees Koslowski give ample space even to almost the whole bench.
Eliminate, regardless of what could be their last round of play, Belarus and Switzerland: the challenge between Slovakia and Russia will assign the second place.
Ranking: Germany * 5 wins (14); Russia 3 (10); Slovakia 3 (8); Spain * 2 (5); Belarus and Switzerland 0 (1).
Today: 3.30 p.m. Slovakia-Russia, 6 p.m. Switzerland-Belarus.