Only 3 teams (Italy, Germany and Holland) maintain the absolute unbeaten record after the 4th day of their run in the group stage of the European Women's Championships underway in Ankara, Lodz, Budapest and Bratislava.
Not only that, Italy and Holland have also managed to keep their course immaculate in terms of sets: they haven't lost any of them.
The magic moment of Slovakia continues that at the Ondrej Nepela Ice Arena, although defeated by Germany, tears a set and records the absolute record number of spectators in a women's volleyball event, 5,250 paying people.

Pool A
Finland returned to the European Championship after the 1989 edition and pursued a victory they had expected for thirty years, when they beat then-West Germany: after three honourable defeats, the much-desired success comes thanks to a 3-1 (25-21, 25-14, 22-25, 25-18) against a France that is less brilliant than might be expected.
In a very tough group, the Nordic team now cradles the dream of qualifying and will be looking for the decisive victory against Bulgaria that managed to beat Greece 3-0 (25-22, 25-17, 25-17) thus winning its first victory of this edition. The race for third and fourth place becomes extremely interesting and uncertain.
Ranking: Serbia 3 wins (9 points), Turkey 3 (8), Greece 2 (6), Bulgaria 1 (4), Finland 1 (4), France 1 (2).
Today: 4 p.m. Serbia-Greece, 8 p.m. France-Turkey.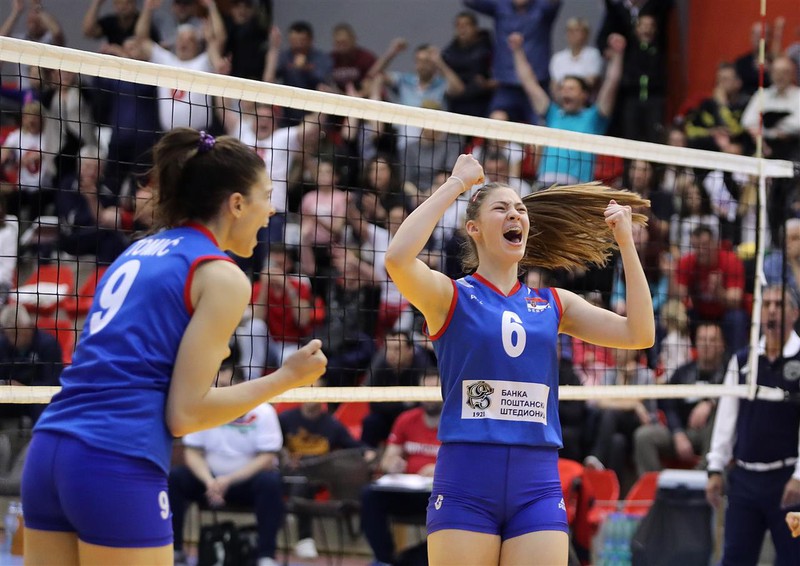 Pool B
Italy continues its perfect path by beating Slovenia quite evenly, while in the other group match, Belgium beats Portugal, which, if nothing else, can set the first historic set won in a final European round. Lusitanians feign reacting and winning the second set but this then is not enough to stop the Belgian team that wins the decisive fraction with a wide margin (25-13, 24-2.25-25-20, 25-11). Blue largely certain of the qualification but who will have to play in the direct battle with Poland the first place.
Ranking: Italy 4 wins (12 points), Poland 3 (9), Belgium 3 (9), Slovenia 1 (3), Ukraine 0 (0), Portugal 0 (0).
Today: 5.30 Belgium-Poland, 8 p.m. Ukraine-Slovenia.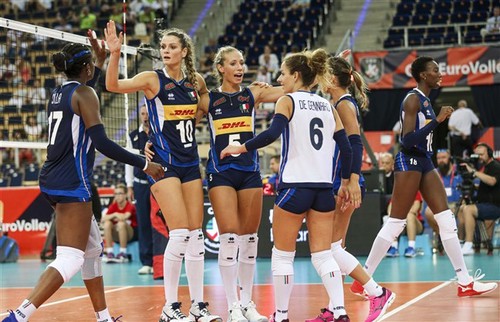 Pool C
Even the Netherlands (Sloetjes in the photo on the right) continues with a perfect score and a perfect balance, four victories in as many matches and twelve sets won without conceding: this time the designated victim is Estonia, which despite such generosity scores as soon as 40 points allowing Holland to continue its rotations and to show off the usual Nika Daalderop, top scorer with 18 points (25-18, 25-12, 25-10). Instead, the success of Croatia over Romania for 3-1 (25-21, 23-25, 25-18, 25-22) is very important in the fight for second place behind the very successful Oranje launches: it was probably one of the matches most beautiful and spectacular of this fourth round of play. Croatia is now virtually second even though tied for victories and points with Romania. The difference is made once again by the opposite Sanja Popovic-Gamma, who despite playing only from the second set forward placed 14 points with a remarkable 67% of offensive effectiveness, forcing Daniele Santarelli to make choices between her and Fabris in the next races.
Ranking: Netherlands 4 wins (12), Croatia 2 (7), Romania 2 (6), Azerbaijan 2 (5), Hungary 1 (3), Estonia 0 (0).
Today: 3.30 pm Azerbaijan-Estonia, 6.00 pm Croatia-Hungary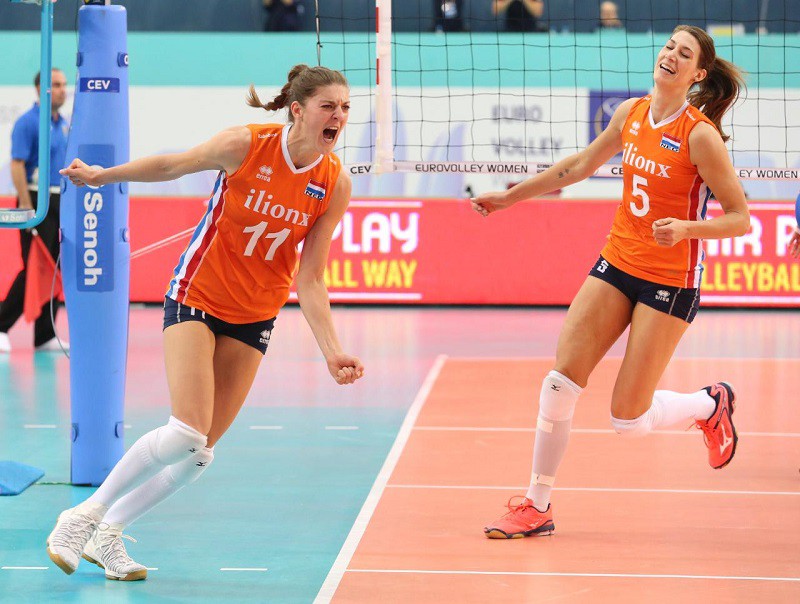 Pool D
The only game that closes in the fifth set is the one between Spain and Switzerland: victory for the Iberians who reassemble two sets at the red-cross that open brilliantly but lose lucidity to the distance. The 3-2 final (22-25, 21-25, 26-24, 25-22, 15-13) rewards the amazing performance of Jessica Rivero with 28 points, very well Escamilla (19) and Maria Segura growing together with Spanish comeback. Switzerland is now out of the game, while Spain is in fourth place, bypassing Belarus, which has one more game to play. Germany gives only one set to Slovakia, which also suffers its first defeat in this edition of the European Championship. However, Slovakia maintains a point and an advantage win over the rested Russia, and now it will have to run if it does not want to qualify as a third and run the risk of some difficult combination.
Ranking: Germany 4 wins (11), Slovakia 3 (8), Russia 2 (7), Spain 2 (5), Belarus 0 (1), Switzerland 0 (1).
Today: 5.30 p.m. Russia-Spain, 8 p.m. Germany-Belarus.