From Cross-Country to realize a Dream
Denise Herrmann celebrates the greatest success of her career with the World Cup gold medal. For ex-biathlete Fritz Fischer, the success of the 30-year-old is no surprise. It is rare for athletes to celebrate the greatest success of their career at the age of 30. But Denise Herrmann has done just that. The biathlete triumphed in pursuit on Sunday at the World Biathlon Championships in Östersund and won her first World Champion title, even her first individual medal at any major event.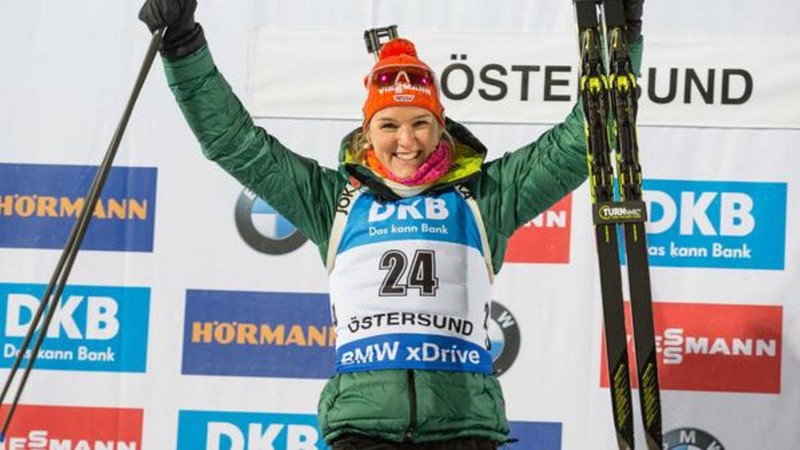 "I'm damn proud of what happened," Herrmann said after her sensational victory, which she owes above all to a cool shooting performance.
It was only three years ago that the Thuringian-born athlete switched from cross-country to biathlon and took full risks. She was able to keep up with world class cross-country specialists in the sprint field and won bronze at the 2014 Olympic Games with the relay team. An individual medal seemed to be out of reach due to the dominance of the Scandinavian runners.
Herrmann with curious shooting exercise
But now she has fulfilled this dream in biathlon. And that although she had to learn shooting from scratch. She was not afraid of unusual training methods. So Herrmann put targets on her wall cupboards in the kitchen and did holding exercises with her rifle. Herrmann's sporting talent was already born - her father Lutz played handball in the GDR upper league. Her little sister Nadine is eager to emulate her as a cross-country skier and dreams of going to the Olympics together with her older sister.
Change to the boarding school for sports at the age of twelve
Already at the age of twelve Herrmann left her hometown Bockau and moved to the sports boarding school in Oberwiesenthal, 35 kilometres away. With perseverance and meticulousness she worked her way up from there to become the best German cross-country skier.
2016 then the sudden switch to biathlon. "I owe a lot to cross-country skiing, it was a great time with many highlights, now I want to set myself new goals," Herrmann said at the time.
Of course, the restart didn't go smoothly. Extra units at the shooting range, series of five faults, placement around 50. But Herrmann was aware of all that when she reoriented herself.
Three years later, as a biathlete, she reached the most successful point of her athletic career. It is significant that this happened in Östersund, where she celebrated her first World Cup victory in the new sport a year ago.
Special relationship with Östersund
After the gold medal Herrmann revealed her special relationship to the Swedish village: "I love this place. It's great when you return to a place you have great memories of. I like the track and the shooting range suits me better than others in the World Cup".
As world champion she now wants to show that she can also be reckoned with on other courses. DSV coach Fischer believes she can do this: "She has proven that she can be the best in the world. She has to take that with her into the next races, because form and material are up to date."