Our ski jumpers won the team hattrick!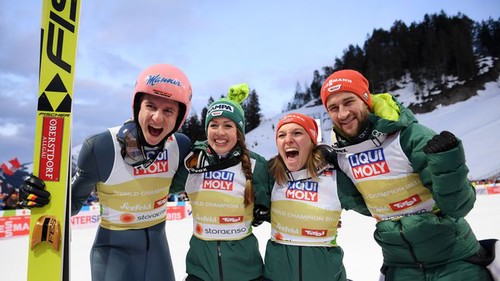 How cool is that!? A German that never won any single tournament now with three Gold medals!
During the Nordic Ski World Cup in Seefeld, the German jumpers celebrate their third gold medal in the third team competition. In a hot duel, the German quartet prevails against Austria.
For eight jumps, the DSV Quartet fought an exciting duel with Austria, and in the end Germany won gold for the third time in a row with 1012.2 points just ahead of the host (989.9). The bronze medal in the 2022 Olympic competition for the first time went to Norway with a clear deficit (938.4).
The gold is history for the guy Eisenbichler
Eisenbichler made history with his triumph: For the 27-year-old it was the third title of the World Championships in Tyrol after gold in the singles and with the men's team. Only the Austrians Gregor Schlierenzauer and Thomas Morgenstern had previously won gold three times at a World Championships, both in Oslo in 2011. "The whole world championship was sensational for me. When I get home tomorrow, I hope I'll have a little peace and quiet," said "Eisei", who with his four titles in all also equalled Martin Schmitt.
Close duel with Austria
In front of 11,200 spectators, the DSV Quartet got off to a tailor-made start. The second Althaus took the title defender into the lead with a jump to 107.5 m, which Eisenbichler (104.5 m with more run-up) initially lost to Austria. Seyfarth (100.5 m) took second place, before Geiger (103.5 m) took a narrow lead in the half.