Finally the season started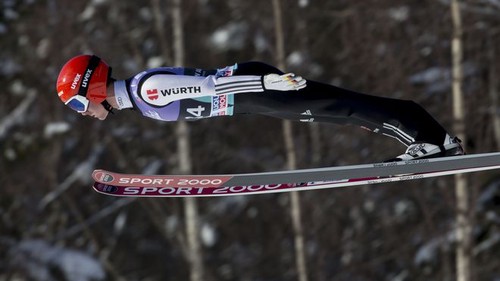 For most of you guys from the US and outside Europe this wintersports stuff might be boring. Not for me - I love Ski Jumping. I know in Asia Japan is also very into it but even here majority of population not - I do not care. I like it - and finally the season got started again. And Germany seems to have a new hero - but we will see how the season will continue.
At the ski jumping opening Stephan Leyhe sensationally finished second and celebrated his first podium position in history. Only Jewgeni Klimow was better today - he was the first Russian ever to win a World Cup!

Stephan Leyhe jumped onto the podium in the snowstorm of Wisla and could hardly believe his luck. His best result before was a fifth place. After the first run, the DSV-Adler, who was only called "Prussia" by his mostly Bavarian teammates, was still in sixth place. But a dream jump to 130.5 m catapulted him to the podium. Nevertheless, he was almost four metres short of the Klimow, which was already very strong in summer.
Disappointment for Norway and Austria
Two great ski jumping nations experienced a very weak start: Norway had its best representative in tenth place in Johann Andre Forfang, Daniel Huber as best Austrian even ended up on 18th place. The ÖSV-Adler (Adler stands for Eagle) once spoilt for success, had already failed to win last season and had called Andreas Felder as their new coach.
Even worse was the old champion Noriaki Kasai. The 46 year old Japanese had already failed in the qualification and was also not nominated for the team show jumping on Saturday.
There Friday, Leyhe, Geiger and Eisenbichler had taken the strong second place behind Poland. After seven of the eight groups, the DSV quartet, who played without Wellinger for the first time in two years, even took the lead. But then Stoch unpacked a dream jump and secured victory for the host.