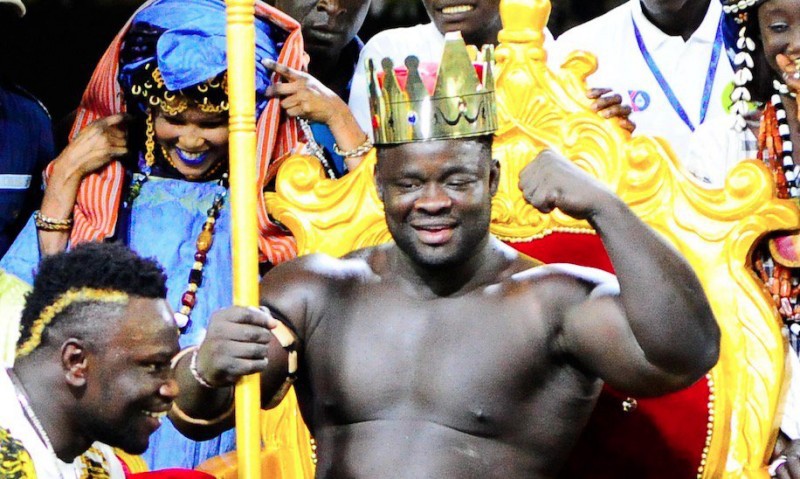 The stage of the African Traditional Wrestling is set again for its two gladiators of Arena to come face to face and lock horns for the battle of supremacy on July 28. The king of the arena has accepted the challenge at the expense of loosing his crown, comfort and privileges of the throne.

Eumeu Sene the current and reigning king of the arena ascended the throne when he defeated Bombardier about two years ago. Bombardier himself was the reigning king at the time. Sene accepted the challenge from a familiar foe and a solid fighter who once defeated him in 2011, Modou Lo. The king who has not tested defeat from the day he ascended the throne, appears ready to defeat his crown. Besides defending his crown, Sene will take this fight serious in other to take revenge and also not to disappoint his fans. His opponent has traveled as far as America to improve on his arm strength, but the king remains at home to train in the crude and conventional way that made him the champion he has become today.
The short video below shows Sene in a training session, working to improve his arm strength in the traditional way. Surrounded by team mates and onlookers, the leader of Tay appears ready to lock horns as never before.

To show how serious Modou Lo considers the impending encounter, traveling beyond the shores of Senegal and Africa to sharpen his arms and overall techniques in the sophisticated way, in a sophisticated environment, becomes imperative. Having lost to Bella Gaye 2 earlier this year, the fierce wrestler is not ready for another defeat at the moment, it will be too soon and a defeat too much.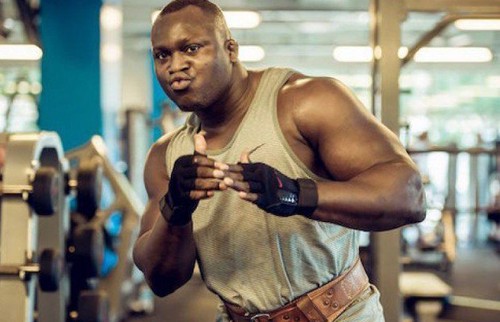 But is going to America is a sufficient surety for victory against a conqueror of might in the category of Sene? I think not, if I were Modou, I will be having sleepless nights formulating and strategizing new tricks to defeat the current leader of the arena. This is not to mention the fact that, for every wrestler of African tradition, the path to glory, unerringly involves the employment of a reputable mystical master, complete believe and its practice as a base to glory. At the moment, it is advisable for Modou to change his mystical base, because it seems like his present crop of Marabouts and their accouterments have become obsolete, if not ineffective.
I think it is a good thing that he has had sufficient physical training in the US, and that may go a long way towards ensuring victory, but to add more spice to the existing stew, it is a must that he recruits new spiritual guides so that in the event of another loss, he will not be judged at the bar of his conscience.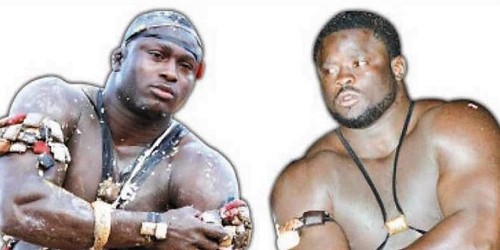 Both fighters cannot be said to be excellent brawlers. Sene is known to apply long hooks for someone his stature. Unfortunately they do not connect and when they connect, they are mostly of insignificant effect. Modou on the other hand has strong upper cuts that have been of better effect, this of course has been instrumental in some of his previous victories.
I see a fight that may have less employment of punching with bare knuckles and bare foot kicks, but use of conventional pure wrestling styles coming into play. Also, being that both fighters are renown warriors, the fight may not be the quick and over with kind of encounter that we came to know, but a slow buildup of tactics and confidence before the final take-down.
I foresee Sene emerging the victor at the end of the day, he being a fighter with a surprising reserve of stamina, the current king of the arena is known to specialize in wearing down his opponents during a fight, then go for the kill when an opponent offers the slightest opening.
This post is shared on my Facebook and Twitter accounts.
https://web.facebook.com/dolomi1/posts/10215687134196202
https://scorum.com/en-us/wrestling/@izge/the-battle-for-supremacy-king-eumeu-sene-faces-modou-lo
https://m.facebook.com/story.php?story_fbid=581795242347485&id=100015510428405

Thank you for stopping by, sincerely @izge.