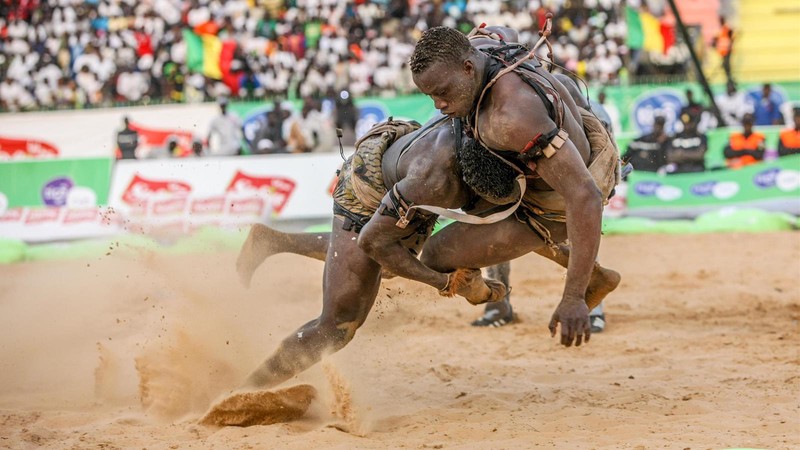 In one of my post on this platform is a content which is a lamentation on why athletes appear to be over paid or overvalued. Some couple of days later, one of the prolific writers on this platform described fans who complain about the overvaluing of athletes as morons or simply inept. I think he is right in a way. But it does not matter whether one chooses to debate for or against, based on his or her informed or misinformed standpoint, the hard truth is that every year, the value of athletes continue to go up while their fans remained as bystander observers in the stadiums and on the streets as the athletes continue to smile to the banks.
Well, scorum has provided a wonderful opportunity for fans world over to compensate for the years of fanaticism without proper recompense.
Khoudia, wife of one of the athletes of traditional wrestling said she stayed four goods months without being with her hubby. Well, I don't know if you understand the import of what that means, but you and I are left to our imaginations. No doubt athlete's wives world over do go through tortures of lonely nights, the uncertainty of the future, the distrust of reason, the resentment of what must be, and so on and so forth. Hats off to athletes wives, who endure such nerve wrecking moments in season and out of season, sometimes giving a blind eye to what might otherwise be real, and a deaf ear to direct and indirect references.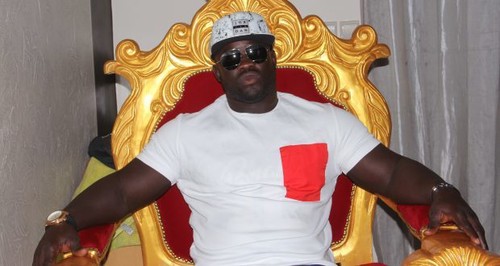 Back in Senegal, Dakar to be precise, there is a top Dog in the yard. Mamadou Ngom alias Eumeu Sene is the new King on the throne. The dance steps have changed, the drumbeats of the drummer is in tune, while the praise singers are singing different songs at the arena, and the fans have someone new to jubilate and debate for.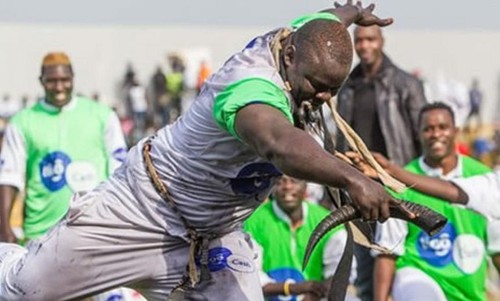 It was not an easy feat to achieve for Sene; becoming the king in an arena filled up with hulking warriors of repute takes a great deal of work. Khoudia the new queen is a testament to that. As stated above, the quest to become the top dog took her husband away for months. It was a journey that commenced more than a decade ago, and the road to the closer action that led to the crowning took a minimum of two years of intensive training. There were no Sundays or Saturdays, no weekends and no weekdays for Sene. Everyday must be utilized to the maximum, family life was substituted with ambition and social intercourse was relegated to the past. This is not to mention the engaging of the best marabous and the ritual of drinking strange substances as provided by the spiritual guides, and of course the following of certain strict rules that may perhaps be foreign to a commoner, but of great importance for an aspiring king in the circle of traditional wrestlers in Africa, without which to carry on will be inimical or death to ambition.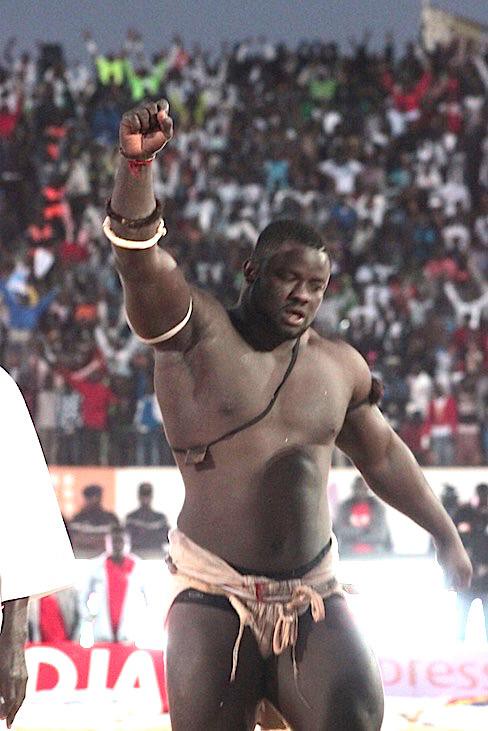 Born in 1979, Eumeu Sene was born into a family of wrestlers. Sene started fighting early in life with the Mbapatts. His performance drew the attention of the officials of the national wrestling association which made it possible for him to be included into the National team. He has partaken in numerous African tournaments and was twice titled African champion of the arena. Although Sene is a multi-millionaire, he is known as a metal sheet worker outside wrestling.
Sene's last opponent to conquer in other to be crowned as THE KING OF THE BULLRING is none other than Serigne Ousmane Dia whose ring name is Bombardier. Bombardier stands 1.93 meters tall and weighs 149.69 kg to Sene's 1.75 meters and 105 kg. Sene's opponent is a SUPER HEAVYWEIGHT outmatching him in reach. Being the king of the arena on two occasions and having credentials and physique that dwarfs Sene, it is safe to say that Sene is on a suicide mission. But wrestling is a man's sport for Sene and he was able to prove that in his encounter with Bombardier.
After the usual ceremony of tying, drinking, burying, pouring of portions and chanting of strange incantations that precedes such traditional wrestling bouts by the athletes, the fight started with the usual monotonous flapping of the hands which took too much time prompting the referees to momentarily stop the match for want of action. It was bombardier who drew the first blood, his three or so punches stunned and staggered Sene momentarily. However, Sene regained balance and swung wild punches towards his opponent, missing his target, hitting the air to the chagrin of his fans. His saving grace was when he faked going for his opponents advancing legs for which Bombardier fell for, that was a grave mistake, he went too low and by that time Sene had already straightened up which gave him the leverage to pin Bombardier down to his knees. (A match is lost once a wrestlers hands and knees are brought down to the ground by an opponent).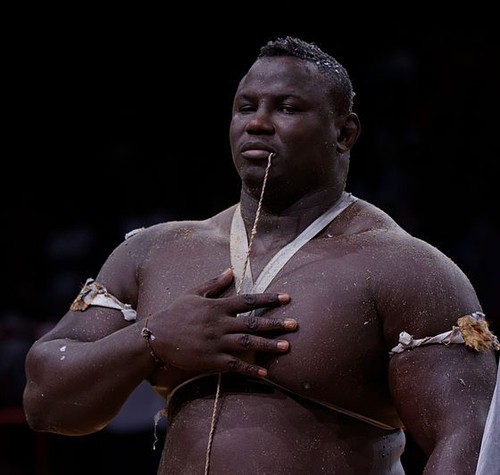 "This is something that we've been waiting for a long time. He' is now king, oh i cannot believe it. It was very hard, she said with a touch of emotions. i suffered a lot on the day of the fight. She took refuge at the beach not to follow the fight on TV. "Before the fight, I could not bear it; I took refuge on the beach. I was doing my things until i heard the screams coming from the house. It made me boom. In any case, i thought i was going to choke" Khoudia.
"This is a victory for the Senegalese people, because i think people have prayed for my success. I say thank you. I trained like crazy. I trained every night, i had neither Saturday nor Sunday. I also pay tribute to my late mother, who had prayed for me, so that one day I become the king of the arena. She told me: you are a good man and you will go far as a wrestler. She prayed for this day to come before she died. I realized it and i owe it largely to her. The crown is now in my hands and I will keep it jealously. I promised it to the Pikinois after my victory over Gris Bordeaux in 2011. Those who follow me know that i have always said that I will be king of the arena. And I think I have succeeded. I give thanks to God. This trophy is for them. I thank them with all my heart and ask them to pray again for me, the best is yet to come ". Eumeu Sene.
On a lighter note, there are very few athletes who could take blows from the bare hands of a man who is 195.5 CM with 330 LBS and still be standing. I think it will take a man with the jaws of steel to do that. Sene was able to take such blows and still stand. Perhaps being a metal steel worker made his jaws became like steel too. :D.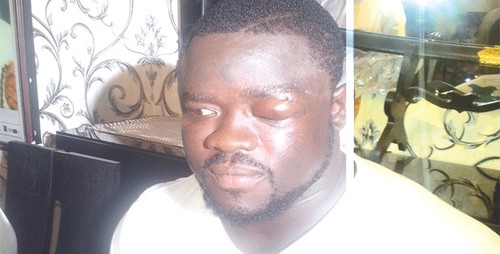 Despite winning that match and becoming the King of the Bullring, Sene left that bout with a swollen eye and few bruises here and there. His wife Khoudia couldn't sit at home on match day out of anxiety, to say nothing of being left alone for months in the quest for crowning. Now, looking at what athletes and their families go through in season and out of season, is it wise to question what remuneration they get? at this point, i too think that it is moronic. :D
thank you for stopping by.