It's another Happy Monday show as we journey through the world of sport entertainment in the Monday Night Raw Live as organised by @pete to encourage good articles while we have fun altogether. Interested bloggers can enter their post in the link below
https://scorum.com/en-us/baseball/@pete/happy-moan-day-june-3rd-2019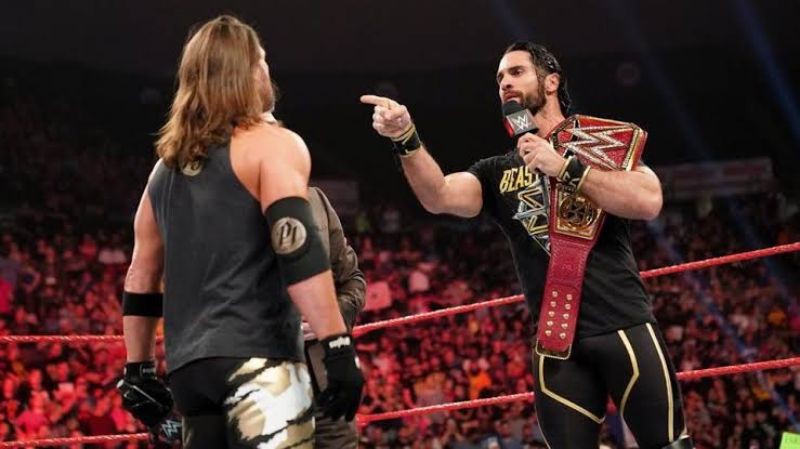 The WWE as is commonly called has over the years being a subject of debate as to categories it as entertainment or sports. No matter your view about it, WWW remain one of my favourites sport while growing up as a kid. We streaked meters to watch the show as there were no many TV owners in the neighbourhood. Well, dad didn't have one but I never missed version of wrestling then

It was Seth Rollins versus A. J, not Anthony Joshua who lost to Ruiz but another AJ in WWE. This time, its AJ styles: funny name though.
It was a match involving ring tacticians. Seth Rollins is the title holder for the WWE Universal championship was up against AJ Styls to defend his title in WWE money in the bank match. Seth Rollins did the impossible when he defeated Brock Lesnar at the showcase of the immortals when he hit him three Curb Stomps. Seth had to celebrate his victory for only one week when he was squared up with AJ who has prevailed in his match against The Lone Wolf. The two super starts were to meet with Seth Rollins Universal title at stake.
The two contenders have never met one on one in a single match but have fought each other in a 2016 five on five elimination match at Survival series. Not wanting to let the company down especially his title, the two men engaged in a show of athleticism throughout the show to the cheers of the fans. The athletes spent most part of the opening minutes trying to outdone each other in a show of superior tactics. Five attempts of different opening style were all cancelled out but Aj failed to deal with Rollins trick on the sixth when he gut an upper cut which allowed Rollins to control most period of the game. AJ was on defence throughout the show as Rollins combine smartness and youthfulness to come back into the game when on disadvantage.
Rollins went on to retain his title when he got Styles on a head boot. However, upon recovering to see Seth Rollins hanging his title on his shoulders, AJ shocked everyone when he went and had a friendly hand shake with Rollins. This may mark a beginning of another rivalry show in coming weeks between the two stars.