Hello! Friends,
It has been long time right here due to some issue beyond my control. Last night was a little bit tense between Tyson Fury and Brawn Strowman shortly after the announcement of his fight coming up October 31 in Saudi Arabic.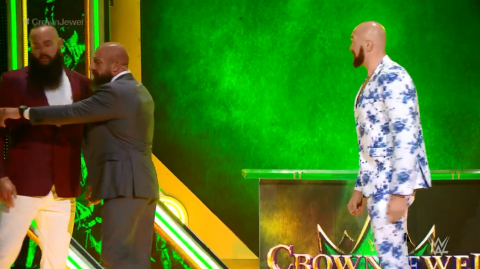 On a recall, Braun and Fury had clashed on two events before and the first one was Smackdown and the other was Raw. This two events were with the host of security guards together with fellow wrestlers were those that keep them apart before their beef will get escalated. Having these two event meeting records, its going to be serious to see both guys going head to head at WWE Crown Jewel which was announced last night as Braun demonstrated his anger towards Fury when both hands were together during shaking of hands.
Braun hold Fury's hand and refuse to release it after shaking which cut the attention of triple H who came around to separate them and walk away Braun off the stage of the conference last night.
After this, Fury said he really understand why they do called Braun a monster among men and have no fear knowing that he has 30 undefeated professional games since his boxing career, he claimed to knockdown Braun comes October 31.
Fury let people know again the how wonderful his hands are during fight and said Braun is messing with him who has the best hands in boxing and ready to knock him down. I wonder what Fury wanted in wrestling.
We shall see what become of him comes October 31 in Saudi Arabia.