Hello! Friends,
My first post today will go out of my normal soccer review base on one interesting and terrible game I watched last night.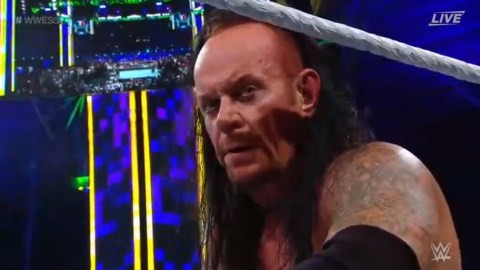 I am not a fan of wrestling but I have a colleague of mine that came visiting and always enjoy wrestling and we both have to enjoy it together late night.
The game was between two wrestling icon I have been hearing this two guys when. I was very small and they are still in the game I keep wondering is this game real? The game was between Undertaker and Goldberg. The shocking news about these two icon is that they both are just meeting for the first time since they started there career. The event happened in Saudi Arabia and this game was terrible.
From my own point of view if this game is real they should just go and retire because they are old and the kind of injury sustained last night was huge. The both wrestlers are above 50 and the terrible mistake they made when carry themselves cause major injury to their body.
Goldberg was the first to spread the Undertaker twice in the first 5minutes of the event and this made Undertaker stayed very long on the floor stage before he stand up and even Goldberg himself sustained injury on the head after his head collision with with the ring post. He started bleeding seriously and every fear was that this man may suffer concussion.
With the normal finished jackhammer Goldberg use to would have finished Undertaker but Goldberg lifted Undertaker but drop him which cause neck injury because he's very tired and can't lift him.
This game went on and on but at the end Undertaker finished Goldberg but the fan keep begging WWE to please never bring back Undertaker and Goldberg to the event saying they are old and if they continue like this they may end up receiving there permanent injury, they need to allow this new generation wrestlers continue from the legacy they have laid down.
You can take a moment to watch some of the highlight below....
---